On Sunday Rob and I put up our Christmas tree. It was so much fun. We listened to Christmas songs and heated up some cider in a pot on the stove. The house smelled wonderfully cinnamon-y and was a big, festive mess of boxes and fallen plastic pine needles (our poor old tree was shedding).
The cats assisted with the decorating, of course. June's services, in particular, were indispensable. While we were looking the other way, she stole six feet of silver garland. "June!" I cried as she went streaking down the hall with the garland in her mouth. She ended up wrestling the shiny stuff and getting all tangled up in it.
Buntin stretched out under the tree and cleaned herself. Softee batted ornaments. These may be two reasons why, in the end, our tree fell a bit short of Martha Stewart standards. Oh, well. It may be a little messy and lopsided, but it sure is nice and sparkly.
At night we popped popcorn and watched
A Charlie Brown Christmas
as the tree stood faithfully in its corner and glowed. The cats slept on our laps. It's so tiring being helpful.
I like really dumb ornaments.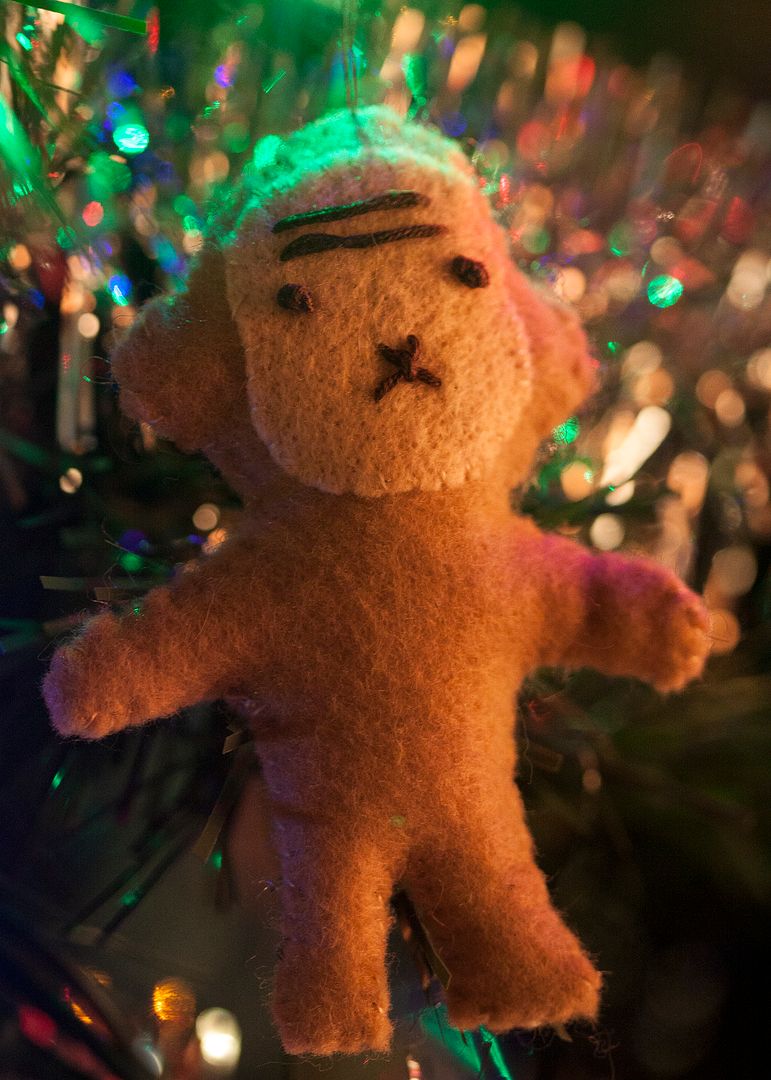 Mom made this one.
I have a collection of cute, funny toys that I bring out only at Christmastime and arrange under the tree. This fine tradition allows me to continue to buy Sanrio products at the age of 47.