The courthouse in Quitman was built in 1859.
On Saturday Rob, Mom, Kris, Sophie, and I went antiquing in
Quitman, Georgia
, a small town about an hour and a half from Quincy. It was a brilliant day in Quitman, so bright and sunny. And what a beautiful, forlorn place it was, with a white courthouse like a wedding cake. Around the courthouse there was a shady park with a gazebo and an old Confederate memorial (an old marble statue of a soldier). There were live oaks and magnolias and cabbage palms.
Quitman was definitely a sleepy little town, forgotten by time. Rob couldn't get over how many restaurants there were though—it was a functioning little town. We stopped at a little pizza and ice cream shop, and Mom got lemon custard and Sophie had cookies and cream, and we ordered french fries and Cokes too. All the food was great. And the owners' kids were working. Our waiter was maybe 11 years old and completely professional. He had freckles and a turned-up nose and he called Sophie "ma'am." (Sophie's nine.)

A lot of the antiques stores in Quitman had a sort of haunted quality. One featured scary monkey dolls and lots of dust and a huge collection of hornets' nests, all hanging from the ceiling. "This is only about half of my mother's collection of hornets' nests," the owner explained proudly.
Probably no need to bring in the rest. I can't imagine sales of hornets' nests would be too brisk.
Another shop, across the street, had pump organs. Rob and Sophie kept playing them, filling the musty, dim place with spooky sounds, the kind you hear at the Haunted Mansion in Disney World. The building this shop was in was so old, it was fun just exploring, creeping up the old creaky stairs. Every floor was crammed with gothic treasures--huge scratched mirrors, enormous stained glass windows, Louis the XV chairs upholstered in faded torn flesh-colored silk. . . .
It was neat to be in Quitman. There was just something so familiar about it--because Quitman is exactly the way that Carson McCullers (one of my favorite writers) described small Georgia towns in her novels. It was hot and lonely, but still alive. . . . The old brick buildings had ferns sprouting from their cracks. The old sidewalks blazed in the sun. Rob and I bought a can of tuna for a hungry stray dog and she was so excited. She ran off with the can to finish it in private. She was brindled and shy. She expected people to be mean to her, but she was very gentle even so. She hadn't become mean herself. She was so thin, all her bones showed. Rob spent a long time on his cellphone trying to contact the Brooks County Animal Rescue. He's softhearted, but I think he was also a little bored with shopping.
Sophie was really into teasing me during our antiquing trip. In one store she pointed to a little set of figurines and said, "Oh, Leslie, look at them!"
And I said, "Oh, what a cute little pig family!"
And Sophie said, "Uh, they're not pigs. They're cows. Duh!"
And I said, "Ah, yes. Clearly you are right, Sophie. I don't know why I thought they were pigs."
And then I said to Mom, "Whenever Sophie's around, I always realize all anew that I am none too swift."
I could hear Sophie saying to Rob, "Rob, Leslie thought these were pigs!"

Sophie was appalled by the knowledge that I was wearing used shoes from Goodwill. (She is a very tidy, germ-phobic child.) In one shop she found some dusty old '70s suede wedges in about a size 11 and she held them up, taunting me in a little sing-song fashion, her eyes sparkling with devilish merriment, "Look, Leslie. Don't you want them? Secondhand . . . !"
I tried to get her back by making her look at taxidermy. But I was torturing myself too.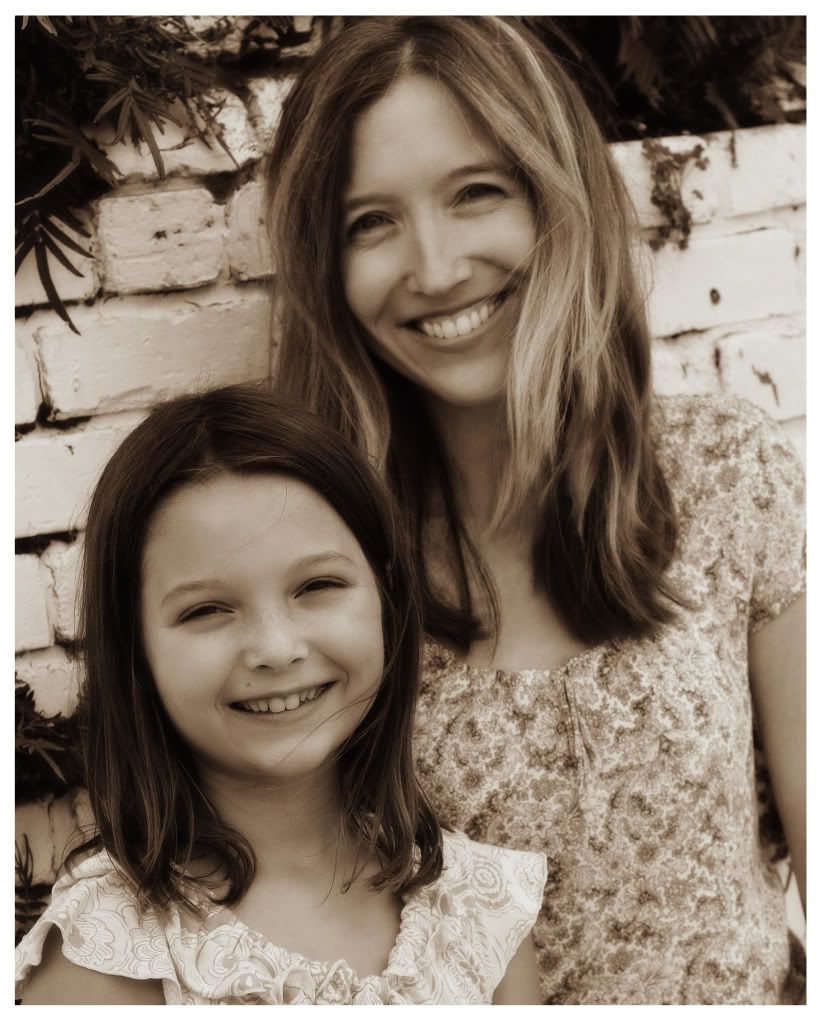 Sophie and Leslie laughing and squinting. Photo by Kris Kimel