No, it's not a hummingbird or a fairy; it's a hurricane lily.
This is a level of frou-frou-ness unparalleled in the world of flowers.
Right now I just want to eat up the world because everything is so pretty! Suddenly we have hurricane lilies--everywhere! They come up without leaves, without warning. The bulb sends up this ridiculously fancy flower that reminds me of the Forsyth Park fountain in Savannah (the fountain is two-tiered, with Tritons, and the flower is really over-the-top like that).
Our yard was looking so boring, worn out by the heat--and then the hurricane lilies showed up. And then it rained and the temperature dropped, and all sorts of other stuff started blooming, too--ageratum (purple and powderpuff-like), cutleaf coneflowers, golden asters, Georgia asters, goldenrod, and rosinweed. I've been seeing lots of box turtles around the yard, and fat banana spiders. Rob said he saw a possum eating out of the cat food bowls the other night. Rob always says our cat Leroy looks like a possum, so he claimed the possum was Leroy's father.
We've got a lot of our fall vegetables in the ground now. Last week we planted 64 cloves of Inchelium Red garlic, and when we looked at them today we realized that they've already sprouted! We planted Holland Red shallots last weekend too, and kale, collards, broccoli, Brussels sprouts, and purple and white cabbage. We're still harvesting lots of clown, habanero, cayenne, and datil peppers--oh, and some Matt's Wild Cherry tomatoes.
But nothing's doing as great as the sweet potatoes. The sweet potatoes take the cake! Today we dug our first Beauregard sweet potatoes and we were totally amazed and elated. These things were HUGE--literally football sized!--and they were erupting out of the ground all on their own, just bulging out of the dirt. Digging them was so much fun and so easy, like mining in a magical land salted with enormous gems. Rob said that as we pulled them out "we were both squealing like preteen girls at a Jonas Brothers concert."
Our biggest sweet potato weighed three pounds all by itself. It was perfect--bright coral pink inside and so sweet. We used it to make an awesome curry. Here is the recipe:
Sweet Potato Curry
Main Ingredients:
Olive oil
1 large onion, chopped
8 clown peppers, chopped
4 habanero peppers, minced
3 lbs sweet potatoes, chopped
2 baking potatoes, chopped
1 head cauliflower, chopped
2 cans coconut milk
1 28-ounce can diced tomatoes
1 small bag frozen green peas
2 Tbls mustard seeds
Curry Paste Ingredients:
5 cloves garlic, minced
2 Tbls vegetable oil
1/4 cup fresh mint leaves, chopped
1-2 Tbls fenugreek leaves
2 Tbls cumin
2 Tbls coriander
1/2 tsp asafoetida powder
1/2 tsp paprika
2 tsps ground ginger
1 tsp garam masala
Salt to taste
Directions:
In a large soup pot, sauté the peppers and onion in oil over medium-high heat until the onion is tender and translucent. Add the sweet potatoes, potatoes, and cauliflower. Cover the pot and sweat the vegetables over medium heat until they are tender (about 20 minutes).
While the vegetables cook, prepare the curry paste. Combine all the ingredients in a bowl and process with an immersion blender until you have a smooth paste.
Add the curry paste to the pot with the cooked vegetables. Then add the coconut milk and diced tomatoes. Add the frozen peas. Stir everything together until it well combined. Cover and cook over medium to medium-low heat for 20 minutes. Stir occasionally to prevent the curry from sticking to the bottom.
The amazing Beauregard sweet potato haul!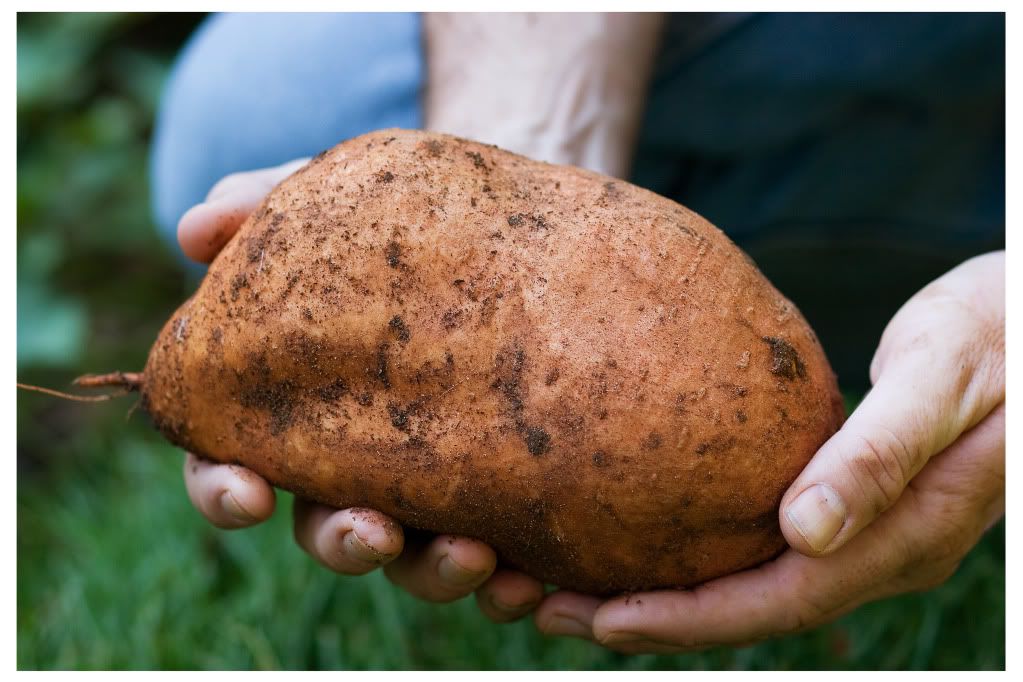 Look at the size of this thing!
Gratuitous cuteness: Becky on the screen porch