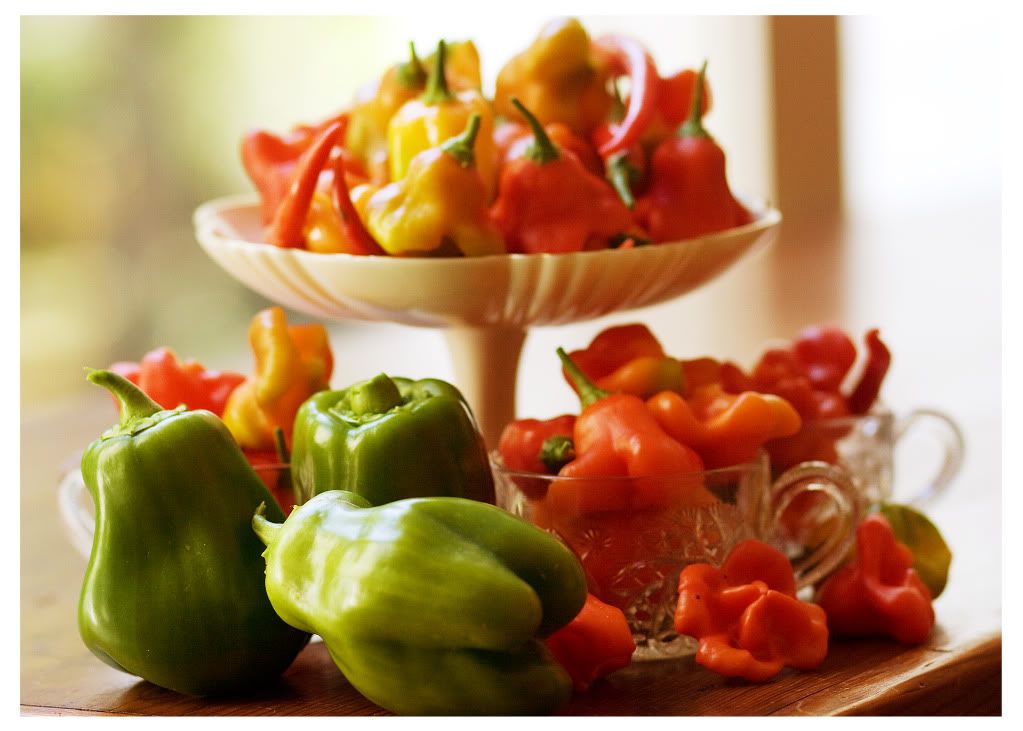 Even though it's cold and frosty now, our pepper plants are still soldiering on.
On Saturday Mom, Kris, Bun, Rob, and I went to
Mule Day
in Calvary, Georgia, a tiny town (population: 200) just about half an hour north of Quincy. Mule Day is one of my favorite festivals. It involves a big flea market/craft show, great food (fried green tomatoes, sweet potato chips, peanut brittle!), a mule parade, a petting zoo, a chicken show, cane grinding, syrup making, clogging shows, and bluegrass music. We go every year and I always buy a birdhouse and Bunny always gets a bag of kumquats. That is our tradition.
We had so much fun. I bought a $5 vintage evening bag—silver, with a rhinestone clasp. We drank huge Cokes, and Rob had a funnel cake. We really enjoyed the mule parade and dreamed about actually participating in it someday. Rob and I want to get a pair of miniature donkeys; they'll wear fancy hats in the parade and pull a little cart.
I loved looking at the jars of homemade jelly glowing in the sun. I went crazy for all the very sincere homemade pound cakes and tea cakes, the free samples of pecan brittle. I also reveled in the sight of big fat dollops of divinity even though I'm a vegan and can't eat them anymore--but that's all right; just looking is good enough.
There was
so
much food—red velvet pancakes, roasted corn-on-the-cob, deep-fried Oreos, complete dinners with collards and cornbread. . . . People were buying big purple poles of raw sugarcane and huge mesh bags of sweet potatoes and oranges.
Bun and Rob and I had so much fun watching the sweet animals in the petting zoo. There was a miniature Highland cow, all fuzzy and shaggy and so gentle and calm. Jolly baby goats were jumping around while a flamboyant buff Silkie sat in the middle of everything in his own personal cage. Bunny always says Silkies look "exactly like Fraggles." She's our chicken expert and she really wants to get some Silkies now. She told me she read that raising them is like "raising a flock of kittens" because they're so friendly and soft and compliant.
As we browsed around at the different flea market booths, Kris told a funny story about Jake. You see, Sophie, his big sister, has started a cartooning club at school. She and her friend Taj are the only two people in the club. At their meetings they sit around drawing cartoons and laughing uproariously at one another's work. Anyway, Jake is very enamored of the idea of the cartoon club and wants Sophie to ask him to join. (This will never ever happen.) So he's started creating cartoons at home and trying to impress her with them.
Kris said, "Of course, Jake's cartoons don't even actually include drawings. They just have like two lines of text—the joke—written out in his crazy handwriting. Last night he took
Bennett Cerf's Book of Laughs
into his room and he's like, 'I think I'm just going to read for a little while, Mommy.' But he was actually in there copying the jokes word for word. So he comes out and shows off his work, all these jokes he's supposedly made up out of the blue: 'How do you stop a dog from barking? Put him in a barking lot.' I mean, I knew all the jokes by heart. Because, after all, it was
my
book. But I pretended I'd never heard them before. I just read them and laughed and Jake was like, 'And why is that one funny?' And I had to explain it to him even though he supposedly made it up. I gave him lots of compliments on his cartoons and he was really jazzed, acting all proud, but then after a while he started feeling bad. He came back and he was like, 'Uh, I may have actually copied those.' And I was like, 'Well, that's okay. You're just learning about jokes and cartoons, so it's okay to copy at first.' And Jake's like, 'Okay, but I kind of still want to get credit for them.'"
Oh, I loved it. I just loved it. Jake wears glasses now, which only makes him cuter. They are adorable little glasses with blue wire frames.
Mule Day took pretty much all day, but when I got home I did still find time to do some sweets-making. I whipped up some breakfast bars using a recipe I found on the lovely
Vanilla and Lace
. It was so simple. I just mixed up some peanut butter, agave nectar, vanilla, and puffed brown rice cereal, pressed it all into a pan, and put it in the refrigerator to chill. I did this work in my pajamas, of course. And I must confess there were cats getting involved. . . .
Here are my breakfast bars. Don't ask me to explain the teddy bear--but I love her! Mom made her!