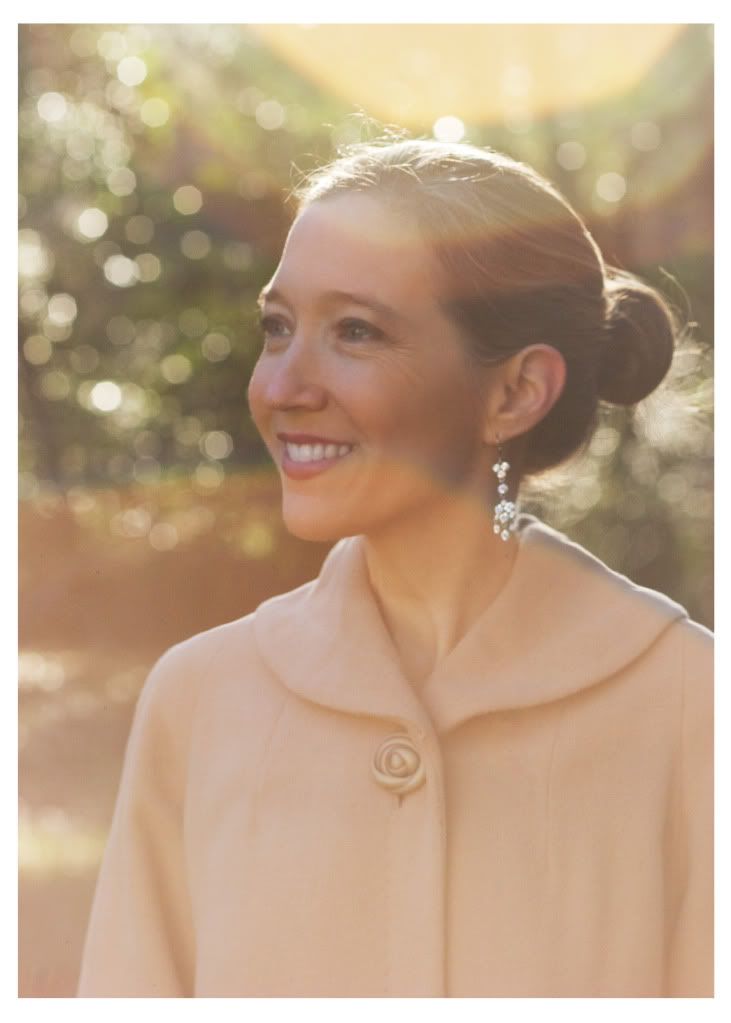 I got this cashmere coat for $5 at a little place in Havana (Florida) called Secondhand Sandy's. Note: This picture has nothing to do with the ramblings that follow.
Yesterday my niece, Sophie, had her 10th birthday party. She invited eight friends. Sophie planned the whole event; she rejected all her mother's ideas. Kris had suggested she have a crafting party, but Sophie said no; she declared that the main activity at the party would be jumping rope.
I told Rob about Sophie's choice, and Rob said, "Oh, is jumping rope really popular with little girls these days? Is that a new trend?"
And I said, "Uh, no. I don't think so."
"So this is just Sophie being a nut?"
"Uh, yeah. I think so."
Sophie also designed her own cake; she drew several sketches last week and presented them to her mother. The cake would be three-tiered, Sophie insisted. The bottom tier would be decorated all over with little pastel meringue cookies. The next tier would be decorated with sour gummy worms. And the third would be covered in candy canes.
Kris told me about all this, rolling her eyes. She said, "Sophie has the worst taste in candy."
"Yeah," I said. "And it's not like gummy worms and candy canes exactly go together."
Kris said, "I know. I tried to change her mind about the candy canes, but she insisted. She refuses to believe that everyone doesn't absolutely
love
candy canes."
I nodded. "They're especially appealing a month after Christmas."
Sophie brought her sketches over to Mom's house, and she and Mom really did bring to life Sophie's outlandish dream of a meringue cookie-gummy worm-candy cane cake! I'm so glad. I've got to get Kris to show me some pictures, because I'm sure it was a wonder to behold.
And great news: The party went off without a hitch. None of the guests had jumped rope before, but they were crazy about it once they tried it. And they devoured the cake!
Now on a completely different note: I wanted to mention that I've been experimenting with all-natural homemade beauty products--and they've been working out so well. I've been using chemical-free makeup and skin-care products for years, but it wasn't until quite recently that I started keeping simple everyday food items in my medicine cabinet. I've been rinsing my hair with a little apple-cider vinegar (cut with water), and it really does help get rid of any shampoo buildup you might have. I've also been removing my makeup with olive oil--it works great and won't dry out your face. Oh, and I've been using coconut oil as a moisturizer (on my body, not my face), and my skin isn't tight and itchy anymore. . . . Cheap and paraben-free. What's not to like?