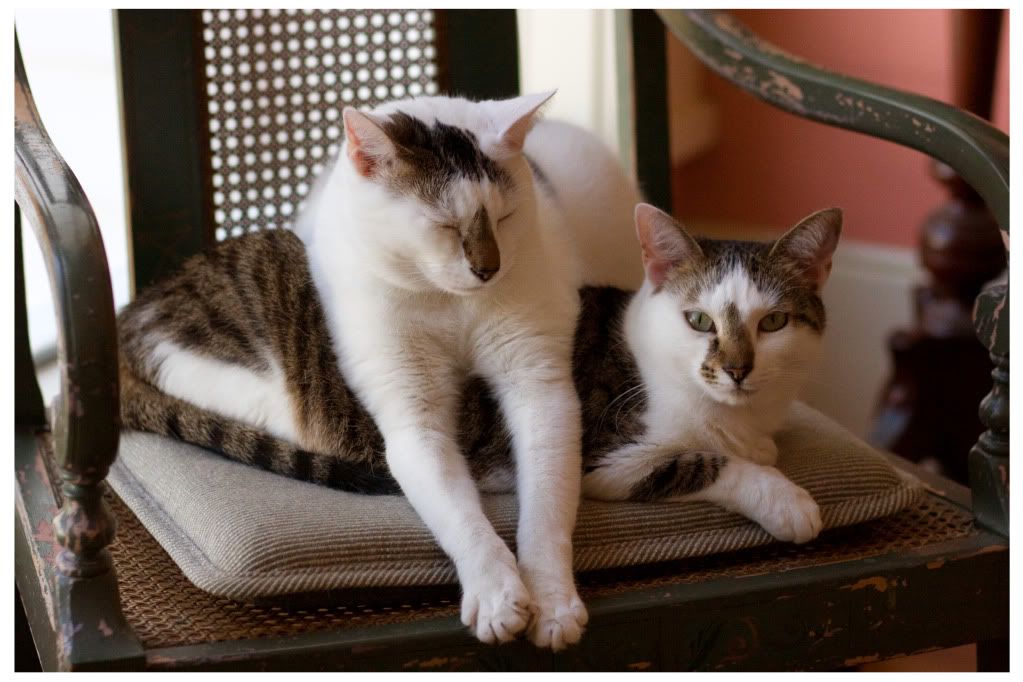 A day at home is a day spent in the company of cats. Elroy (top) enjoys cuddling with his mother, Francie.
Sunday was good because I got to spend the whole day at home. I started the morning in my favorite way--by drinking a Coke in my pajamas. And then I hung out the laundry--also in my pajamas. And then finally I changed and started gardening.
I planted three silver saw palmettos and another Piedmont azalea in the pond garden, three sweet pepper bushes (
Clethra alnifolia
) in the border along North Adams Street, and two more red buckeyes in my little red buckeye grove in the backyard. As I worked, I was marveling at our truly marvelous display of daffodils. I cannot take credit for the daffodils. They were planted long ago, along with the rain lilies and surprise lilies. Our yard has been a yard for 160 years.
Rob and I had lunch at our Quincy Burger King, which is another of my favorite activities. Perhaps it seems weird that eating at Burger King is such a treat for me, but I love French fries, and I love quiet, slow, podunk-y places. Our Burger King is so warm inside, filled with sunlight, and I love to sit there and drink Coke and revel in the fact that I'm not at work. I'm at Burger King and nothing bad can happen to me. I can just rest in a sunbeam and eat my veggie burger with a whole bunch of mustard on it.
That afternoon I gave Babs, Maggie, Clark, and Greg some catnip on the warm driveway, and they rolled around in it and wrestled. And then I worked on clearing out the big bed around the "barn" (our garage) in order to make way for more blackberries and another Meyer lemon. I don't have the blackberries yet, but I planted the lemon. It is the tiniest twig, but I can already picture it grown all spread-y and dark, bejeweled with big fat bright lemons.
Just as the sun was setting, I went out to the vegetable garden and started doing a little harvesting. I picked a big basket of collards, Nagami kumquats, broccoli, Brussels sprouts, and cilantro, and Babs was following me around, trying to steal the kumquats and relax on the pile of collards. Meanwhile, Carl was sitting on the screen porch, bugling, trying to get my attention; he was lonely. He'd spent the day playing with an old okra pod, but that just wasn't cutting it anymore. So I went inside and petted him, and he rolled around and "talked" and showed his fabulous yellow belly.
That night Rob and I ended up cooking until well after nine. We made stir-fried collards and more Spunky Red Bean Dip and a curry containing the purplest potatoes I have ever seen.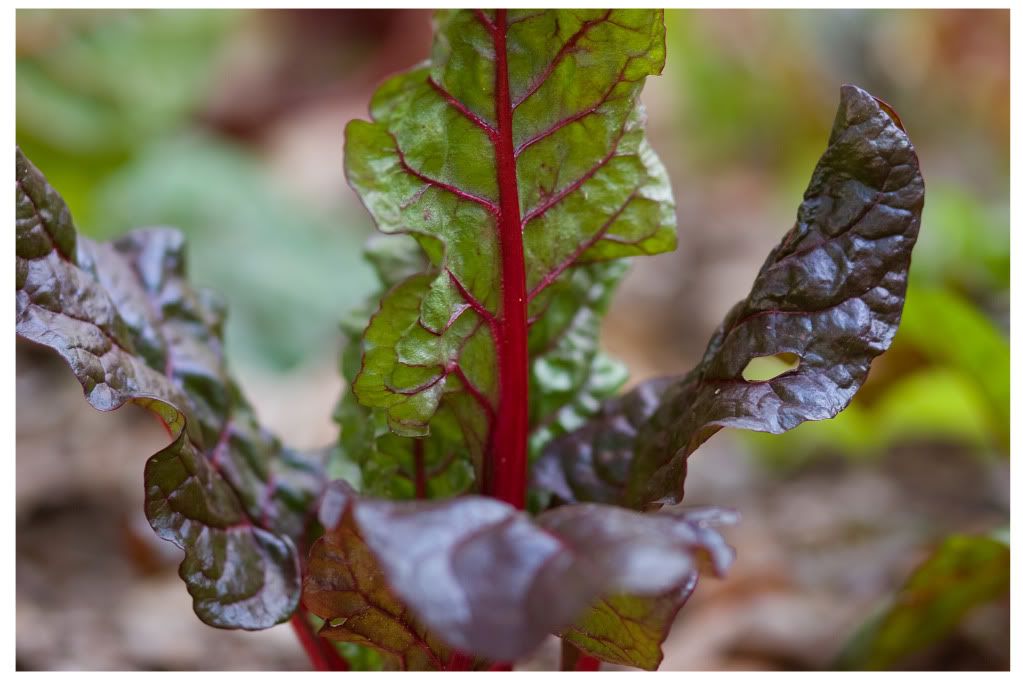 Our Swiss chard is finally coming along.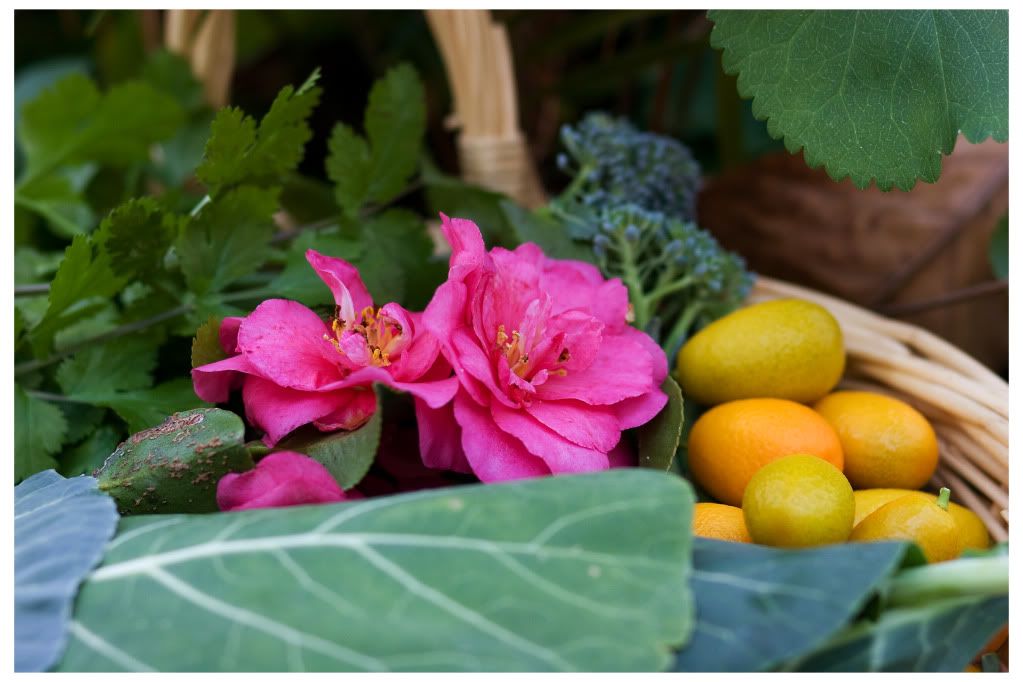 We've got a ton of collards. And the cilantro is doing great; it's so shiny.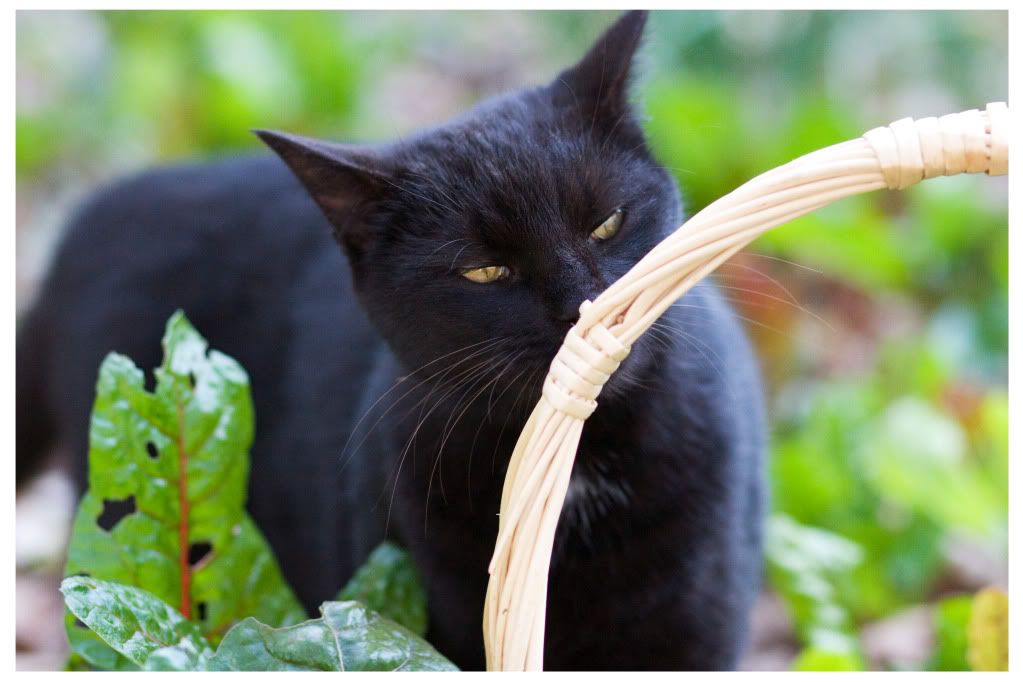 Babs is one of our dearest cat friends.