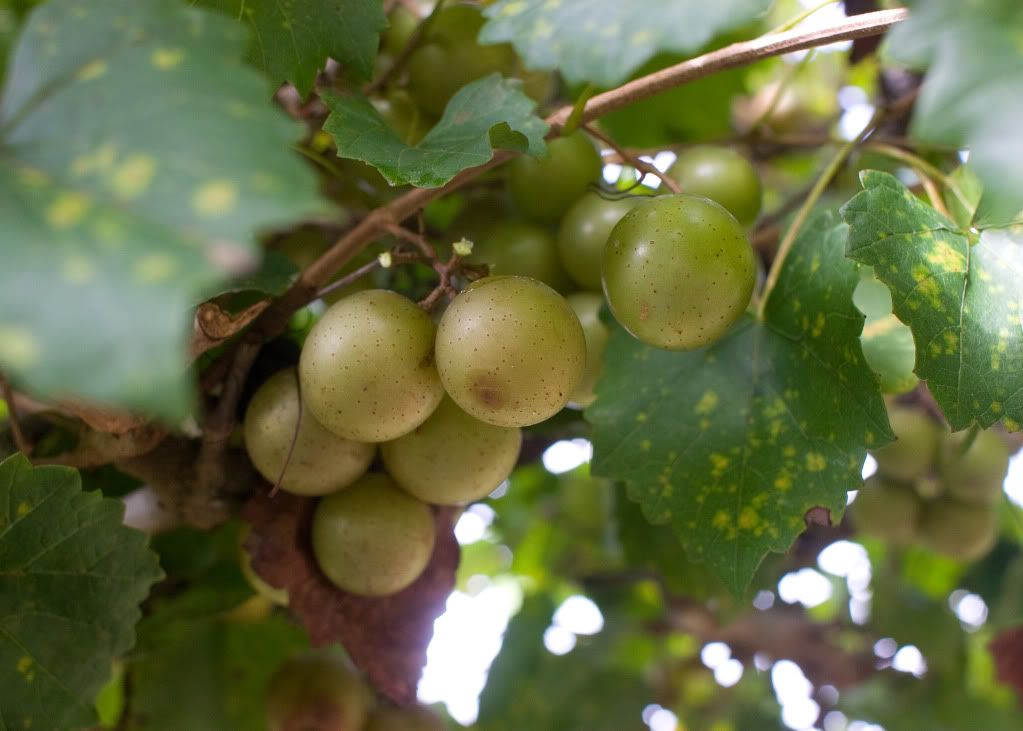 On Saturday morning Mom, Kris, Sophie, Jake, and I went out to
Windy Hill Vineyard
near Monticello to pick muscadine grapes. This is an annual tradition for our family, something we've been doing for 30 years. When I was in high school I always loved the drive out to the farm. Back then, U.S. 90 was a two-lane country road lined with hot pink crape myrtles, and there were always lots of cloudless sulfur butterflies, the clearest, brightest yellow.
Things are a little more built-up now in the area, but Windy Hill itself is the same, the gently rolling hills striped with rows of grapes. There's a shady little farm stand near the front gate, and that's where you get your buckets for picking and where you pay for your grapes. There's a Coke machine next to the stand that sells the coldest Cokes (in the old days I would always get a NuGrape).
On Saturday morning, there were several other pickers in the dewy fields besides ourselves. There were the loveliest old ladies in picture hats and dresses and high-heeled espadrilles.
"I wish I had dressed up," I said to Kris. "It's so pretty here it seems only right."
"Hey, are you guys almost ready to go?" Jake asked. He's in third grade and is no great lover of U-pick farms; he prefers video games.
"Um, we kind of haven't gotten started yet," I said.
"Well, how much longer do you think you'll take?" he asked. "Are you going to fill up your whole bucket? Leslie, are you going to try to fill up that whole thing?"
"Um, yeah," I said sheepishly. "Sorry."
Jake helped us pick so we could get done faster. He also stirred up some ant piles with a stick and bothered Sophie.
Sophie was in a bit of a bad mood because she had gotten up too early. "I'm hatin' on that kid," she muttered to me under her breath. I love it when she calls Jake "that kid." He's only two years younger than she is.
I was eating as I picked. I just love a fresh muscadine still warm from the sun.
"Can you believe we've been coming here for 30 years?" I said to Kris. "I can't believe it's been 30 years."
Jake didn't find it so amazing.
"Let's go," he whined periodically over the course of the next 30 minutes. Then he tried a new tack: "Hey, guys!" he said, so brightly and cheerfully. "I've got an idea! Let's go!"
Kris rolled her eyes and shook her head. "It's all in the delivery, right, Jake?"
We paid for our grapes (they were so cheap I felt bad) and bought some hot boiled peanuts.
In the car on the way home, I was making a little pleasant conversation with the kids. Jake's going to turn nine on September 2, so I was asking him about his birthday plans.
"So where would you like to go out to eat for your birthday?"
"Um, Melting Pot," he said, "or, um, Golden Corral."
I smiled. "Six one, half-dozen the other, right?" I turned to Sophie. "So, do you guys really like to eat at the Golden Corral?"
"Yeah," Sophie said. "It's good. They have cotton candy there, and a chocolate fountain."
"Cotton candy?" I said. "A chocolate fountain?" This was news to me.
Sophie nodded. I can just imagine her and Jake at the Golden Corral. I'm sure they don't eat any vegetables. I picture Sophie, perfect little Sophie, eating blobs of cotton candy with a knife and fork.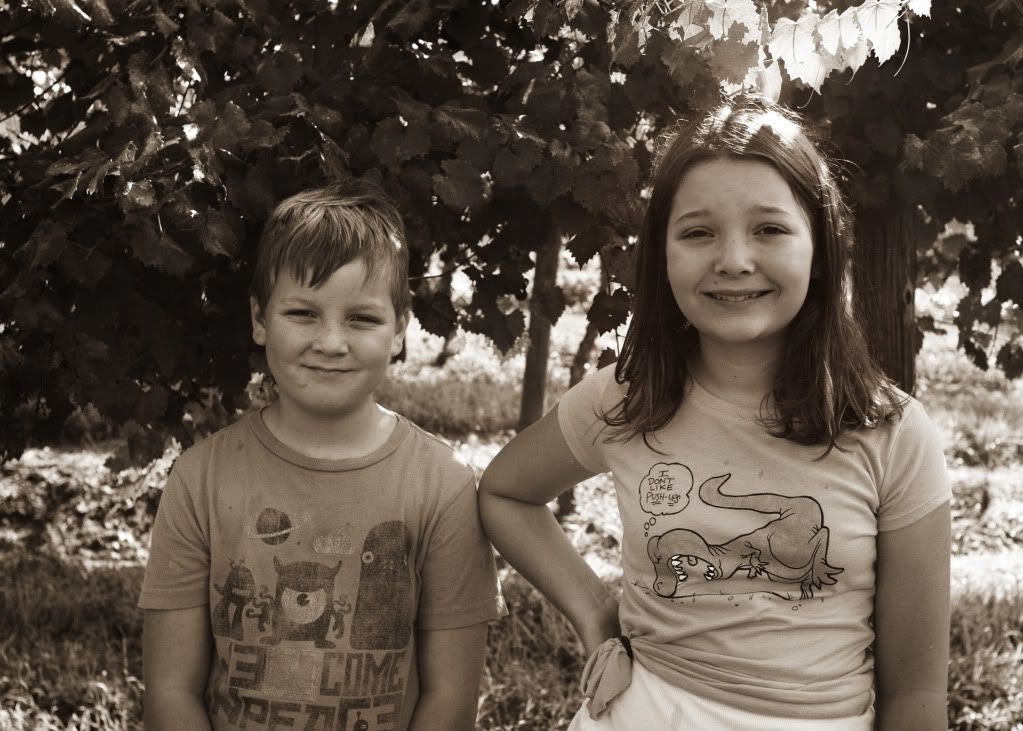 Sophie and Jake aren't that fond of grape picking. I think Sophie might actually be crying here.
Jake indulging his aunt with a little trace of a smile