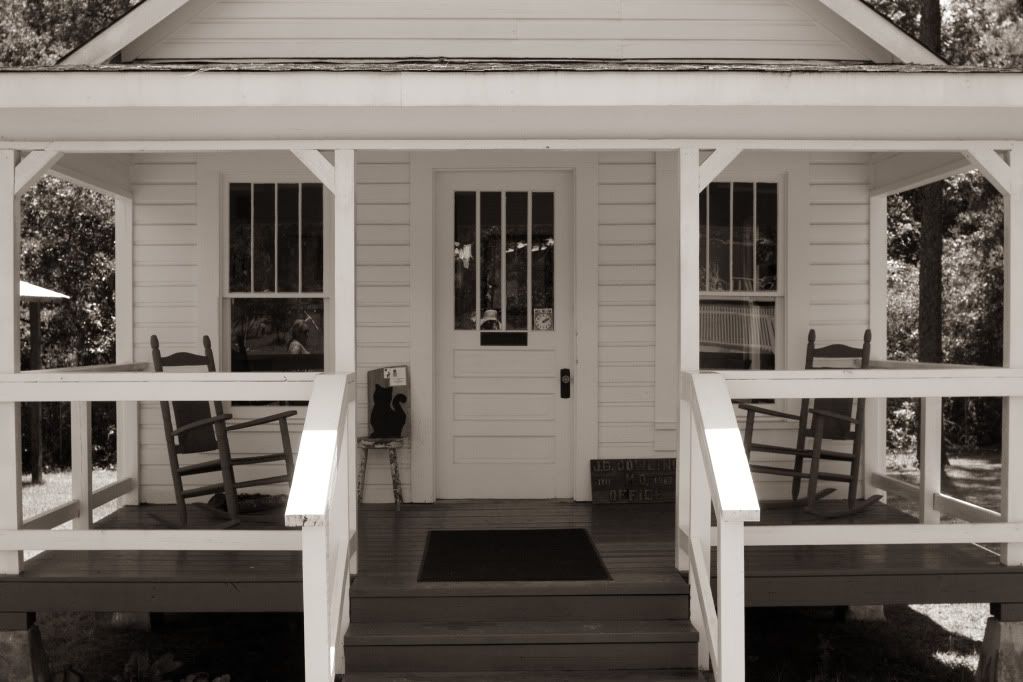 Dr. Dowling's Office
On Saturday Bun, Kris, Mom, Sophie, Jake, and I went to Blountstown, to the
Panhandle Pioneer Settlement
. The Settlement is a living history museum, a collection of historical and recreated buildings arranged to simulate an early agricultural community in this area. What I think is really neat about the park is that it preserves the history of ordinary people. A lot of times the only old buildings we preserve around here are plantation houses and other mansions. But the buildings at the Pioneer Settlement are cabins, mostly. There's a two-room school, a blacksmith shop, a simple country church, a grist mill, a general store, and a country doctor's office as well. The Settlement was founded in 1989, and most of the buildings were moved to the park from other spots in Calhoun County. Before being rescued, many of the buildings were just sort of rotting away, forgotten in the woods and fields (as I understand it).
The Settlement is staffed by volunteers from the Blountstown area, people whose forebears lived in just the sort of cabins that the Settlement conserves and interprets. One time I was there for a special event and each house was being shown by a descendant of the family who once lived in it.
Anyway, back to Saturday: We headed to the visitors' center, then joined a tour that was already in progress. Besides us, there were only five other visitors in the whole park. We started at the Yon Farmhouse in the center of the park. The Yon House is a wood-frame, double-pen dogtrot house built in 1897. There was a pump outside, and Jake started pumping rusty water into a metal bucket.
"I'm going to fill this whole thing up," he announced to me.
The tour guide was leading us into the house.
"Come on," Kris said to Jake.
"No!" Jake said. "I'm not finished yet!"
"Come on," Kris said. "You'll like this. You don't have to keep pumping. I promise you'll like this."
Jake kept pumping. "I have to finish getting all this water," he explained to me.
"Sounds reasonable enough," I said. I stood out there in the yard and waited for him, and while I waited I admired some nearby wild persimmon trees full of green fruit.
We finally hooked up with the tour group in the Yon Farmhouse kitchen, which was attached to the rest of the house by an open-air walkway. Our tour guide never told us her name, but she was very sweet and nice. She had a blonde bob and a sort of humble kindness.
"When we have school groups come through," she said, "we have a volunteer in here baking biscuits in this wood-burning stove. The most biscuits she ever made was 2,000 biscuits in one day."
I really loved the Yon Farmhouse. The lace curtains, the stenciled walls, the old portraits on the mantelpiece. . . . I just love old things. I love the way old houses smell, especially ones that aren't climate-controlled. You can smell their oldness, the mystery of it; you can smell, it seems, the very trees they were made of so long ago.
Yes, there was no air-conditioning in the Yon Farmhouse, even though there was lots of quite fancy antique furniture on display within it. The velvet chairs just sat there, languishing in the heat, slowly, invisibly decaying in the humidity. I liked the authenticity lent by the lack of air conditioning, but I also worried about how long the artifacts could last that way.
Jake is not exactly a history buff at the age of eight, and at a certain point he dropped out of the tour. We had just finished touring the Frink Gym.(He had kept trying to sit down in the various cabins we were exploring.)
"Mommy, I can't make it," he said, melodramatically. He kept moaning and closing his eyes and acting like he was about to faint.
Kris said, "Well, you can just sit and rest for a while."
We went out on the porch in front of the gym, the deep shady porch full of rocking chairs. "You can sit and rock," our tour guide said to Jake. "You can do like the old folks do."
Jake turned so red. He's shy around strangers. Obediently, he sat down on a rocking chair and we left him behind.
The Settlement has a reconstructed cemetery. It's just a demonstration; there aren't any actual bodies in it. There are old blackened marble headstones, and the mounds are covered with sea shells. "The shells helped hold the dirt in place. They helped stop erosion," our tour guide said. "Also, shells are symbolic when it comes to death. Because they say this earthly body is just an empty shell."
Jake ended up getting seasick on his rocking chair, and that was a whole new thing to complain about.
He joined us again at the doctor's office, Dr. Dowling's office. Kris said, "If you're not feeling well, why don't you just hop up on that little examining table?"
"Mommy . . . !" Jake protested.
I really enjoyed Dr. Dowling's office because it was so homey, so unlike the doctors' offices of today, which are so frightening, so cold and antiseptic, so institutional. Dr. Dowling's office was warm and comforting, cozy. Real sunlight flooded the rooms. Clocks chimed. The doctor would have known you personally.
As we walked from building to building, we kept encountering roaming guineas on the grounds. Their feathers looked like dotted Swiss, like gowns. There was a muscadine arbor, and a little herb garden inside a tattered wooden fence studded with lichen. Our tour guide let Sophie and Jake smell some tarragon.
After our tour, we went into the general store and bought some cold drinks, including a cream soda (my favorite). Mom bought Jake a little bag of Doritos, and the Doritos made him happy again (he's usually a very happy, cheerful little guy). We sat out on the store's shady front porch, and Jake, Sophie, and Bunny played some leisurely games of checkers.
First Sophie and Bunny played and Jake sat nearby, eating his Doritos in a cheerful, messy way.
"Since when do you lick your Doritos?" Mom asked.
"Since I want to get more flavor out of them," Jake answered in his characteristic upbeat way. He really is the most upbeat fellow most of the time.
Kris rolled her eyes. "Well, if you really want to get more flavor out of them, maybe you should try not getting the cheese all over your shirt. Maybe that would help."
Jake chose to ignore his mother; he let her comments just roll right off him. His shirt grew cheesier and cheesier.
He was quite a fan of my cream soda. We talked peacefully and cheerfully about its charms. The cream soda came in a nice old-fashioned glass bottle and Jake asked me if he could keep it (the bottle).
"Sure," I said. "It
is
very nice."
"Mommy," Jake said, "can I fill it with water? Can I throw it? Mommy, can I throw it and see what happens?"
"Absolutely not," Kris said. "Give me that bottle."
I just loved being at the Pioneer Settlement. It was so nice, with the guineas roaming around, and the little gardens here and there in the high pine shade. Kris and I strolled about with our cameras and tried to get pictures of the cabins and other buildings. I didn't want to go back home, back to the present time.
The Bailey Cabin
Cute Sophie, with a seasick, slightly whiny person behind her
Jake feeling chipper again thanks to the healing power of Doritos