The Jefferson County Courthouse
Yesterday we went out to
Monticello
, a little historic town east of Tallahassee, to browse in the antiques shops and look around at houses (my sister Bunny is thinking about maybe moving). Pretty much the whole family went--me, Rob, Bunny, Mom, Kris, Jake, and Sophie.
One of our first stops was
Tupelo's Bakery
. It was the nicest little place—sunny and airy and cheerful. Jake had a big chocolate chip cookie, and Sophie had a tiny chocolate cupcake.
Rob and I got a bottle of Virgil's micro-brewed root beer to share, and Jake was just fascinated by it.
"Is that
beer
?" he asked.
"No," Rob said. "It's root beer."
"I know, but doesn't
beer
usually come in a bottle like that?"
"Yeah," Rob said, "sometimes."
Jake was soon savoring his own gourmet root beer. "This is so good!" he enthused.
He covered up the word "root" with his hand while he was drinking. "Hey," he smiled, "does this kind of look weird? Does this kind of look like I am drinking beer?"
We were all laughing at him and Rob said, "Oh, not really."
But Jake could not be convinced. "I think I'll finish my root beer while we're walking," he said breezily.
"No," Kris said, "you might hurt yourself with that bottle. You might bump your teeth and knock them out."
"Mommy! I won't!"
Finally, after much begging and pleading, Kris agreed to let him drink his root beer as we went.
We headed out into the brilliant heat. Jake was holding his root beer, paying particular attention to the positioning of his hands. It was very important that the word "root" was covered up.
"I know why you want to carry it like that!" Sophie said. Sophie is always wise to Jake. "You want to look like a little kid drinking beer!"
Jake thought fast. "No, seriously, Sophie, I'm just trying to figure out the best way to hold this. I don't want to drop it. It might break."
Sophie rolled her eyes. Kris rolled her eyes.
Jake strolled along merrily. We were passing all kinds of cute little shops with blooming window boxes. There were granddaddy live oaks dripping with moss. Finally, Jake finished his root beer. But he still wanted to carry the bottle.
"Why are you still carrying that bottle, Jake?" Sophie demanded.
"I don't know," Jake said, shrugging. "I just like it."
"We're about to go into a store," Kris said, "Why don't you let me throw it away?" She rolled her eyes and smiled and shook her head. "Don't worry, the whole town knows you've been drinking beer."
But Jake refused.
"Hey now," Bunny teased, "we're going to get an open-container violation here!"
Well, Jake just loved that idea.
He finally let Kris take the bottle, but he wouldn't let her throw it away. "I want to keep it in my room," he said.
"
Why
, Jake?" Sophie demanded.
"I just like it," Jake said.
"It
is
a nice bottle," Rob said. "You know, Jake, you can get those root beers at Publix. They're a little expensive, but you could probably get them sometimes."
Jake was excited. No, he was obsessed. He spent the next 15 minutes begging his mother to stop at Publix on the way home and buy him some root beer.
"I know what I'm getting Jake for Christmas," I said.
Jake and the marvelous Virgil's root beer
We went to a couple of little shops, and then we headed over to the house Bunny has been looking at. I'll take this time to tell you a little more about Monticello. It's the most romantic little town, a place time forgot. There are live oaks galore, and white mansions and little shotgun houses and a courthouse like a wedding cake. The streets are so narrow, and some of them are dirt; many are canopied.
I couldn't believe how beautiful "Bunny's house" was. Greek Revival style, with white columns and green shutters, it was surrounded by old live oaks, sago palms, and cabbage palms. There was a curving dirt drive outlined by ancient boxwoods. The sheer oldness of the place gave me shivers. We stood out front taking pictures and ooh-ing and ah-ing.
We strolled around the perimeter of the property, which took up a whole block, to see the forest of invasive species that would be Bunny's if she bought the place. Among the potato vines and bamboo, there were collapsing barns and other outbuildings.
I was getting too excited. "Oh, imagine the Halloween parties you could have here!" I said to Bunny. "You wouldn't even have to decorate! It just
is
spooky!"
Bunny was excited too, but she was containing herself much better than I was.
"Oh, I would have so much fun coming to visit you!" I said. "I think I would bother you every weekend!"
We went back to the front of the house and just gazed. It was just so big and grand and stately. I had goosebumps.
We had lunch at a little pizza place, and then after Mom and Kris and the kids went home, Rob, Bun, and I went back to "Bunny's house" to take a second look.
We were standing out front marveling, taking pictures, and I was exhausting myself with my relentless enthusiasm. "I don't think I've ever seen such a beautiful house," I said to Bun. "I really don't! And you could afford it. You could! I think you should buy it! I do! And then I can come visit you all the time and live vicariously through you."
I was
too
excited. "Just look at those columns! Just look at this row of live oaks! Look at those huge porch swings and the blurry old windows and all the brick chimneys!" I was blabbering on like an idiot.
We loitered around on the street for the longest time, and then a man came out. "Hello!" Rob cried in his friendliest voice. "We were just admiring this beautiful house! Are you the owner? . . ." And in five minutes we were inside taking a tour.
The man (I'll call him Bob) had grown up in the house. His parents had bought it in the sixties, and there were old black-and-white pictures on the walls showing the house back then. There was a picture of the family painting a picket fence around the front yard. I recognized Bob as a little boy. The house loomed in the background, looking the same then and now.
The house was so interesting because almost nothing had been updated since . . . since maybe the 1930s. There were cracked plaster walls and huge, heavy doors. Wonderful old mantelpieces, fireplace after fireplace, floor-to-ceiling windows, the darkest old wooden floors (the floorboards were so wide). There was a beautiful mahogany staircase, and a big airy, roomy landing upstairs. There was a second-floor balcony with a breathtaking view of the neighborhood.
On the way home I couldn't stop talking about the house. "Oh, think of how much fun your cats would have living in a mansion!" I said to Bun. That might have been my dumbest argument as to why she should buy the house, but I don't know. I was saying a lot of dumb things.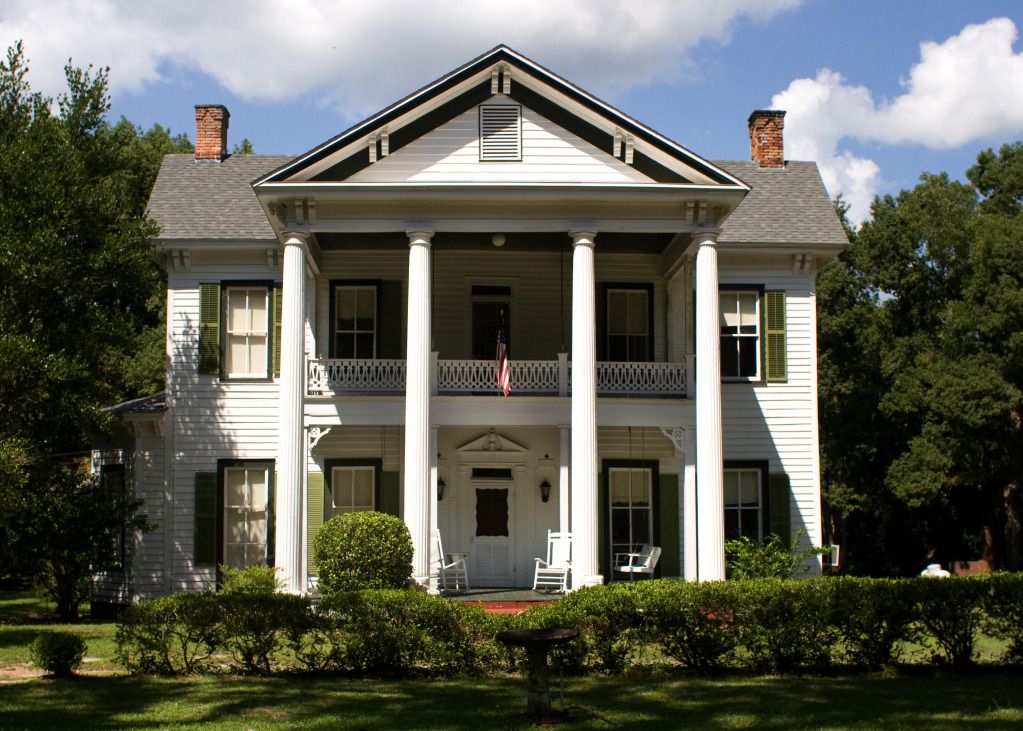 Monticello scenery
A Monticello dirt road