A view of the woods at Lafayette Park
These pictures are from one of my favorite neighborhoods in Tallahassee, the Lafayette Park neighborhood. I went to elementary school in this area, and I have such warm memories of the place.
We used to have end-of-the-year parties at Lafayette Park, which was just a few blocks away from the school. Our class would walk to the park, and I remember I was just fascinated by the bumpy old sidewalks that would take us there. See, we didn't have sidewalks in the new suburban neighborhood where my family lived; you couldn't walk anywhere. Sidewalks, to me, were generally the stuff of storybooks. Anyway, we'd have so much fun at our Lafayette Park parties. We'd play softball and run around and have hotdogs and rice krispy treats and popsicles. The park had athletic fields, but it also had vast stretches of shady woods, with trails and bridges and the grandest old trees
—
pines and sweetgums and live oaks and sparkleberries.
When I was trying to get this picture, I saw a fox zip into its den.
Every tree in the park is special; they're all distinct individuals.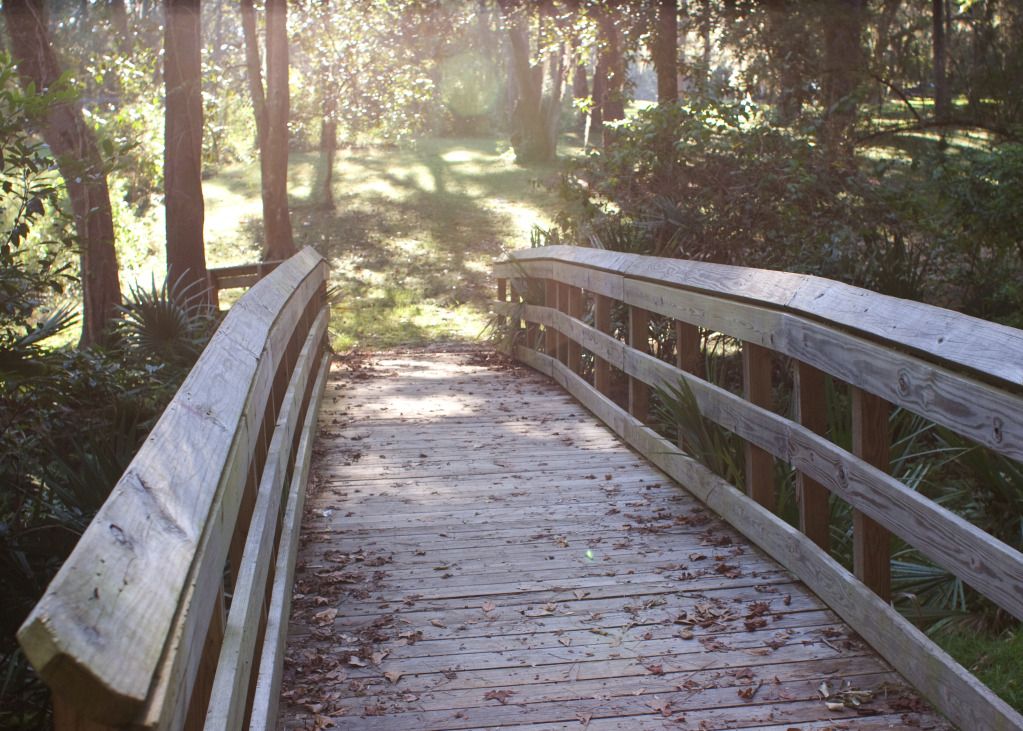 Palmettos and ferns grow around the bridges, on the edges of the creek bed.
In the summer Kris and I would take really inexpensive art lessons at
Lafayette
; they were subsidized by the city. I still remember how wonderful and relaxing it was to sit outside on a summer morning and draw the trees. I can remember a certain morning in great detail, exactly how it felt to sit in the dry leaf duff, peacefully drawing roots and bark. Kris and I took lots of different classes
—
drawing, ceramics, bead making, and painting. We even took a class that focused just on making Christmas decorations. The teachers were always so nice, and the classrooms were sunny and cheerful; they had a very distinct, comforting smell that made me think of brown sugar.
The neighborhood around the park was full of interesting old houses, no two the same. There were limestone retaining walls with ferns dripping down their sides, and great live oaks shaded plenty of messy, lush cottage-style gardens that I longed to explore. As Dad was driving us to school, I'd always try to peer into the gardens, my eyes following the shady paths as far as they could.
The work of a Master Gardener
I just love a swing hanging from a tree.
One time I actually got to play in one of those great yards. Kris had a friend who lived within walking distance of our school, in a romantic old Florida house, white brick with a second-story balcony cooled by ceiling fans and decorated with wicker chairs. It was a Mediterranean-style house, probably built in the 1940s. Kris's friend was very proud of her yard, which took up a whole block. I remember she called it "the maze" because it was divided into different shady garden rooms, the walls formed by old hollies and camellias and even ginger lilies grown six or seven feet tall. Well, I had a fabulous time the day I got to play in "the maze." I believe we buried treasure, and made a house under a camellia.
This isn't Kris's friend's house; I tried to get a picture of it, but the gardens were so lush and jungle-y they completely obscured the view.
Here's another fond memory I have of the Lafayette Park neighborhood: Sometimes, very rarely, when I was in eighth grade, my friend Kim and I would get to walk over to the kindergarten and babysit the little kids while the teacher was taking her lunch break. The kindergarten was separate from the rest of the school, located across the street in an old Craftsman bungalow. It was a very, very special thing to get to walk to the kindergarten. I just loved the freedom of it, the idea of leaving the school grounds in the middle of the school day. I liked the comfortable feeling of it, too, the sense that rules were being relaxed. Our school was such a friendly, cozy little place, so idyllic. I remember once on the way back to our classroom Kim and I found a big blue hydrangea bush right near the street and we picked our teacher the most beautiful bouquet. The flower clusters were so big, they reminded me of balloons or balls of cotton candy. (And, yes, of course now I see that the flowers were surely in somebody's yard. . . .)
Anyway, I'm really happy that Lafayette Park still looks the same today as it did years ago when I was in school. The neighborhood is especially magical now, at Halloween time, when the residents go all out decorating, when the lawns become cemeteries, and ghosts made of sheets haunt the mossy trees.
Halloween is a big deal in Lafayette Park.
Everybody's so creative with their decorating.