A Christmas holly cookie
I had a hard time concentrating at work this week—simply because I was feeling too Christmassy. I wanted to string popcorn and listen to "Last Christmas" by Wham, not sit at my computer. So anyway, I was happy when it was finally Saturday and I could do a little Christmas baking. Well, it wasn't actually baking that I did—it was cooking. I made no-bake vegan holly cookies, a Kimel favorite.
The first time I ever tasted a holly cookie like this was when I was 14 and I went to my first Christmas open house at the Wickery, a special antiques store that our family was very fond of. The Wickery was located in an old barn out in the country, in Bradfordville, just north of Tallahassee. We couldn't afford antiques back then, but we would go to the Wickery "just to look," as Mom liked to say. We were great lookers, great dreamers in those days. We'd walk around and gaze at all the pretty things—the painted cupboards and old carriage seats, the silver tea pots and highboys—with no thought of ever, ever buying anything.
The Wickery was fun to visit any time, but it was extra special at Christmas. On the day of the open house, you'd park in a golden field next to the barn (the store). I remember the field being surrounded by woods, by flaming hickories and maples, and American hollies heavy with berries. There weren't any strip malls or houses around, for this was the true country—just clean woods and fields.
Inside, the store was decorated to the nines with natural things—greenery and pine cones and bright red camellias. Hickory nuts. Candy canes. There was a glittering, enormous Christmas tree, a shaggy, fragrant giant cedar that touched the ceiling beams. The doorways and banisters were draped with lavish garlands made from real pine and holly branches and yards and yards of red ribbon. There were wreaths made from corn husks, and some from baby's breath.
No, this picture wasn't taken at the Wickery. It's just a shot of a random Christmas decoration that has nothing to do with anything.
Another random bit of Christmas cheer
It was chilly in that big old barn, so the hot spiced tea being served tasted extra good. And that brings me to the best part of the open house—the refreshments. When I asked Kris recently what she remembered about the Wickery, she said, "I remember eating, fully. I mean, like I was there for dinner." Snacks were offered in wonderfully generous amounts, and they were all made fresh, right there on the premises. They were hot out of the oven and served on silver platters.
The kitchen where they were made was outside—it was an old stand-alone kitchen—and opening the door was like opening a time capsule. Inside, there was a wood-burning stove, a cookstove, a big black iron thing, with a fire roaring inside. Yes, the Christmas goodies were made in that cookstove! It seems amazing to me now. But there were women in the kitchen working feverishly. I think they were wearing calico . . . long dresses . . . old-fashioned clothes. I
think
. . .
I'm trying to remember all the kinds of treats they were making. I'm trying to picture the contents of those silver platters. There were the holly cookies, of course. And cut-out cookies. Homemade doughnut holes—piping hot and dusted with sugar and cinnamon. Gingerbread boys. Divinity. Not all the party food was sweet. I believe there were sausage balls—you know, the kind made with Bisquick and lots of cheddar cheese and red pepper flakes. But maybe I'm getting mixed up. Maybe I'm confusing the open house with other Christmas parties I went to or dreamed about. As my favorite writer, William Maxwell, said, "In talking about the past, we lie with every breath we draw."
For example, I said we never bought anything at the Wickery, but that was definitely somewhat inaccurate. Kris and I used to buy these irresistible little toy mice there with our babysitting money. The mice were very small and covered in real fur--light gray and very soft--and they were dressed in the most elaborate costumes. There was a bridegroom in a top hat and tux. A chef in chef's whites. A tiny queen with a golden crown and scepter. The mice resided in extravagant, fully furnished dollhouses with real working minute lamps and chandeliers, and we would stand and gaze at them, fascinated and full of longing. We would talk and talk about them, and our conversations generally started like this: "Oh, aren't they
cute
?"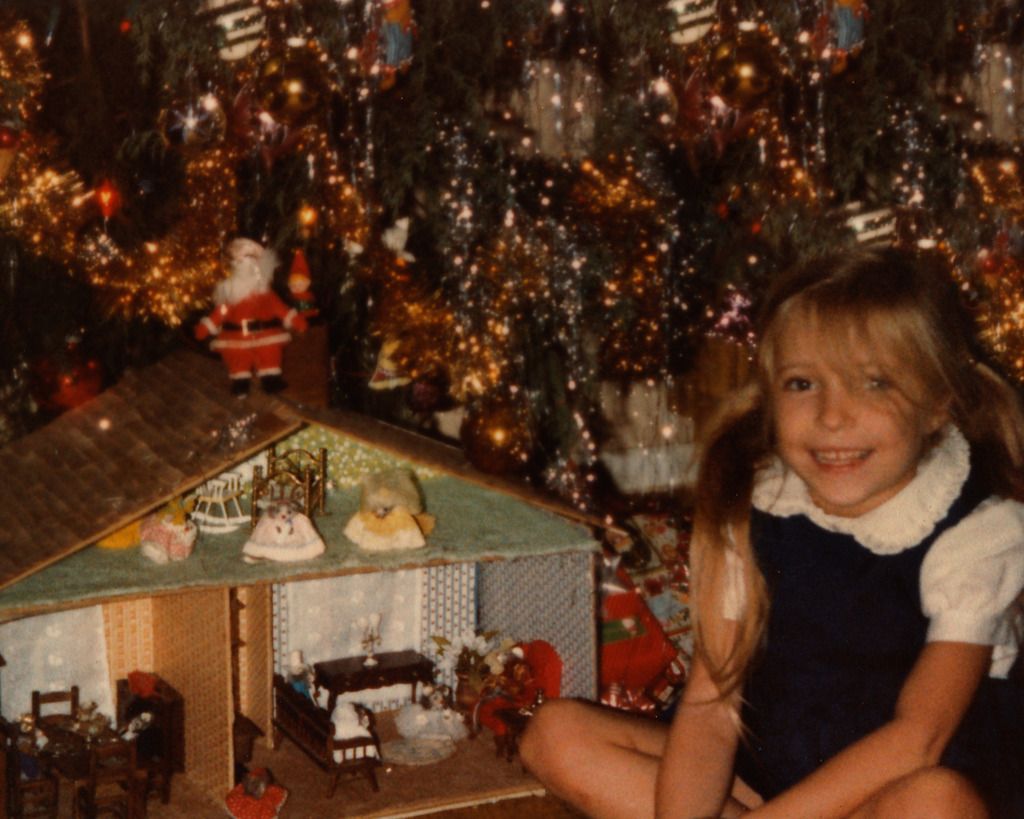 Bunny and the fabulous Wickery mice
Vegan Christmas Holly Cookies
Ingredients:
6 Tbls non-dairy butter
32 vegan marshmallows
1 tsp green food coloring
1 tsp vanilla
3 cups corn flakes
Cinnamon Imperials
Directions:
Melt butter and marshmallows together in a pot over low heat. Stir as needed.
Once the marshmallows have all melted, remove the pot from the heat and stir in the green food coloring and vanilla. Stir until the marshmallow mixture is a uniform green color with no streaks.
Fold the cornflakes into the marshmallow mixture and stir gently until all are coated.
Drop by the teaspoonful onto aluminum foil or parchment paper and place three Cinnamon Imperials in the center of each cookie. Let dry.
A souvenir. I was talking to Mom about the Wickery and she went and found this old recipe card for the famous Wickery spiced tea. She had saved it all these years!
Christmas lights in downtown Quincy