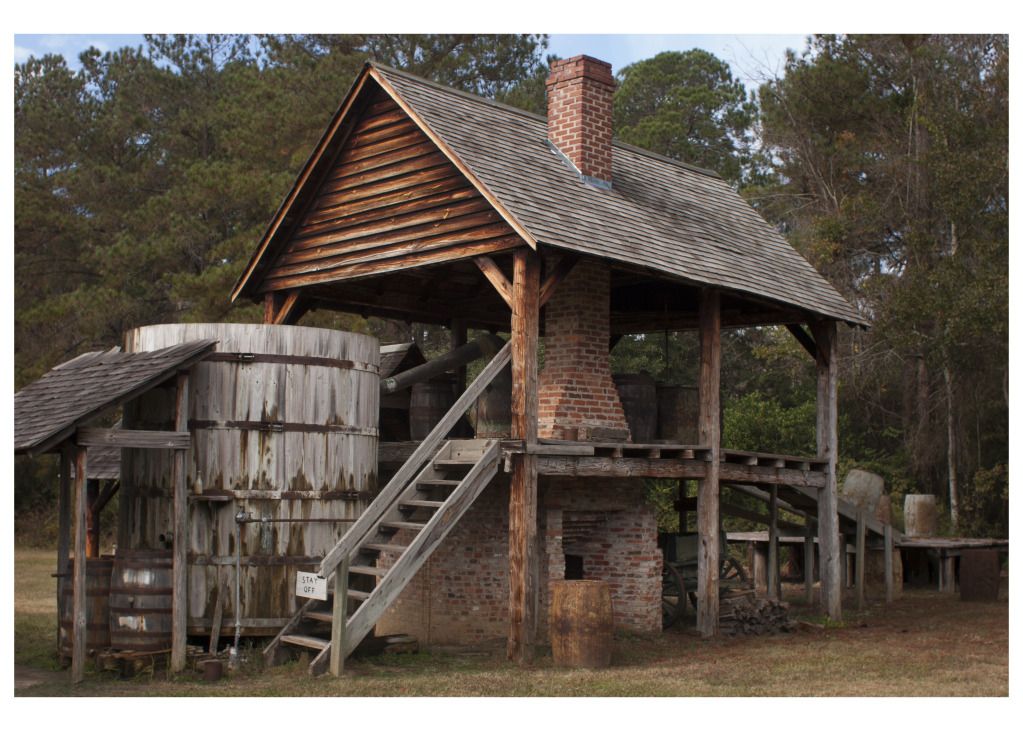 On Saturday Rob and I drove to Tifton to attend the Wiregrass Christmas celebration at the
Georgia Museum of Agriculture and Historic Village
(formerly known as the Agrirama). We met up with Kris, Sophie, and Jake. Kris has always loved the Agrirama and now I know why. It is the most idyllic place.
A steam engine train took us from the general store/visitors center to the historic village—35 restored 19th-century buildings on 95 acres. On the way to the village we passed through woods and swamp. It was a scenic ride through the wax myrtle and yaupon in an open-air rail car.
A spry, pink-cheeked, smiling man about 80, in a conductor's cap and red suspenders, was running the train. When we pulled up at the depot, the man's little grandson, also in suspenders and a cap, jumped off ahead of everybody else and gave us a hearty welcome to the village. He was about seven and so tiny and enthusiastic. He cried, standing on his toes and fairly hopping with excitement, "I want to thank y'all for riding with us and we hope y'all have a wonderful day!" He welcomed us with all his might.
Our first stop was the miller's house, a silvery, unpainted Cracker-style dwelling. We went into the kitchen where a docent in a long calico dress and clean white apron was baking cornbread in an old-fashioned cookstove. The kitchen was very charming, decorated with strings of okra and bouquets of herbs. We got to sample the cornbread and it tasted so delicious. There was the tiniest hint of ashes. It tasted of the past. I was really happy to see Sophie and Jake buttering up that cornbread and chowing down.
The miller's house
Sophie and Jake by the gristmill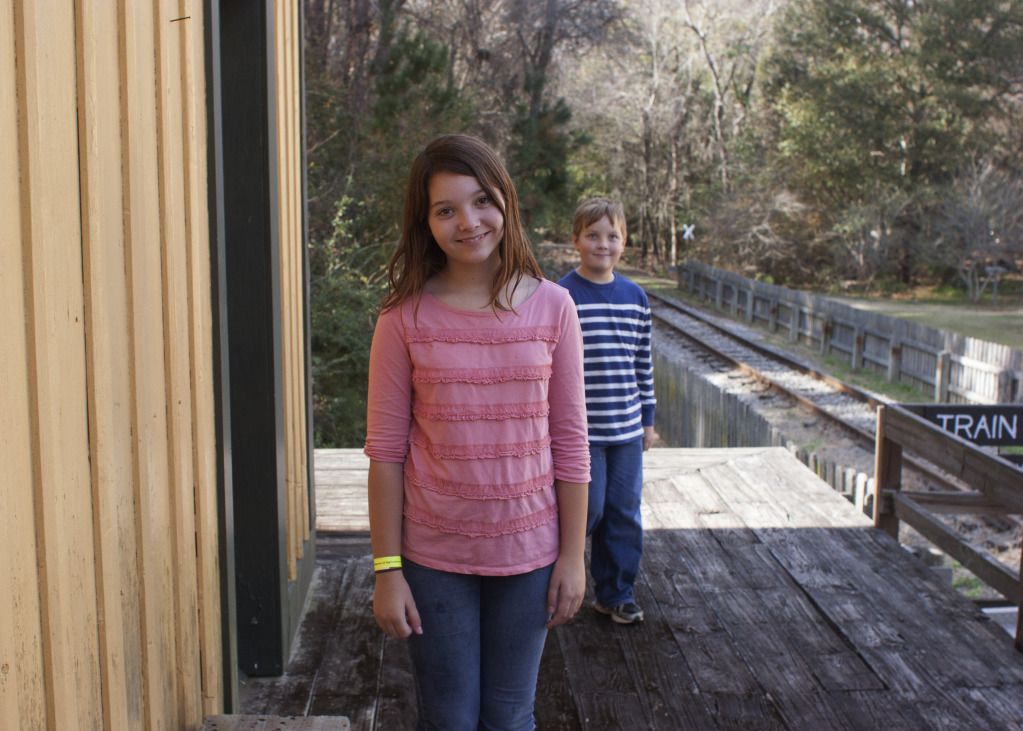 Sophie and Jake being dumb
We toured the gristmill and the sawmill, then Kris and I made Sophie pose for pictures in a patch of cotton. We chewed on some sugar cane and listened to fiddle music, and Jake got to sit on a very placid mule named George. He also fell off of George, but that's a story I won't go into.
Jake, George, and Carl
We stopped at the old drug store for a snack. Sophie and Jake got ice cream cones, and we had root beer and lemonade too, and we sat in a sunbeam at a little ice cream table, in little chairs with heart-shaped backs. There were carolers just outside the door, on the wooden sidewalk, and there were natural Christmas decorations here and there—garlands and wreaths and swags made from magnolia leaves and pine branches, wax myrtle and holly sprigs. Every building was decorated. The porch rails on all the houses wore garlands of glossy, curly smilax.
The doctor's office was a really cute place. It was located in a little wood-frame house, a little shotgun house painted golden yellow. There was a lavish purple morning glory vine growing all over the porch, making a kind of flowery curtain. In the front room an elderly lady (a docent) was standing by a large basket of "tussie mussies." She was selling them for a dollar each, and Kris and I each bought one. The stems of the little bouquets were wrapped neatly in newspaper and tied up with yarn. The docent started telling us what each herb and flower was: "Now that's wormwood," she said. "And that's tarragon—the one that smells like licorice. . . ."
She took us back to see the doctor's office. "My daddy was the doctor," she said. "This was his office. If you needed to have your tonsils out, you sat in that chair." (She pointed.) "And when you were done, my daddy would write you a prescription for all the ice cream you could eat. He'd take his prescription pad and really write it out, and all the children seemed to like that."
Probably my favorite part of the whole day was when I discovered a huge pomegranate bush behind one of the farmhouses. I'd never seen a real live pomegranate bush before. It was all silvery; it had lost every one of its leaves. And the fruits were lying on the ground, all dry and brown. But I was so excited. You could grow pomegranates. It was a possibility. I began to make plans to procure a pomegranate bush for myself.
The pomegranate grew in a particularly lovely little yard, near a Scuppernong arbor. A few feet away there was a chicken house and a little chicken run full of the prettiest, cleanest, healthiest-looking chickens. There were fat, fine Dominiques (with black and white feathers) and a little cocky golden bantam rooster. We crouched in the shade and admired all the birds.
"Oh, I want to get chickens someday," I said. "Or guineas."
"I think you should get goats," Sophie said. "Goats are cute. I'm on Team Goat."
We toured the Tift House, home of Tifton's founding father, Henry Harding Tift, and his wife Bessie. It was a fine Victorian house full of stained glass and fancy curly pine moldings and mantels. I probably missed a few of the details of the tour, however, because I kept having to give Jake back massages. He kept standing in front of me, blocking my path. "Massage, Leslie," he'd say.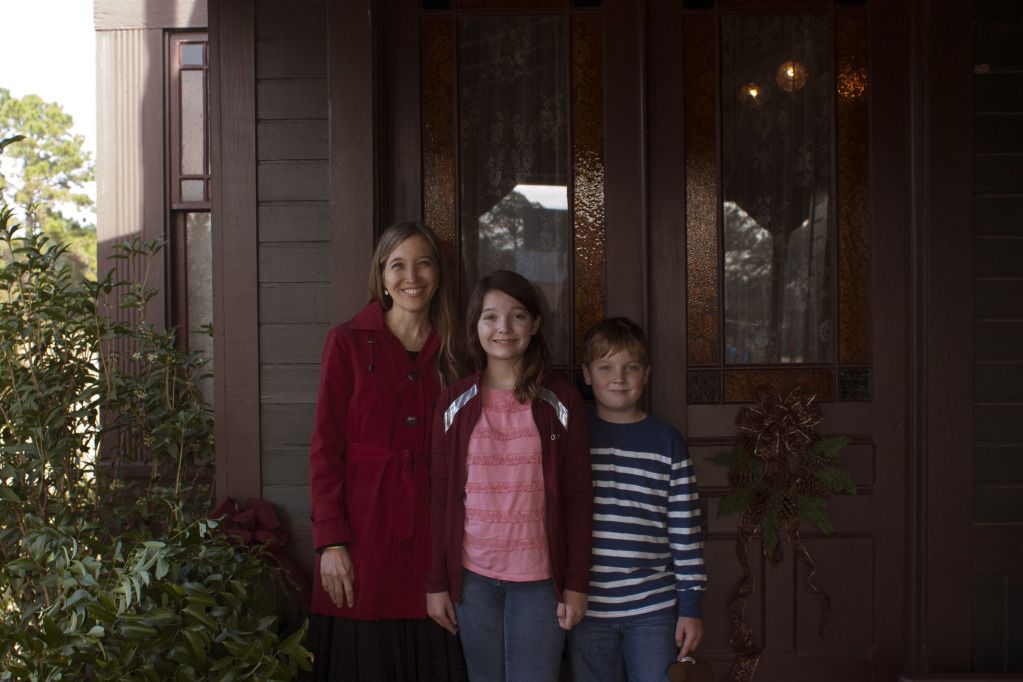 Leslie, Sophie, and Jake at the Tift House
Kris and Jake in the Tift House garden
After the tour, in the Tifts' sunny rose garden, I overheard the funniest conversation between Rob and Jake. Jake was trying to get Rob to play with his Domo doll and Rob was resisting. Jake always wants to engage with Rob and Rob will kind of give him a hard time just to be funny, I guess, and to tease him.
"Rob," Jake said, "Domo's a leech crawler." And he made Domo do a sort of crawling dance through the air toward Rob. "Rob, did you hear me? Domo's a leech crawler. Do you know what that is?" (Imagine Jake talking very loudly and excitedly.)
"No," Rob said, "I have no idea what you're talking about."
Then a little later Rob was holding Jake's Domo for him. And Jake said, "Rob, can I have my Domo?" He looked at Rob hopefully. "Do you like him?"
And Rob said, grudgingly, "He's okay, I guess."
Jake, of course, took this as a ringing endorsement of his little Domo, with his worn spots and his plastic glasses.
Jake and his Domo
When the Agrirama started closing for the day, we didn't want to leave. We stood at the depot for a while, waiting for our train. Finally it came and we got on board, but there was a delay. The tiny boy in suspenders, the one who welcomed us at the beginning of the day, had a little hammer and was tapping it around the railing of the car . . . under the supervision of his grandfather. The boy finished his work, then looked around at the seated passengers. "Y'all ready to go?" he asked in his enthusiastic way. "Well, let me put the hammer up and I'll be right back!"
The little boy was so responsible. He was going to put the hammer away all by himself without anybody telling him to. His grandfather, laughing a little, ended up just taking the hammer, and then he started the train. He blew the whistle and we were off. When we arrived at the visitors center, the little boy jumped off ahead of us as he had done before. He stood on the sidewalk in front of us and said, so loud and clear, "It was a pleasure meeting y'all! Be sure to come back next weekend and you can ride the Polar Express!" (The Agrirama is having another special Christmas event, and the train will be transformed into the Polar Express.)
"Oh, that's so great," Rob said. "He just loves the Agrirama so of course he knows all the events that are coming up."