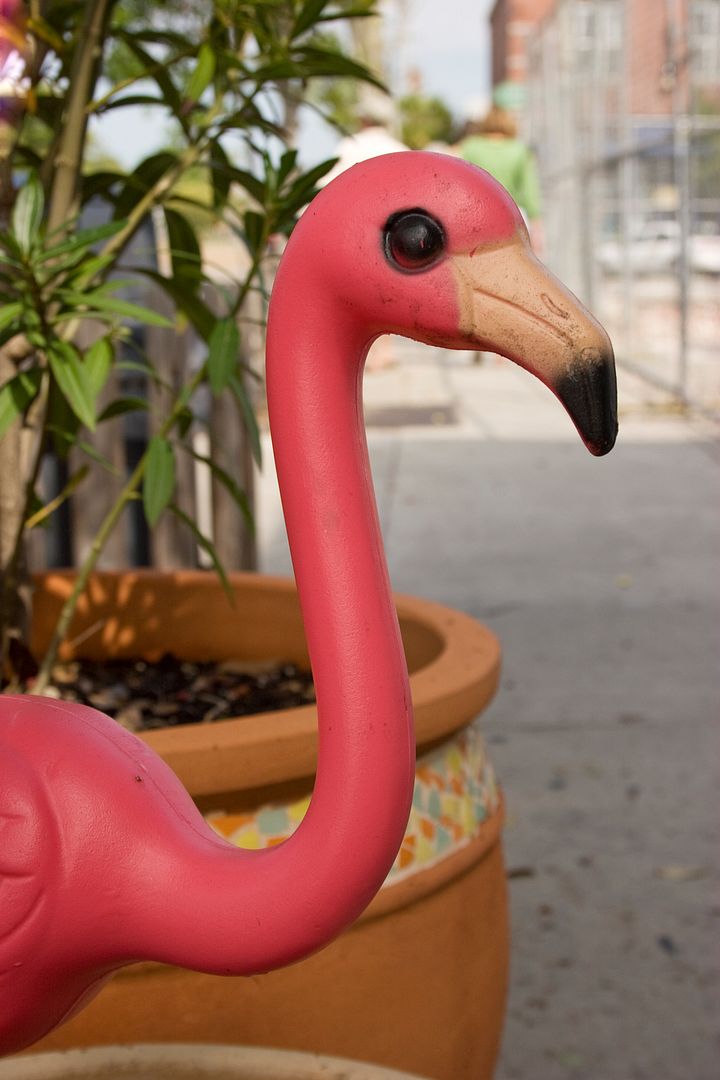 Last week my family and I were at St. George Island, so on Saturday we took a little trip across the bay to Apalachicola to poke around and do some shopping. Apalachicola was once the third busiest port on the Gulf of Mexico (just behind New Orleans and Mobile), but now the town is a sleepy place. The oyster industry hangs on, but of course even that is in serious trouble due to the ongoing drought and reduced water flow in the Apalachicola River. But . . . but this is supposed to be a fun, fluffy little blog post, so I won't talk about that too much.
The downtown area is just as cute as can be, with sun-drenched sidewalks and Victorian storefronts still intact. There are lots of boutiques and junk stores and gift shops and seafood restaurants . . . and there's a candy shop and an old-time soda fountain. . . . Each shop is painted a different color—bright yellow or blue or green. Some shops have colorful awnings on the windows, and some have window boxes full of plumbago or pentas or maybe asparagus fern. Courtyards are common features; they're usually paved with brilliant white oyster shells and decorated with funky statues, and they're often home to stray cats. Wild mulberries grow in the vacant lots, and in May when we visit we always stop and feast on the fruits. (We come to Apalachicola at least twice a year.)
Jake usually gets two ice cream cones in Apalachicola . . . because Mom spoils him. This trip, he had a gelato and several large caramels with sea salt. He spent the rest of our stay lying on various benches outside of stores while the rest of us shopped; he was talking to Mom (or sometimes Kris) about how he wanted to go back to the beach house and play with his Kindle. He also made friends with some sociable old chihuahuas.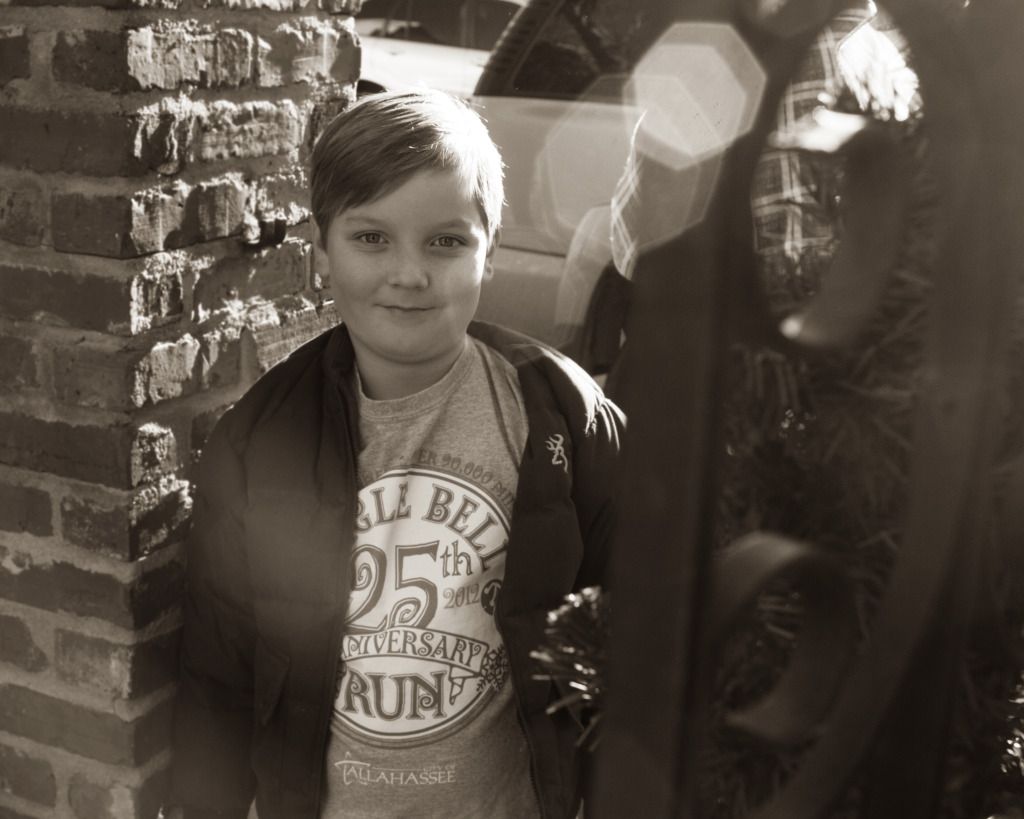 Jake in front of the Grady Market
One of my favorite shops in Apalachicola is RiverLily, because it's full of frivolous, pretty things—perfume and lotions and rhinestone earrings and sequined purses. . . . It's a fun place, a silly, lovely place. Nothing bad could ever happen to you in RiverLily. This time, like every time, Sophie went around testing all the beauty products. She dusted our cheeks with glitter. She sprayed perfume in our faces. The whole store reeked of lily-of-the-valley. Kris and Bunny and I made Sophie try on a glittery barrette and attempted to buy her things, but Sophie's a disappointingly level-headed and frugal girl:
Leslie: "Sophie, would you like me to buy you this headband with the pearls and feathers?"
Sophie: "Hmm, well, I don't really need it, and I think it would be kind of a waste of money."
We shopped all afternoon on Saturday, and then on Christmas Bunny and Mom and I came back and wandered around the quiet residential streets, taking pictures and admiring the old houses. (Apalachicola has over 900 historic homes and buildings.)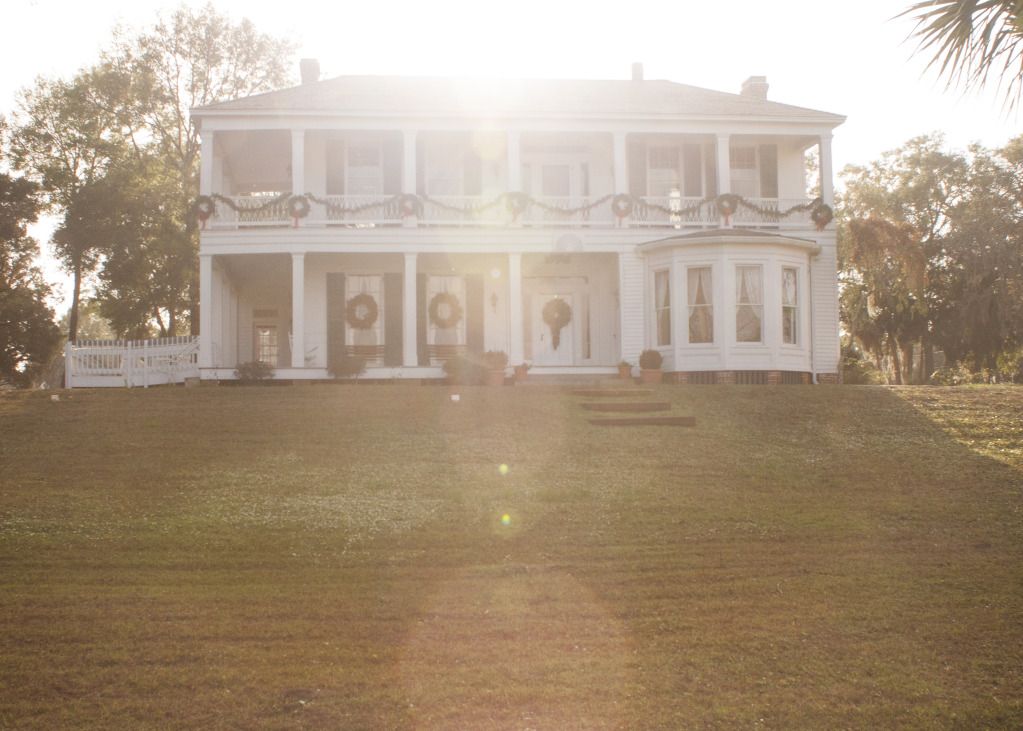 The Orman House, built in 1838
In the last 15 years or so, rich people from Miami and other big cities have bought up a lot of the houses and fixed them up as vacation homes, but my favorite houses are the ones where ordinary people still live, the ones with mildewed gingerbread and yards turned to jungle. I like the yards with chickens in them. We walked along, peeking into the gardens and generally being very nosy. We were wondering what it would be like to live in such a romantic old place.
"Which house would you choose," I asked, "if you could choose any one?"
But there were so many pretty possibilities, nobody could pick.
We kept walking, gazing at fern-covered live oaks and pines swaddled in jasmine, at wavy glass windows and saggy front-porch hammocks. We took pictures of mossy benches and bright green lettuce patches, trying to store up sunny memories for the dreary winter days to come.
I should have gotten a picture of this whole tree; it was just huge and so beautiful.
A fancy bench in a fancy garden
A bunny bench!
I love this wild yard.