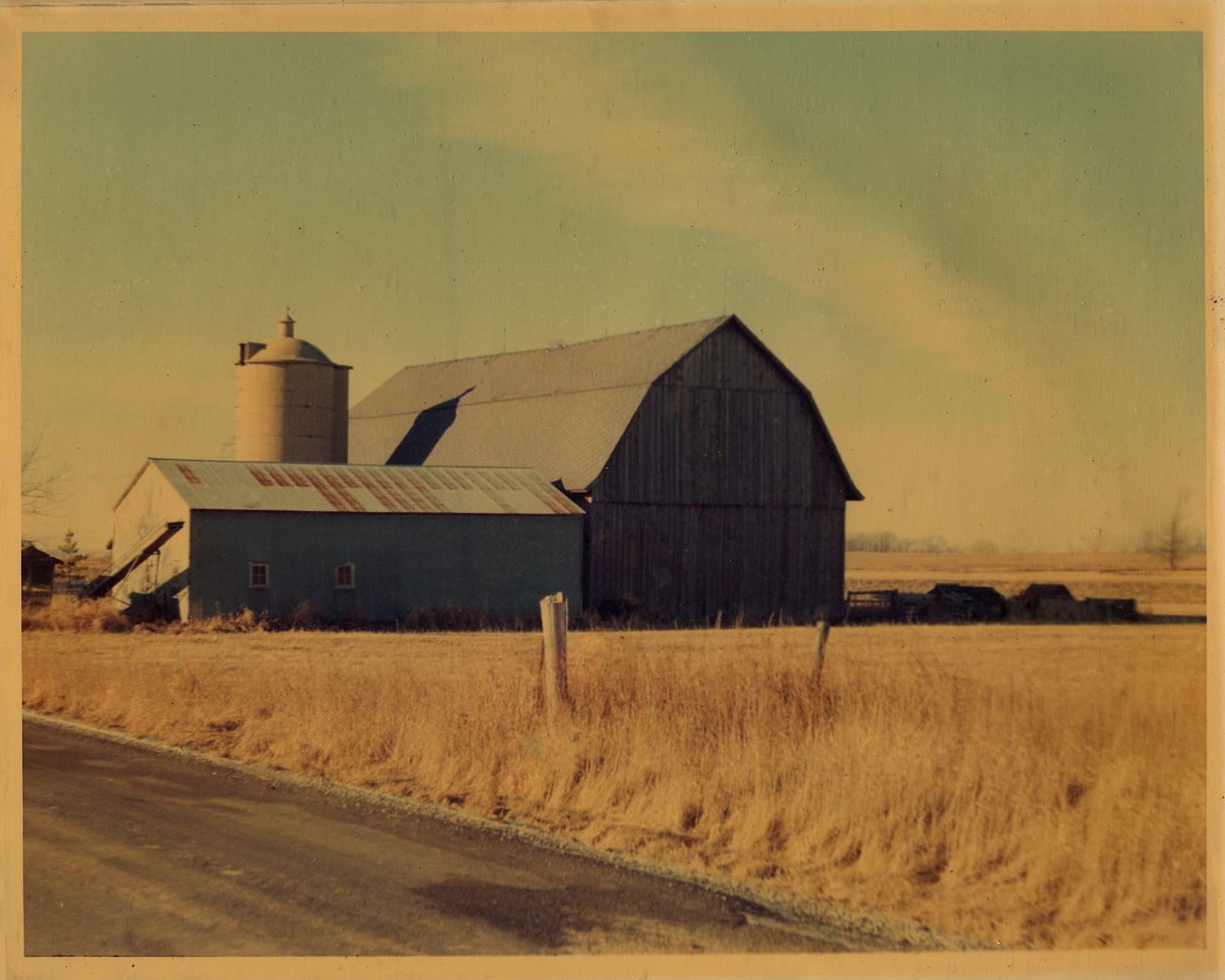 My grandparents on my mother's side lived on a small dairy farm in Wisconsin, in Brown County, near Green Bay. I grew up in Florida, far away, so I only got to visit the farm a few times. Yet even though my visits were infrequent, they had a huge influence on my character and my dreams. I never forgot them. All my life, it seems, I've been trying to get back to what my grandparents had.
I stayed at the farm when I was three, six, and nine—just that many times, that long ago. Still, my memories of the place are quite vivid. I was crazy about the house, which was wonderfully rambling and old, a 19th-century Belgian-style farmhouse with vines running up its yellow stucco sides and huge lilacs crowding around the sagging front porch. The house just felt so instantly right and comfortable to me. I loved its spaciousness and how well lived in it was, how well used. The couches and stuffed chairs seemed to have been made extra soft by wear.
Here I am at three, at the side door, with Grandpa's dog Sport.
The kitchen was my favorite part of the house, because there always seemed to be a cake baking in it. Grandma served dessert with every meal. Often the desserts seemed marvelously foreign to me. They were treats unheard of in Florida, made with exotic Northern ingredients such as rhubarb. One of my favorites was rhubarb torte, but I liked Belgian pie too. Grandma actually cooled her pies on the kitchen windowsills, just like people do in storybooks.
I loved that the windows in her house were always open in summer, that there was no need for air conditioning in Wisconsin. I was delighted by the smell of the fresh cool air coming in and by the way the curtains floated on the breezes—levitated.
The kitchen was just enormous, as I recall. The sink was as big as a cattle trough, it seemed (Kris and I would take baths in it), and there was a large Hoosier cabinet with a built-in flour bin and a pull-out bread board. In the middle of the room was a long wooden table where we ate supper. It was so long because Grandma and Grandpa had nine children, and because there were always loads of grandchildren staying at the farm. I remember being very pleased and flattered that there was a place for me at one end. I felt very special to be included, to be part of the gang.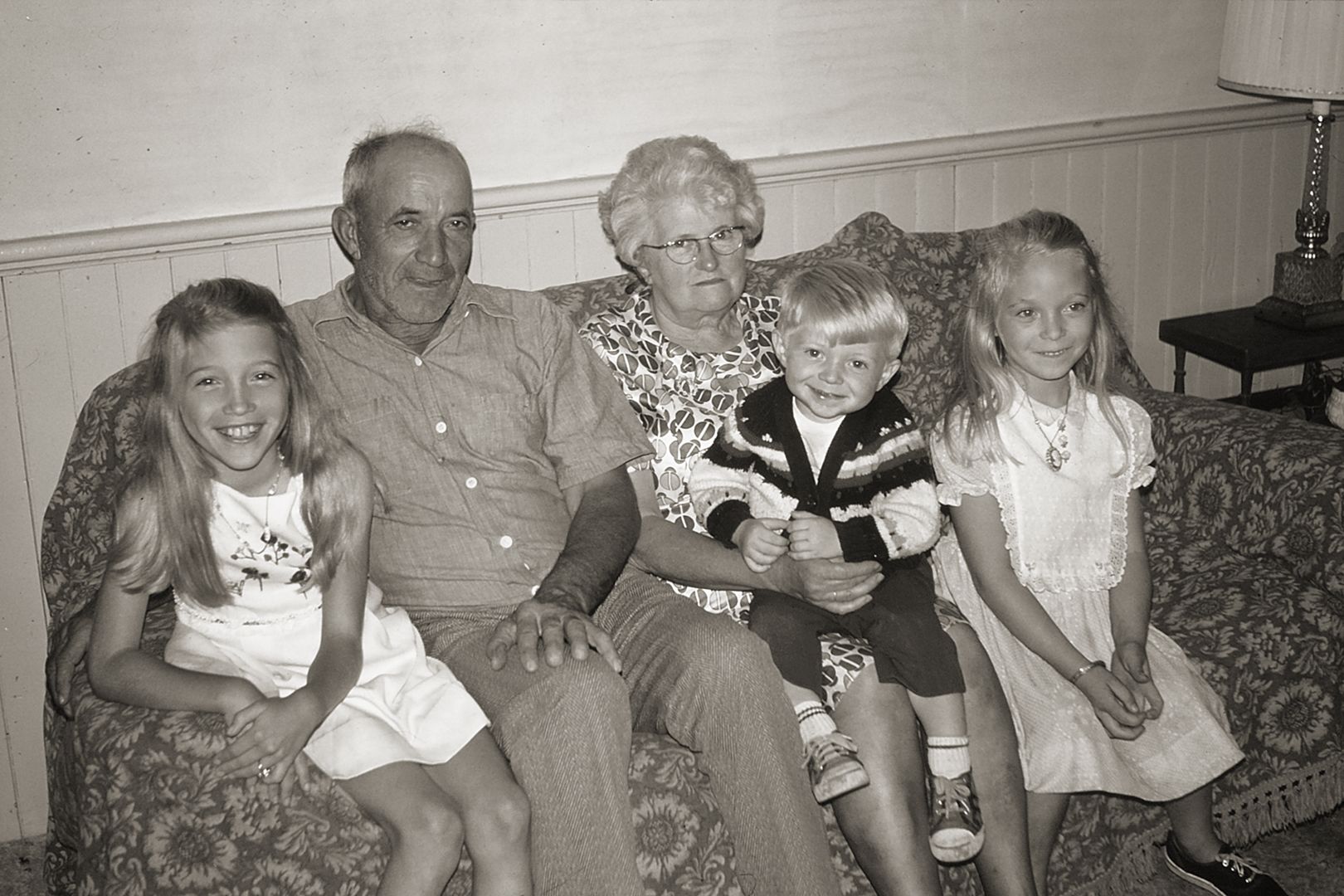 Me, Jacob, and Kris with Grandma and Grandpa
I spent a lot of time in the kitchen, sitting by the potbelly stove, going through Grandma's button box, which was like a treasure chest to me. I'd sort through the buttons and categorize them, putting all the sparkly ones in one pile, for instance, and all the pearly ones in another. And then I'd decide which buttons were my favorites. Along with the buttons, there were old holy medals in the box, and I'd admire those too and choose the most beautiful. I found all this to be fascinating work, completely absorbing of my attention.
Upstairs in the house there was no electricity, so those rooms weren't really used, except for storage. As a child I referred to the whole upstairs as "the attic," and I always wanted to go up there and explore. See, I had this strange idea that the answers to all the questions I had about life and myself and our family could be found in the old trunks in the attic. By the time I was six, I had read
Magic Elizabeth
, so I believed mysteries could be solved in attics, that attics were full of clues. That's why I was always whispering to Mom, "Mommy, can we go up in the attic? Can we? Can we?"
A trip upstairs was never disappointing. One window was completely obscured by vines, and the curtains on the other windows made the sunlight fall in lace patterns on the floor. There were trunks and piles of treasure in every room, and since I was a very nosy child, Kris and I dug through every single pile. Here's what we found, a few things I remember: twin glass perfume bottles that resembled ice sculptures, and an old book about the wee folk that scared us half to death.
Okay, now I've told you a little about the house, but even better than the house was what was outside, around it: cows and barns and a silo and pastures and fields and woods and a little orchard. Grandma and Grandpa's farm was a real working farm, their sole source of livelihood, and that's what made everything so enchanting, so right. Nothing was fake or just for show, a museum piece. Everything had a purpose; everything mattered. Everything was real.
We found this sweet, sweet kitten in the barn.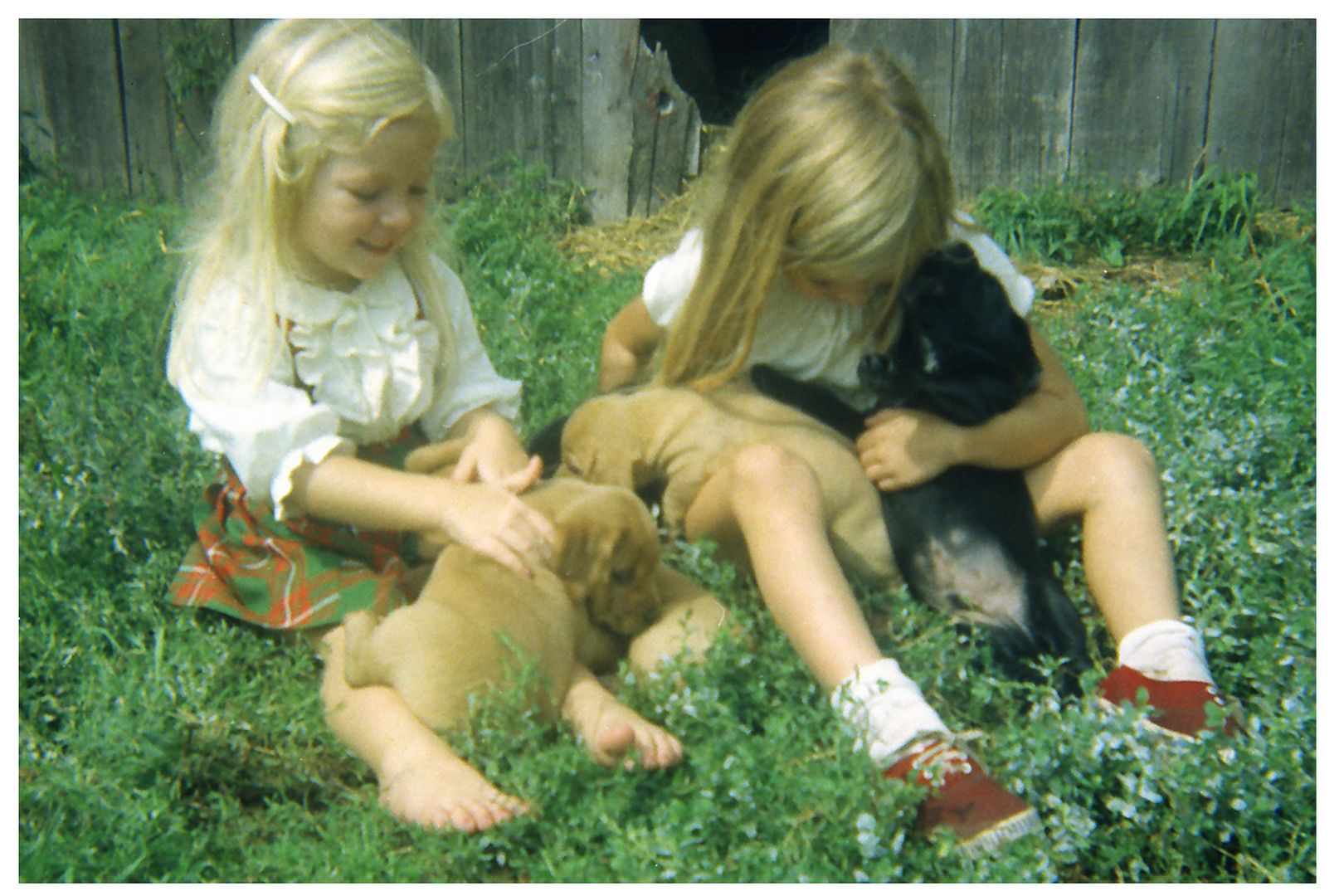 Puppies!
The apples in the trees were real--and I just couldn't believe it, couldn't get over it. I'd sit in the crown of a tree and make myself sick on green apples.
Kris and I would pick currants and gooseberries, too, in Grandma's lush little kitchen garden. And we'd pick wildflowers along the road. I could go on and on describing the pleasures of the farm
—
the tea parties we had in the hayloft (using a hay bale for a table) and the way we'd turn the hay rope into a Tarzan swing
—
but what I really wanted to emphasize in this post was how much I admired Grandma and Grandpa's way of living. It just made sense to me. I can't think of any work that's more meaningful than growing food, than feeding people. Grandma and Grandpa lived simply and frugally, in close contact with nature. They were self-sufficient. Every day I try to shape my life and make it more like theirs.
Cousin fun. You can see some of the apple trees I was talking about in the background.