Rob and I went antiquing in Dothan on Saturday. It was so much fun. A little road trip is always the greatest treat. I just love the sense of adventure—the promise of the open road and the whole day ahead of me. I guess what's so appealing is that it's Saturday and I'm completely free; I don't have to go to the office or do any chores. I love stopping along the way at country convenience stores and buying Cokes and Lemonheads and bubblegum and whatever else strikes my fancy. Before I became a vegan, I'd always get one of those mini pecan pies, but now my choices are a bit more limited.
The two-hour drive to Dothan took us through a mostly rural area, past farm fields and woods and swamps and rivers, through the little towns of Chattahoochee and Sneads and Marianna and Cottondale. I kept wanting to stop and take pictures of cows and tire swings and white country churches, but sadly I had forgotten my camera. It was really killing me too because I kept spotting the most picturesque things: goats and ponies, and rusty-roofed Cracker houses. Old cemeteries full of flowering quince and redbuds. We passed several roadside stands selling tupelo honey and hot boiled peanuts, sweet onions and shelled pecans. Really, is there anything more enticing than a roadside stand?
Rob and I go to Dothan several times a year and we always do the same thing when we get there. First we go to
Land of Cotton
Antique Mall, then we have lunch at
Taj
(this awesome Indian restaurant), and then we go to two more antique malls: Highlands and Old South. Land of Cotton is the greatest place. It's absolutely huge, filled with everything from massive antique cabinets and wardrobes to old toys and jewelry. There's china, sterling silver, vintage gloves and hats . . . lamps, old crocks and bottles, and Coca-Cola signs galore. We usually stay for at least two hours, walking the maze-like aisles.
Sometimes I feel bad making Rob look at antiques all day. But he always tells me, "No, I like it—especially if there's lunch involved."
On Saturday we ate at Taj, like we always do. The restaurant has a new location and it's really fancy, with a big fireplace . . . and stone tiles everywhere . . . and red silk curtains. We had the best food: vegetable Manchurian for an appetizer, and mixed vegetable korma and mixed vegetable curry for our main dishes. I was trying to eat really slowly, to make the moment last.
"Do you miss the cats?" I asked Rob.
"Oh, not really," he smiled.
He was just kidding, but it
was
nice to get away. Anyway, here are some of the day's finds: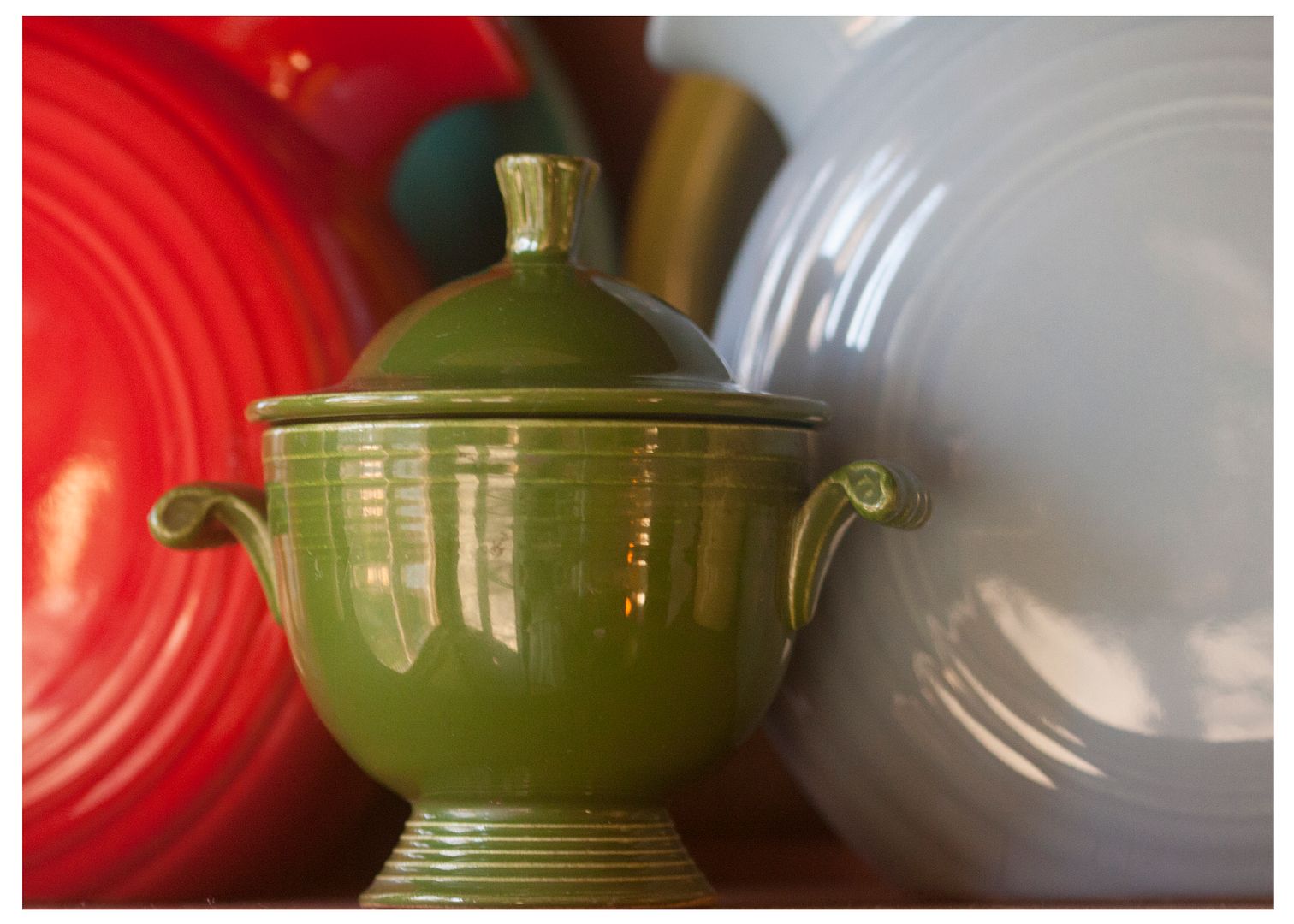 Fiestaware sugar bowl
Fiestaware creamer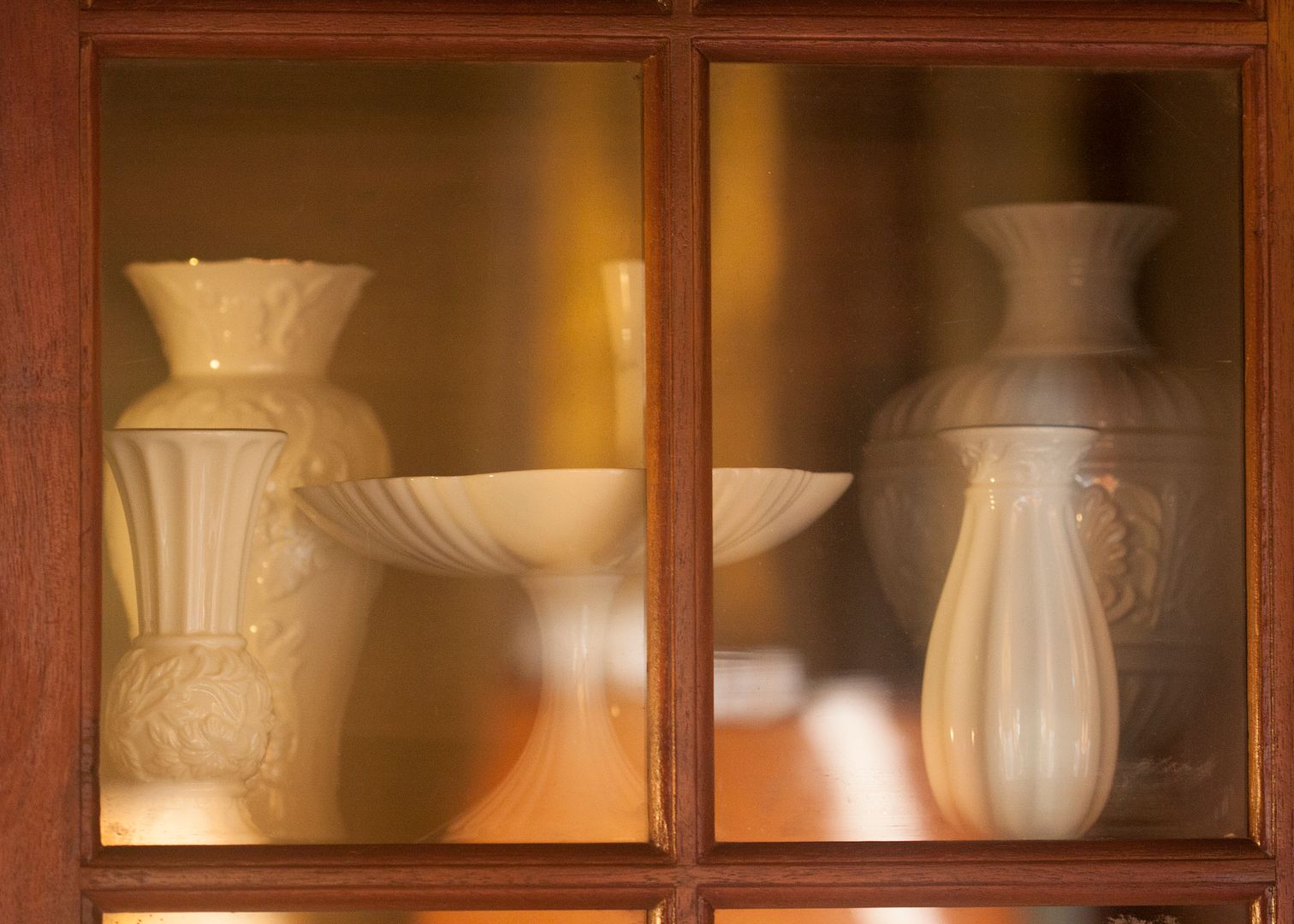 Lenox vases. I've started a little collection.
A new lamp for the living room, to light up Leroy's portrait
And now I present you with some random pictures that have nothing to do with anything:
June Baxter. Doesn't this look like her senior picture in the yearbook?
The beginnings of my bird collection in the living room