Glorious Goodwood
Each year in February, the Tallahassee Area Rose Society holds an heirloom rose sale at
Goodwood Museum and Gardens
, a beautiful old plantation now open to the public. Goodwood is famous for its rose gardens, and many of the roses offered for sale are grown from cuttings of Goodwood's very own plants. Proceeds from the sale are used for the restoration and maintenance of Goodwood's 16 acres.
Our family goes to the rose sale every year. It's a major event in our lives. Dad, Bunny, Kris, and I all collect old roses, and together we own hundreds—most of which we've purchased at Goodwood. The sale isn't exactly fun; it's actually kind of stressful. You have to get there early and stand in line, waiting for Rose Society officials to open the gates. Once you're in, shopping can get really competitive since certain varieties tend to quickly sell out. Seriously, folks will be pushing and shoving, and once you've made your selections you can't just set them aside and continue shopping. No, you've got to guard them so nobody "steals" them while you're still browsing around.
Well, this year's sale was on Saturday. Bunny and I had been preparing for weeks, researching roses and drafting lists of the ones we hoped to buy. At eight o'clock on Saturday morning, we were standing in line with Sophie and Kris and our little red shopping wagons, waiting to enter the sale. The line got longer and longer. Dad arrived a bit later than we did and he stood smiling and waving to us from far in the back.
Bun and I kept joking about how "nervous" we were and trying to come up with the best strategy for shopping. We were really hamming it up, acting as if we were preparing to charge into battle.
Finally, the gates opened.
"Go, go!" Bunny shouted in a whisper, giggling. "Take the wagons up the center aisle and park them at the back!"
"Yes," I said, giggling too, "we can't be dragging wagons around the whole time. We've got to be nimble here and quick! Last year I hurdled a stroller. . . . Sophie, when we park the wagons, you guard them, okay? Guard them with your life!"
The mad scramble for roses lasted maybe 20 minutes. When it was over we were all laughing and breathless.
"What did you get?" Bunny asked me.
"I have no idea!" I said. My list had proven useless and I'd been forced to make my selections randomly, on the fly.
Together we'd chosen a total of 26 roses, but it was all a blur.
"I feel like I just participated in a smash and grab," I said. (I was still panting.) "I feel like I ought to be arrested right now."
Here's what I got; here was my haul: Old Blush, Pink Pet, Monsieur Tillier, General Schablikine, Morgan's Spring, Madame Antoine Mari, Natchitoches Noisette, Clytemnestra, Smith's Parish, and China Spice.
Dad's so nice. Every year he insists on paying for all the roses. "Now remember," he said, "I'll get these." And when we protested, he said, "No, no, now this is my treat!"
Dad's always really happy at the rose sale. He was the first one in the family to discover heirloom roses, 15 years ago now. He was so enthusiastic about them that we all soon saw their charms.
After we hauled our roses to our cars, we strolled the lush, wonderfully unkempt grounds of Goodwood. It was a sunny, spring-like day and the gardens were full of flowers: daffodils, camellias, azaleas, and Japanese magnolias. There were even a few roses blooming, even though it's still only February.
We admired some daffodils growing along a little path by the old swimming pool, and Dad said, "Oh, I know what these are. In fact, I have some in my yard! They're called 'Sweetness.'"
And Kris and Bun and I said, "Neat!" . . . And: "What a perfect name!"
We headed over to the West Lawn, where thousands of heirloom bulbs have been planted over the last hundred years or so. In the middle of the lawn, there's a white Victorian wire bench that's the embodiment of the word "ethereal"; it's got a weightless, floating quality about it. Its back looks like a fan or an angel wing, and it was surrounded on Saturday by drifts of summer snowflakes, daffodils, and freesia.
"Oh, look at that!" we were saying. And: "Oh, isn't it pretty?"
"I think this might be the prettiest place in the whole entire world," I sighed.
"What kind of daffodils are these, Dad?" Bun asked.
"I'm not sure," Dad said. "But aren't they just great? What I like about daffodils is they're always so cheerful."
"Oh, they are," I nodded. "I know. It's so true."
Dad often points out the cheeriness of daffodils, and I always agree with him, every time. You see, our father-daughter conversations in gardens, about gardens, tend to have a sort of ritualistic quality about them, kind of like the call-and-response during Mass. We repeat ourselves. We say what we've always said. I guess what we're doing is reaffirming our shared beliefs—that flowers matter, that beauty matters, that nature is a sacred thing. Kris and Bunny and I have been talking like this with Dad since we were small children.
After thoroughly extolling the virtues of daffodils, we moved on to camellias ("Now aren't camellias just terrific plants?" Dad said). At this point Sophie began to get a little bored with us, so she started picking up fallen camellia blossoms and throwing them at me. We walked on to a bed of ancient roses, each rose carefully labeled. (I was being pelted all the way.) And when Dad said, "Now Emma Grace—that is a wonderful rose. . . ." Sophie announced that she was going to go sit in the car.
Goodwood's gardens have been restored to their 1920s appearance. Note the swept dirt yard in front of the house.
Sophie near the West Lawn
I know this post is supposed to be about roses, but Goodwood's camellias definitely overshadow all its other flowers at this time of year.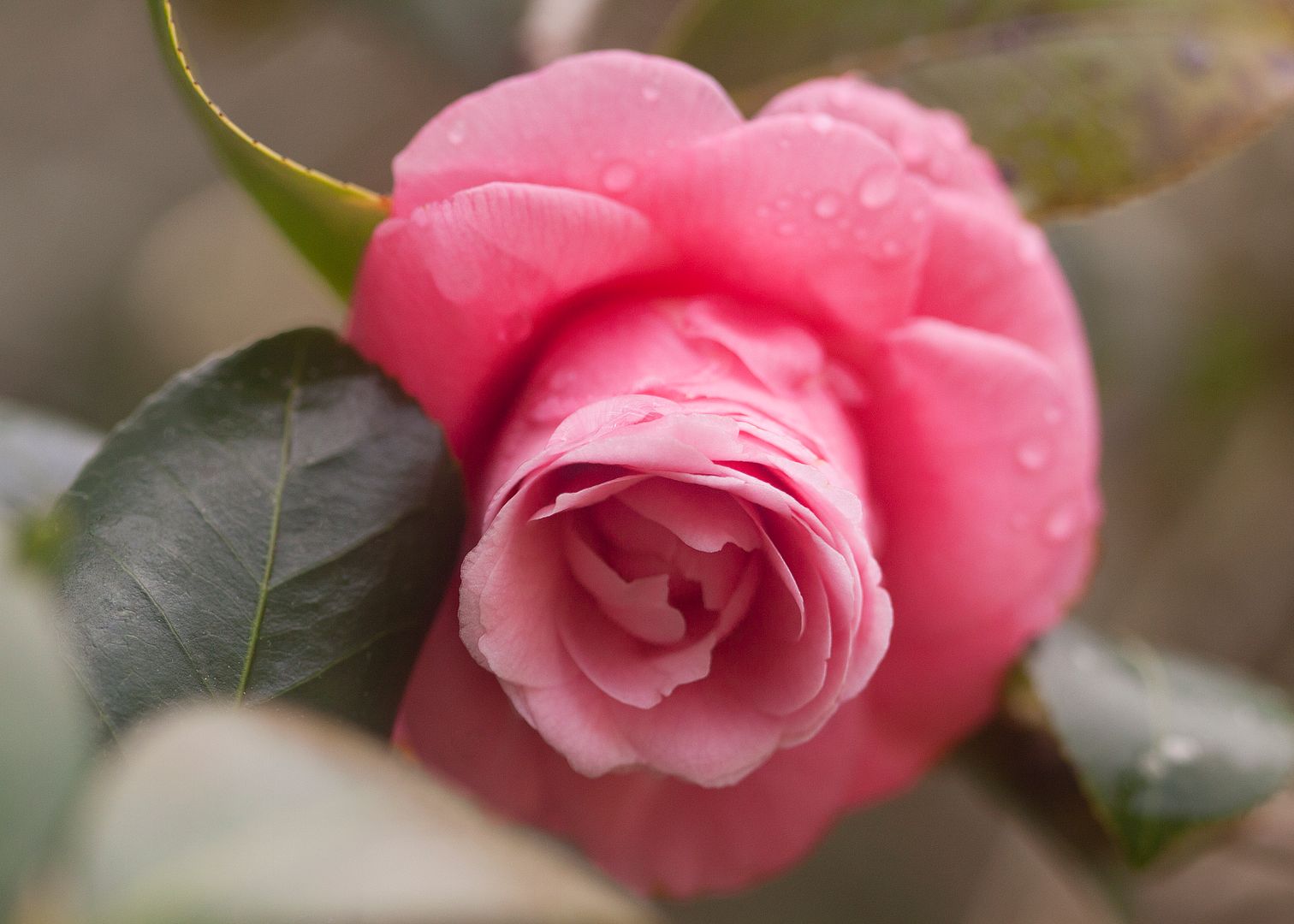 Detail from a chair sitting by the old greenhouse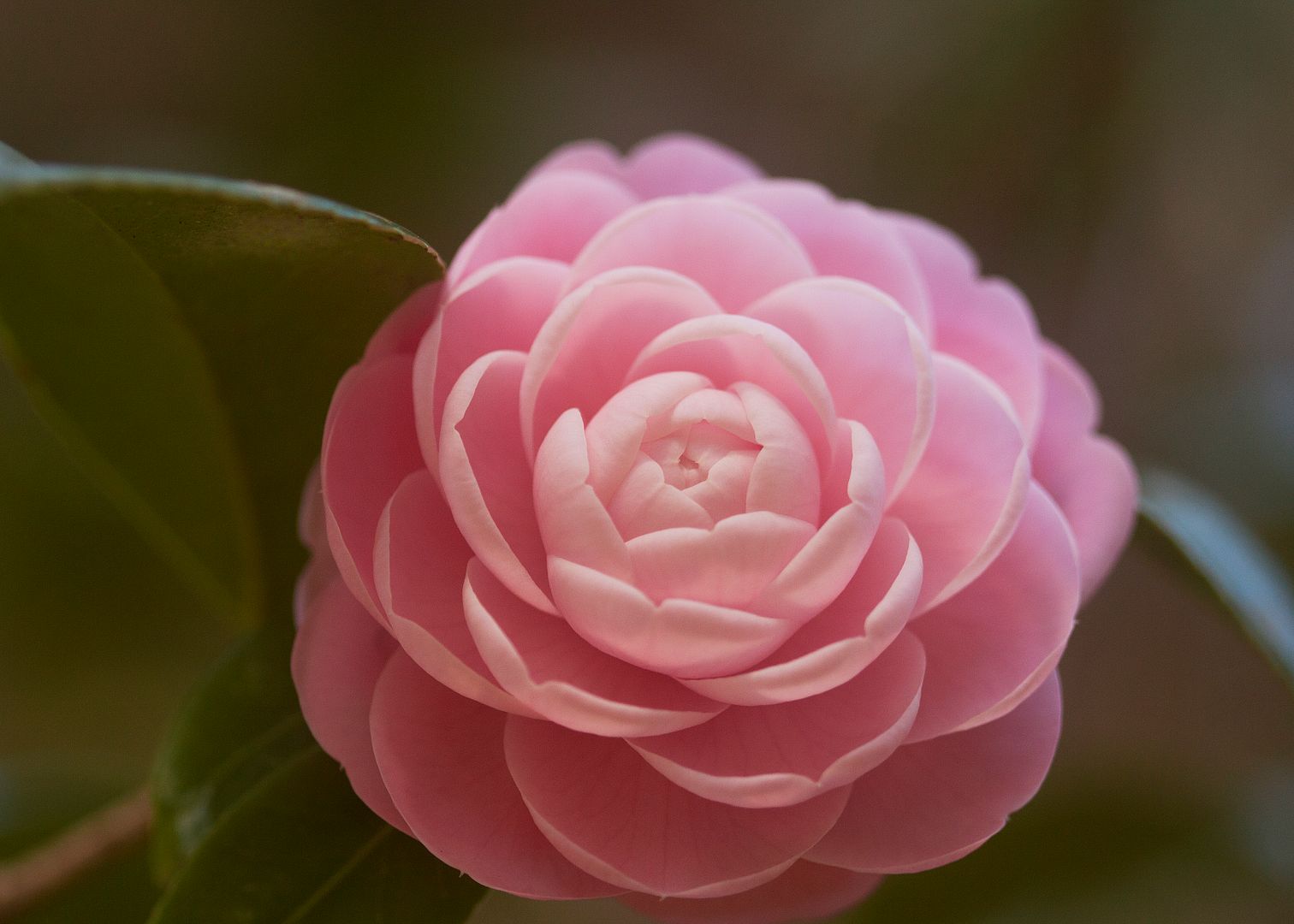 Goodwood's famous garden gnome
The house reflected in the gazing ball