Here are a few more shots of
Quincy
, my beloved little town. I took them last August, actually, when the gardens around the various old mansions and other buildings were still lush and green. I'm not sure why I finally decided to write about them today. I guess summer pictures just have extra appeal at the cold, dreary end of February.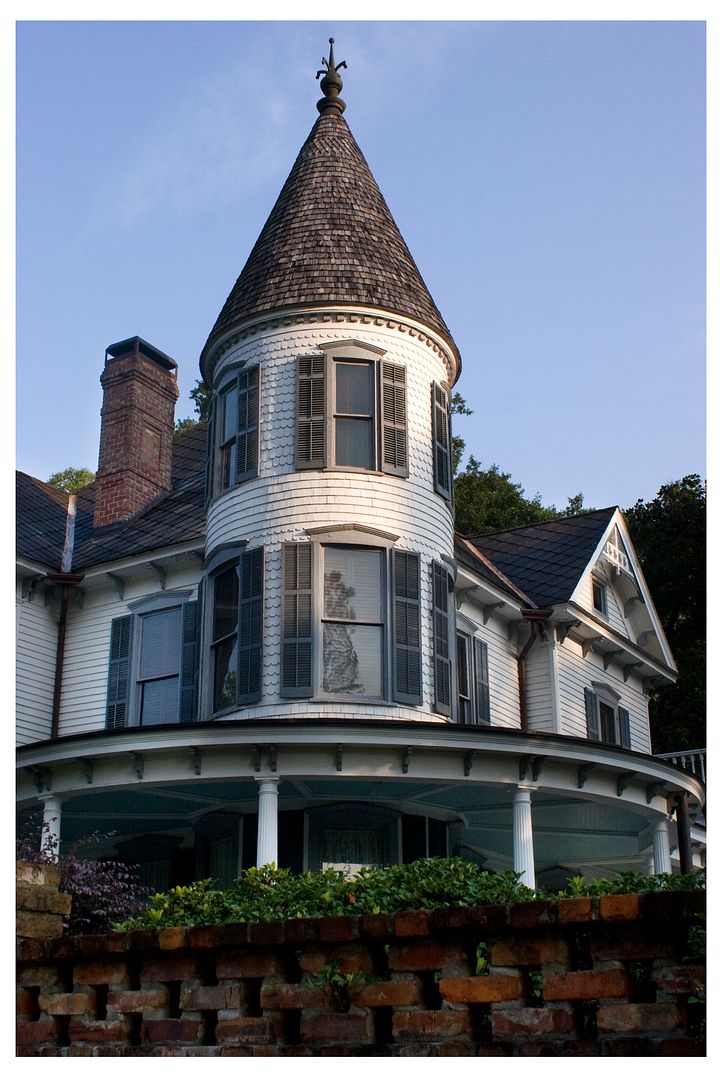 R.K Shaw-Embry House
R.K. Shaw-Embry House
This massive Queen Anne-style house stands just up the street from Spruce Pine Cottage. It was built in 1895 by Robert K. Shaw, a shade-tobacco planter and insurance agent. (Shade tobacco used to be Quincy's big industry.) The house looks like Cinderella's castle, too enormous to miss. It's a colossal assemblage of towers and balconies, deep porches and gables. Chimneys and leaded glass windows abound. The entire property is ringed by an elaborate red brick wall with wrought-iron gates. Roses lie on the wall, and hollies peek out from behind it. I've heard lots of rumors about the house, about what it's like inside (I've never been in it). Somebody told me once, for example, that the former owners used to use the sprawling attic as a roller skating rink.
Thomas Monroe-Higdon House

Thomas Munroe-Higdon House
This house is the centerpiece of King Street, which is itself the centerpiece of Quincy's charming historic district. The grounds take up half a block. With its white columns and symmetrical design, the house, built in 1849, is classic Greek Revival. The present owners, the Higdons, keep it in immaculate condition. The paint is always perfect snowy white, and the front walk is never marred by a leaf. The surrounding gardens are lush with cabbage palms, camellias, banana shrubs, hydrangeas, dogwoods, magnolias, and live oaks. Fountains trickle, and lounge chairs lie in the shade of a white wooden pavilion in the side yard.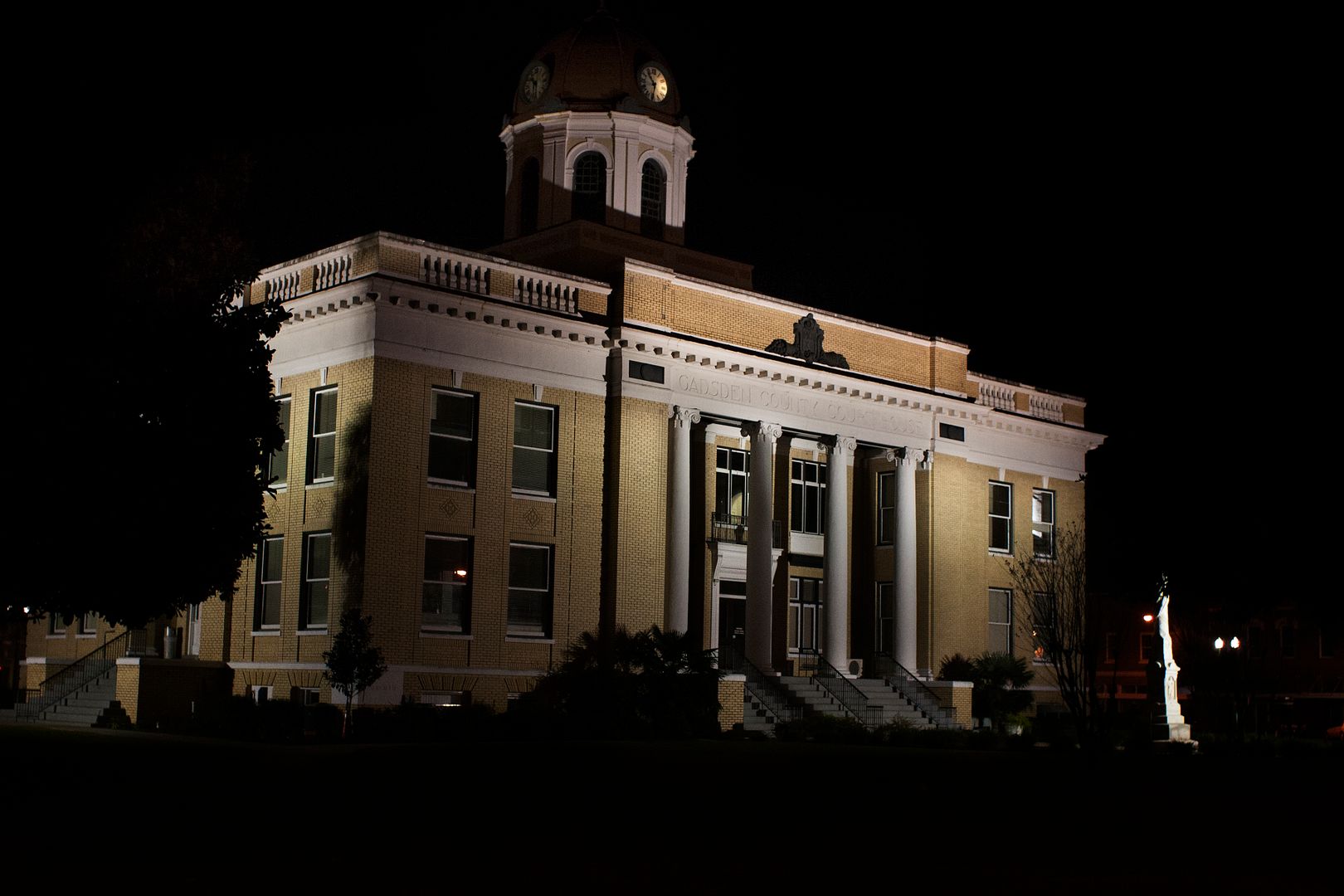 Gadsden County Courthouse
Gadsden County Courthouse
The lovely Beaux-Arts courthouse in the center of town is a testimony to Quincy's old days of prosperity. It was designed, in 1912, by none other than Hal Hentz of Hentz and Reid, the most prestigious architecture firm in Atlanta at that time. (The firm designed dozens of Atlanta landmarks, including the famous Swan House and Rich's flagship store downtown.)
The courthouse square is shaded by huge magnolias and live oaks and is often the scene of fun events, like barbecues and concerts. Gadsden is a small county, so I get called for jury duty quite frequently. I'm not that fond of jury duty, but I do like being inside the courthouse. I don't even need to bring a book to read during the lulls in jury selection; I just sit there and admire the crown molding.
Padgett's Jewelry Store
Padgett's Jewelry Store
This building is located in downtown Quincy, just across the street from the courthouse. Built in 1894, it housed a general store until it was purchased by
Padgett's Jewelers
in 1979. I love driving into town after work each evening and seeing the huge Coca-Cola mural on the building's side, and I love stopping at Padgett's, especially when I'm gift shopping and I've given myself permission to actually buy something. In addition to jewelry, Padgett's sells china and silver and all manner of knickknacks. It's a thriving operation, pretty much the only one in our largely abandoned (but adorable) downtown. Yet I do think things are looking up in Quincy. I really do. An oyster place called
Flookah's
recently opened, and so did a sports bar (L.R.'s).
Well, I wish I had more pictures to share, but these were the only four that turned out. (Pictures are the hardest part of blogging for me.) Oh, and if you're wondering where I got all the names and dates in this post, they came from
"On the Trail in Historic Quincy,"
a really cool walking-tour guide put together by the Gadsden Arts Center.