A ridiculously cute ornament on my Easter tree
And another
On Saturday, my family came over for an Easter party. I had such a great time. I was so excited for everybody to see my yard and eat the big lunch Rob and I had made with vegetables from our garden. We served up collards, cabbage salad, curried carrot soup, biscuits, vegan mac and cheese, and fried seitan sticks with barbecue sauce.
Carl just prior to the Easter party. During the party he hid in my closet. He's shy.
After lunch, we had an egg hunt, as we do every year. "Okay, there are 71 eggs hidden!" I announced. "And everybody has to hunt, including the adults. I won't tolerate any quitting!" (You see, last year Rob and Mom dropped out of the egg hunt after about five minutes. While the rest of us were hunting, they just sat by the pond, cheerfully defying me, chatting about the goldfish.)
I had the egg-hunt prizes lined up along the mantelpiece in the living room. I went on: "You're competing for the fabulous candy prizes you see here. First place wins these deluxe Lindt Kissing Bunnies, second place gets the Lindt Mini Bunnies. . . ." I ran through the whole line of candy. "And last place gets Elroy and Leroy" (my worst-behaved cats).
The Kissing Bunnies
The egg hunt was a fun if unruly affair. A garden chair was broken in the process, and Mom and Rob kept getting in trouble with me for not cooperating again (Mom was giving all her eggs to Jake, and Rob had simply quit the game and started weeding). Jake was begging for hints, even though there were eggs in plain sight. "Just tell me if I'm getting warmer! Leslie, come on!"
Jake is terrible at finding eggs.
The front porch, where several eggs were hidden
Along with the eggs, there were presents hidden about. These were from Mom for Sophie and Jake. The presents were wrapped in bright blue and purple tissue paper and dusted with golden pollen. I thought the packages looked so pretty peeking out from among the fiddleheads and the tufts of blue-eyed grass.
Sophie won the egg hunt. Jake came in second. After I handed out the prizes, we sat and admired the presents from Mom. Sophie got the neatest things—a little pot of lip gloss shaped like a cupcake, some flower-shaped hairpins, and a little compact with a cover like a cat's face (the sassy cat was wearing a pink rhinestone collar).
Bunny and Kris and I were exclaiming over the compact and trying on the lip gloss. We were eating jellybeans, too, as we looked at Sophie's gifts. We were eating them slowly, one at a time, and trying to guess their flavors:
"I bet this one's going to be caramel."
"Oh, no! Yuck! It's root beer!"
I could have sat and talked about jellybeans all day (a conversation about jellybeans is just my speed), but after a while Mom said, "Isn't it time we dye our eggs?"
The egg hunt had involved only plastic eggs, but Mom had brought over dozens of real eggs for us to dye (and for her to make egg salad with on Easter). We did our egg-dyeing out at the pollen-coated picnic table, and everything was extra fun just because it was spring, because it was finally warm, because the leaves were so soft and new, the color of key-lime pie.
We drew pictures of each other on the eggs—slightly mean caricatures, as we do every year. We call this tradition "making insult eggs." Every year I draw Rob with his mouth open, being bossy.
Jake started drawing an Epic Face on an egg. "I'm drawing the Epic Face," he kept saying as he worked. (The Epic Face is some sort of newfangled smiley face, I gather, and it's big with the kids these days.)
"Do you know what this is?" Jake said when he was finished, showing me his egg.
"The Epic Face," I said sagely.
"Good," Jake sighed. "
Somebody
knows."
"Only because you said it like 18 times," Rob pointed out.
Rob and Jake dyeing eggs
When we had dyed all the eggs, Sophie and Jake started chasing each other and "fighting" in the soft new grass and patches of clover. Jake is huge now, but he's so cute and dumb that he always loses his fights with Sophie. Here's an example of his "dumbness": Every time he tried to kick her, she'd catch his foot and hold it, so he'd be standing there one-legged, smiling in his goofy way, trying not to fall down.
A few minutes after she was done with her fighting, Sophie came up to me and said, "I'm mad at Mommy." (She was just playing.)
"Why?" I smiled.
"Because she's always wrong. She thinks I start all the fights, but I don't. Jake punched me just a minute ago, and I ran . . . because I'm scared of him. Jake starts everything, but then I get in trouble because I'm the better fighter. I shouldn't get in trouble just because I win."
"Of course not," I said, still smiling. "That's a complete miscarriage of justice."
We ended the party with pieces of the very special 10-inch, two-layer Strawberries and Champagne vegan cake that I'd ordered from Sweet Pea Café in Tallahassee. It was
so
good, so pillowy and soft, decorated with fresh strawberries and little pearls of white icing. Sandwiched between the layers of cake was a ruby-red layer of homemade strawberry jam.
As we ate our cake, we talked about cats (another of my favorite topics). Sophie had her iPhone out and she was showing us the pictures she'd taken of Puff (her cat and best friend). He looks so dignified always. He's all gray with a rather serious expression and noble high cheekbones. He likes to ride in the basket on Sophie's bike.
It got dark as we ate, and I started feeling sad because I knew the party was almost over. I tried to convince people to have a second piece of cake so they'd stay longer, but it didn't work. It was time to go. And pretty soon we were outside again, calling, "Happy Easter! Happy Easter!" And: "Goodbye."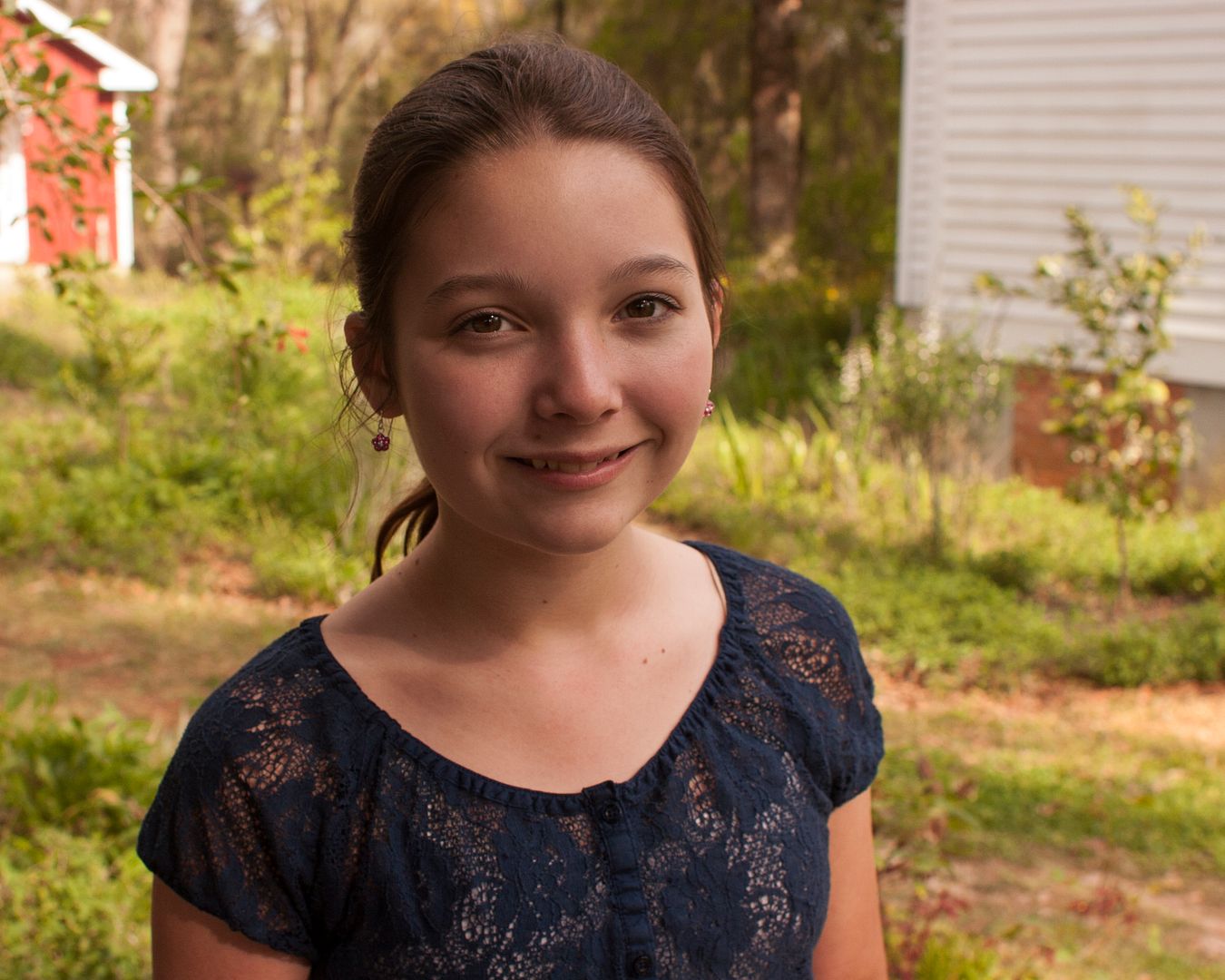 Sophie!
A little decoration in the Vine House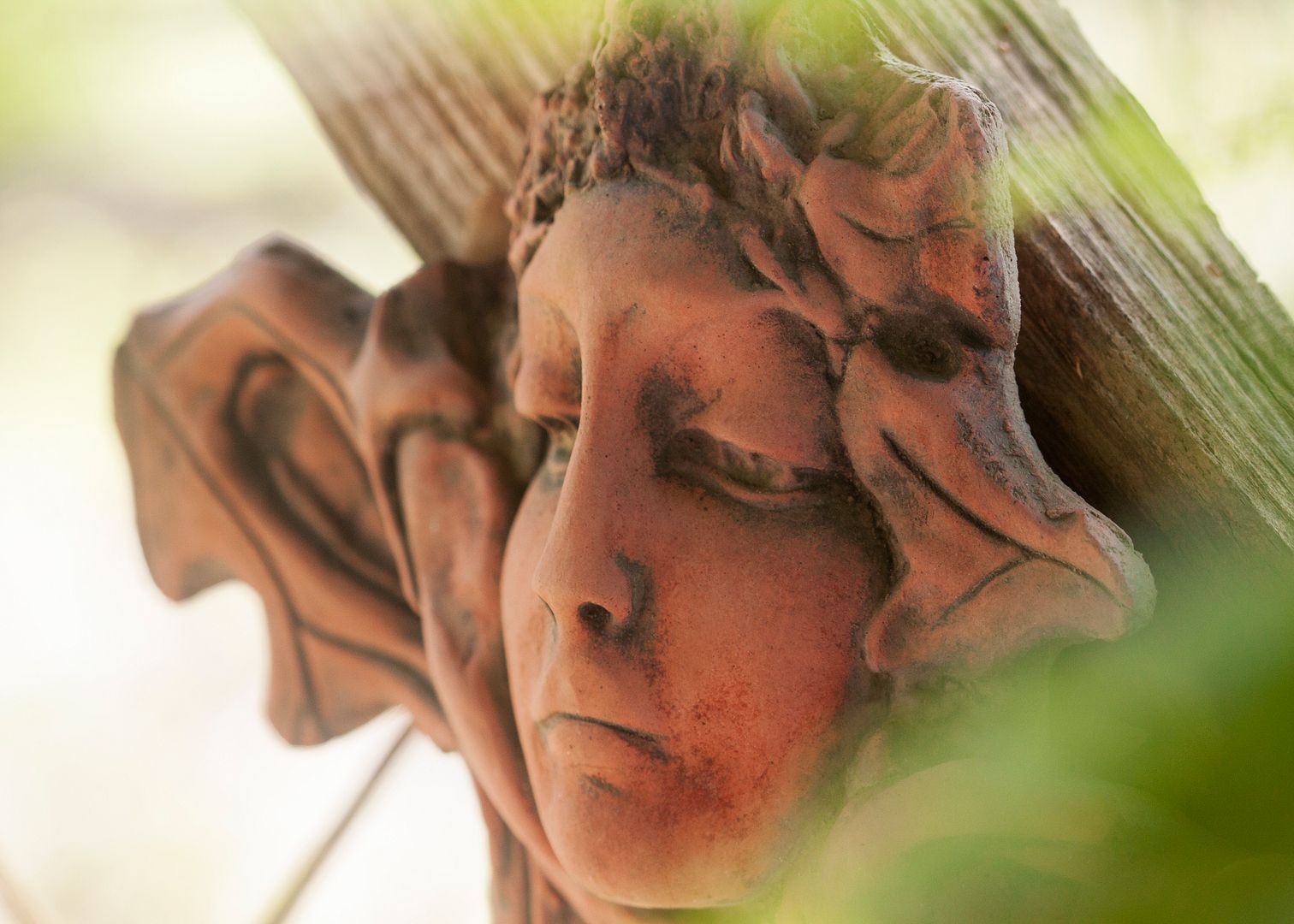 And another one. I know—these don't really have anything to do with Easter, do they?