Last Sunday night I went for a little walk around town, around my beloved Quincy, and took pictures of a few more of my favorite houses and other buildings. It was a delightful spring evening, and I had fun peering into the gardens, seeing pale, angel-like fringe trees, and satsumas and lemons in full bloom. I strolled down the quiet streets around the courthouse square and all around the historic district, and the whole time I was walking I was feeling pretty lucky to live in such a charming small town, a town with so much character.
Below is the Leaf Theatre, built in the 1940s and named in honor of Quincy's main industry at that time, shade tobacco. For decades it served as one of Quincy's two movie theaters, until single-screen theaters fell out of favor. In 1980 the Leaf closed its doors, sitting unused and forgotten for years. Then, in 1983, the building was purchased by a group of private citizens who restored it to its former glory. The Leaf became home to a musical theater group, the Quincy Music Theatre, which is still active today. In fact, my mom has season tickets, and she says the shows at the Leaf are always top-notch.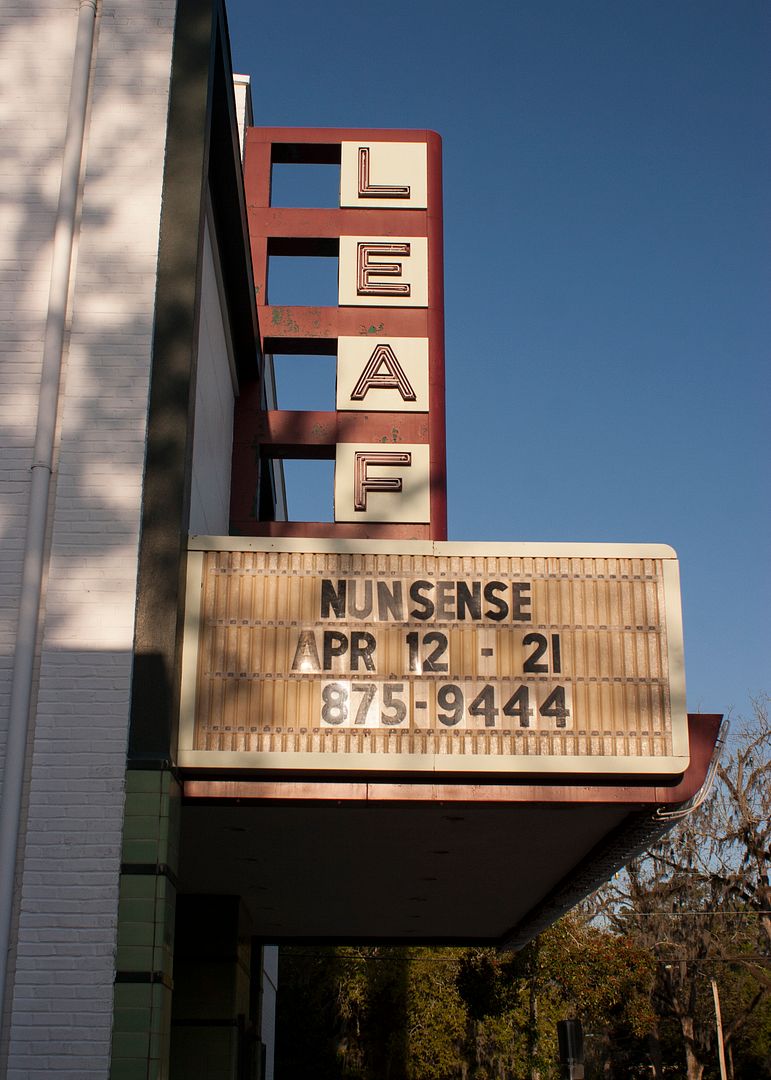 Standing by the Leaf Theatre, looking west toward the courthouse
Next up is the E.B. Shelfer House on North Madison Street. It was built in 1903 by E.B. Shelfer, a shade tobacco grower and the owner of a general store located on the square. In 1993 the house was restored and renovated. Additions were built, lots of stained glass was added, and an elaborate garden was planted. I often walk by this house just to peek in the garden. It's crowded with roses, crape myrtles, and camellias, and it has fountains, and a pond with a little bridge arching over it.
This is the Centenary United Methodist Church on North Madison Street. Completed in 1918, it was designed by distinguished Atlanta architect Hal Hentz, who grew up in Quincy. The church is known for its beautiful stained-glass windows. The
most famous window
was created by Louis C. Tiffany and is based on a well-known painting by William Holman Hunt called
The Light of the World
. The window shows Jesus knocking at a closed door symbolic of the human heart.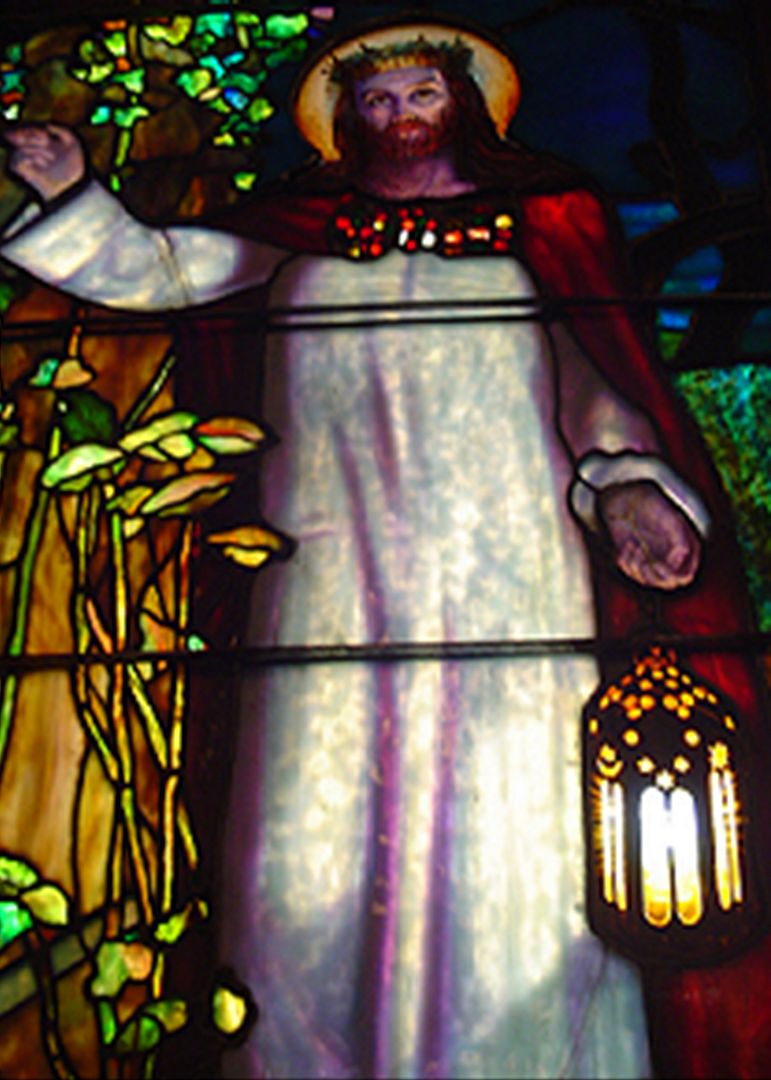 The Tiffany window. This photo isn't mine. It's from the church's website.
Finally, we have an adorable Tudor cottage (on 14th Street) whose history I know nothing about. I'm including it anyway, just because I love its fanciful arched doorway and the little round entryway with its roof like an acorn cap. The whole structure makes me think of a dollhouse or a gingerbread house or a cottage in a fairy tale. Plus, it has the prettiest garden in the back, with white and yellow veils of Lady Banks roses, and birdbaths, and rows of flamboyant red amaryllises.