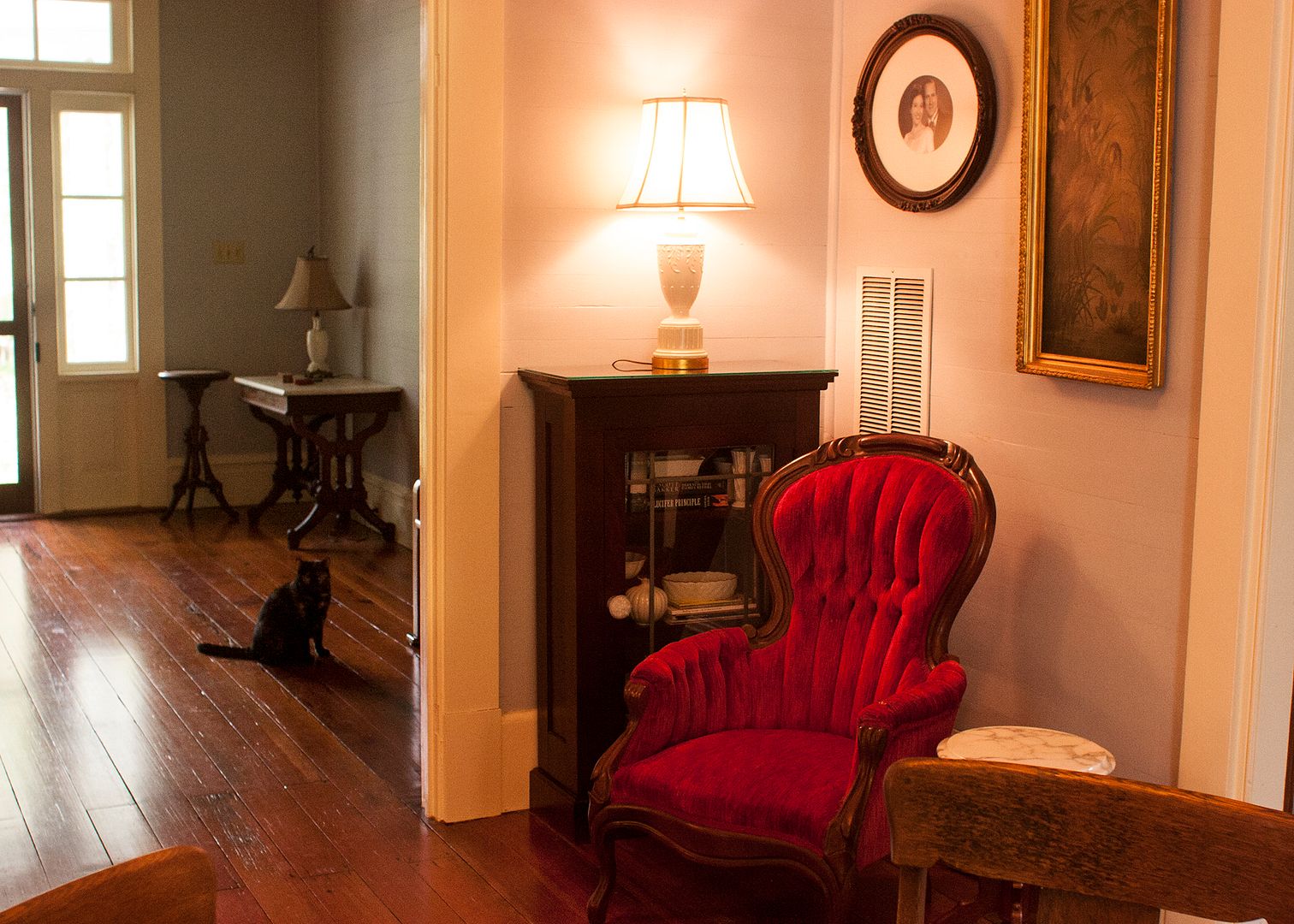 Buntin enjoying the day in her uptight Buntin way
Petunias and caladiums on the front porch
Rob was out of town on Sunday, so I got to have one of my little "Leslie days." It was extremely pleasant.
I started it with a delicious breakfast of popcorn popped on the stove. There's nothing better than eating popcorn at dawn. As I ate, I read a cookbook (
The Book Lovers Cafe Cookbook
) just like I would a novel, for the pleasure of the language and for the little stories the author included about each recipe. I dreamed of Plumber's Pasta and Sweet Pea Guacamole.
There were cats underfoot, of course. I turned on the faucet so Carl could play in the sink, his latest hobby. He likes to play with the dripping water, but if the water falls on his head he gets mad and bats at the faucet. Each morning he climbs in the sink and "yells" at me until I turn on the water.
Next I started doing a little unnecessary rearranging of my knickknacks, which is my most favorite pastime. I arranged them one way, and then another. And meanwhile, close by, gigantic Leroy was sleeping in a tiny shoe box. He looked very content. In his mind, Leroy is, I think, a very
small
animal.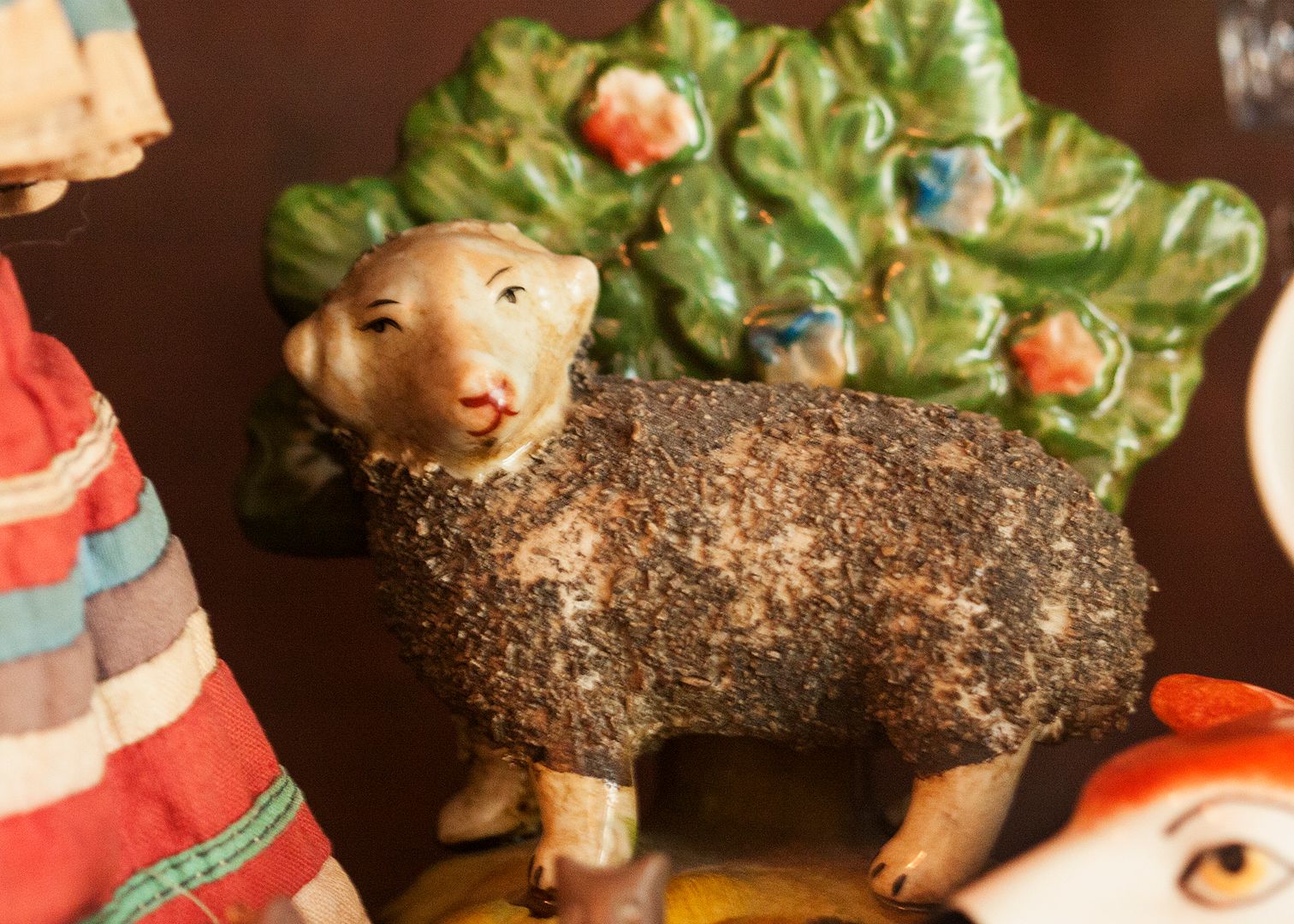 Staffordshire sheep. He has a sort of wry expression, doesn't he?
Leroy in his shoe-box bed
I had some buttered toast for lunch, and then I babied my houseplants. I trimmed them up and fertilized them and carefully dusted their leaves. I rearranged the plant stands several times and rubbed the wooden ones down with Feed-n-Wax.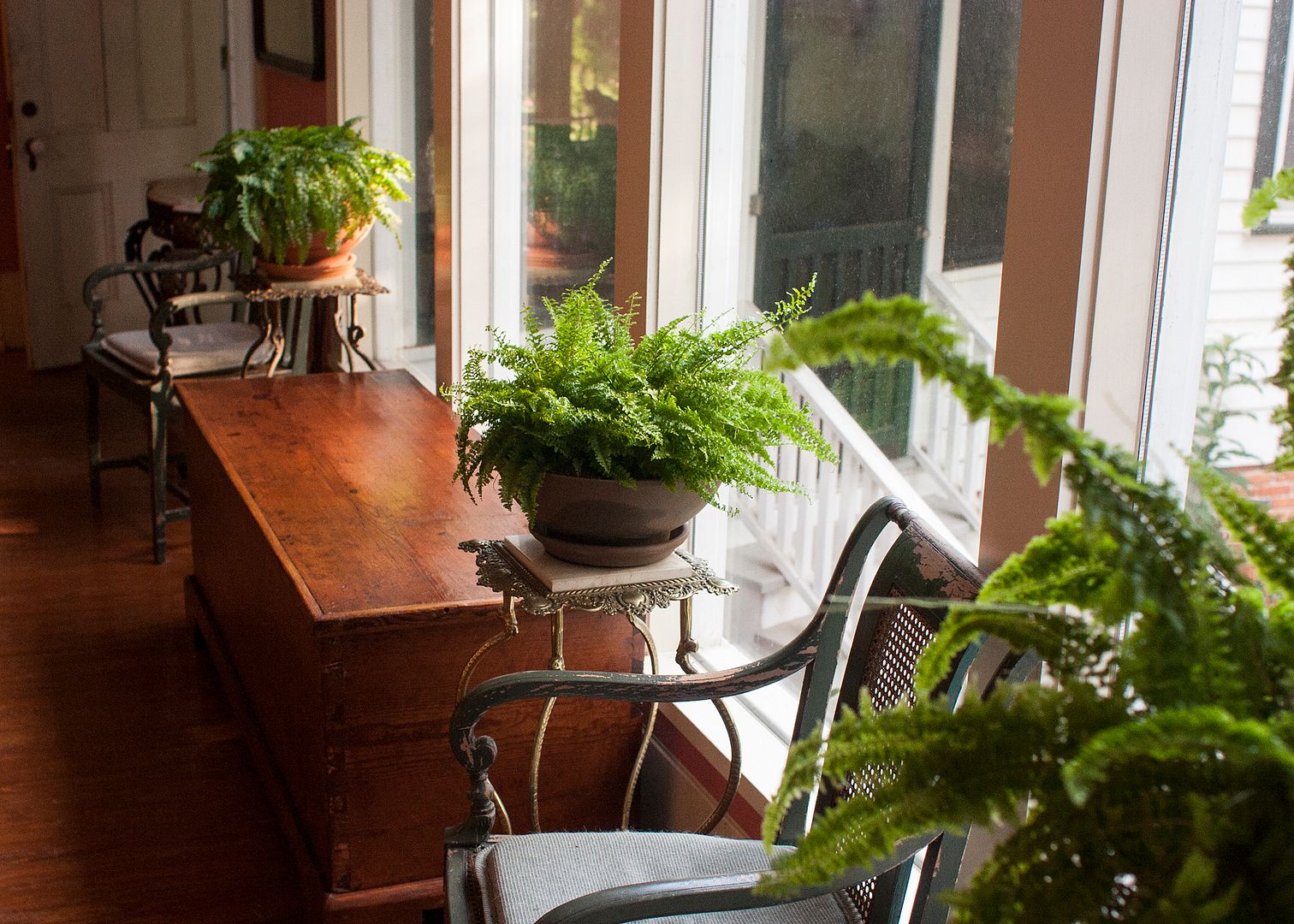 Ferns in the sunroom
And so the day went, the whole day. At night I sat out on the breezeway and read a biography of Beatrix Potter, with Foxy on my lap. Foxy is our sweetest cat, so soft and babyish. She likes to be held and gently brushed, and she likes lying in sunbeams. Anyway, we were sitting together in the lamplight on the breezeway, enjoying the warm air. We could hear the owls hooting and the armadillos bumbling around among the fallen magnolia leaves behind the Little House.
"Don't worry, Foxy," I said, because she always needs reassuring. We were safe from the night but not separated from it. Moonlight striped the meadow, and a frog sang in the rain gutter.
Foxy