The Waddell Farmhouse
On Saturday Rob and I went to Dothan to visit
Landmark Park
, a 135-acre park with nature trails, a living history farm, a one-room schoolhouse, and many other historic buildings. The moment we turned into the entrance, we could tell it was going to be good. We were driving down a narrow dirt road through dark shady woods full of magnolias. The little road was like a tunnel through the woods.
"Oh, I like it already," Rob said.
We stayed the whole day and did everything there was to do. We walked the trails and sat on a little dock by a beaver pond, watching birds and dragonflies. We bought candy at the old-fashioned general store. We checked out the wildlife exhibits and toured all the buildings. But I'll just focus on the best part: roaming around the farm.
The farm exhibit was top-notch. There was a sunny field planted with watermelon, and a huge, marvelous garden planted with rows and rows of vegetables: corn, elephant garlic, regular garlic, snap peas, onions, squash, cucumbers, beans, and tomatoes.
"They've got a whole row of Cherokee Purples!" Rob enthused.
We both love looking at other people's vegetable gardens and getting ideas from them for our own garden. (We're always hoping to make improvements.) This one was wonderfully roomy, flooded with sunlight and very carefully tended. We were squatting down, admiring all the vegetables, saying:
"Oh, isn't this neat?"
"Oh, yeah. It's so well weeded and so big!"
"The volunteers out here sure must do a lot of work!"
Blacksmith shop beyond the garden
The garden was surrounded by a weathered split-rail fence, with hollyhocks and sunflowers growing here and there along the edges. There were figs along the edges too.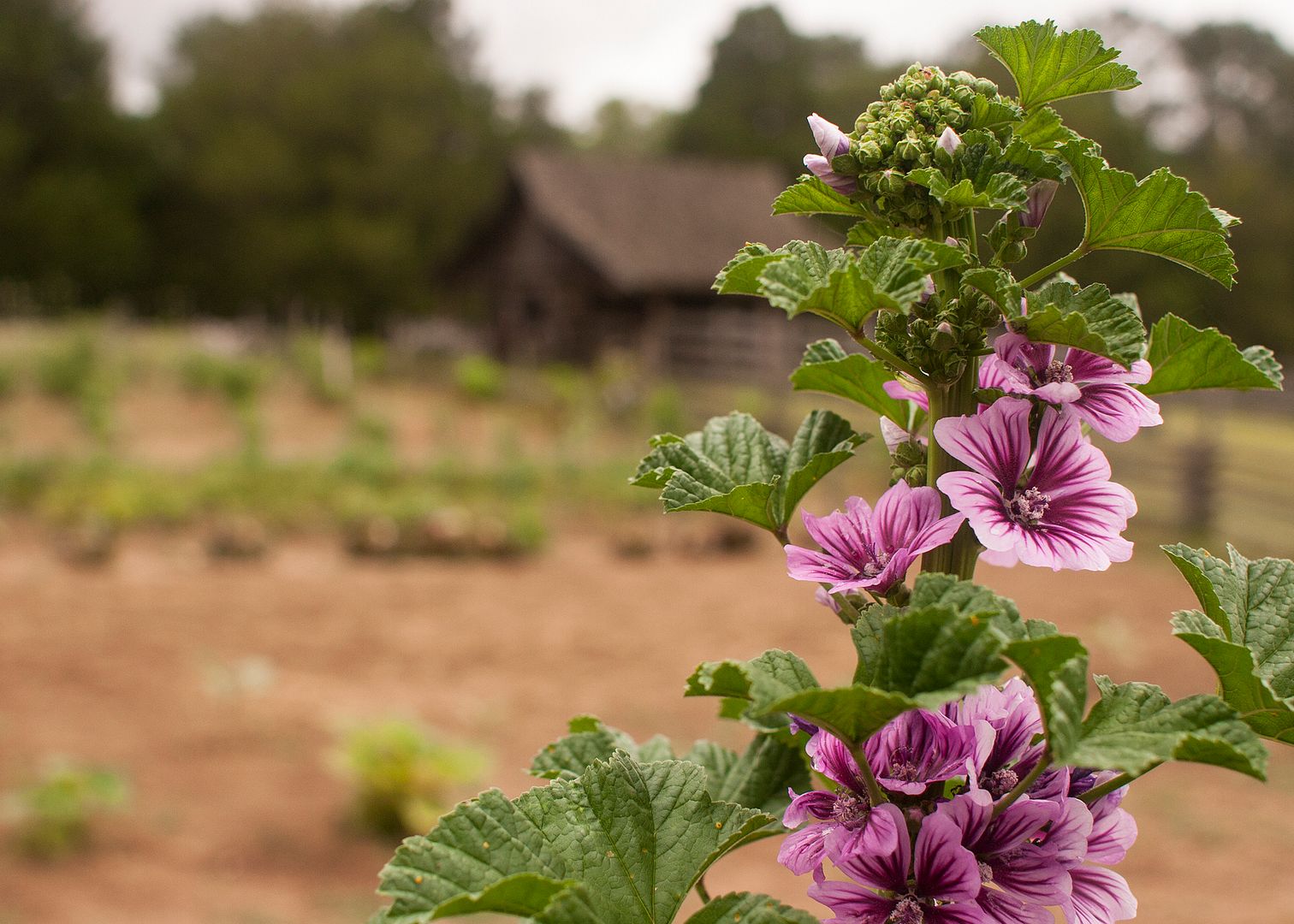 Hollyhocks
Close by was a neat white farmhouse, the Waddell Farmhouse, with blue trim, lace curtains, and a shady front porch. Pink cabbage roses climbed the picket fence around the yard, which contained several loaded pear trees.
"Look at all those pears!" Rob marveled. "Someday we're going to have pears like that. Our trees are just babies now, but when they get bigger, we're going to be giving pears away! We'll have to, we'll have so many!"
"I can't wait," I said. "That'll be a great problem to have."
We strolled into the house and gazed into the shadowy, peaceful rooms. There were rocking chairs and lumpy, soft-looking beds covered with faded quilts.
Inside the Waddell House
"This house used to sit on an 80-acre farm near here," I said, reading from a brochure. "It was built in 1905."
"It's younger than our house," Rob said.
"Yep," I said. "By about 50 years."
Behind the house were tidy pens housing cows, goats, sheep, pigs, and chickens. Rob and I had the best time visiting with them all.
Friendly sheep
The chickens were Dominickers, with fluffy black and white feathers and the brightest red combs. There were seven of them all together and they were all hens.
Rob peered through a little hole into the chicken coop. "This is fun," he said, "because it's like spying on a little secret world. One of the ladies is sitting in her nest box, so there may be an egg soon."
I peeked inside the dim, cool little house: "Oh, neat," I whispered. "I see her."
After a while, the hens came out into their run and we sat in the grass outside the fence and chatted with them. Rob was offering them blades of grass, and they would peck at the grass in a friendly, hopeful fashion.
Our hen friends
"I like the gentle chuckling sounds they make," Rob said.
"Me too. It's very soothing."
"I'm sure you also like how slowly they walk."
"I do," I said. "Of course."
We offered them more grass and stroked their feathers a little through the wire fence. Finally the hens left us to go about their business.
Rob called after them, "Sorry we were being so boring, ladies."
Some of them went and lay in a shady patch of sand by the coop, and some hunted for bugs in the grass, but in a very slow and leisurely fashion. The hens in the sand looked so plump and comfortable. They sat close to one another, clucking softly and companionably.
"It seems like a nice life," Rob observed. "There's nothing in particular going on. Everything's fine. You can lie in the sand with your friends, or you can look for bugs. But you don't have to look too hard, because you'll get fed really soon."