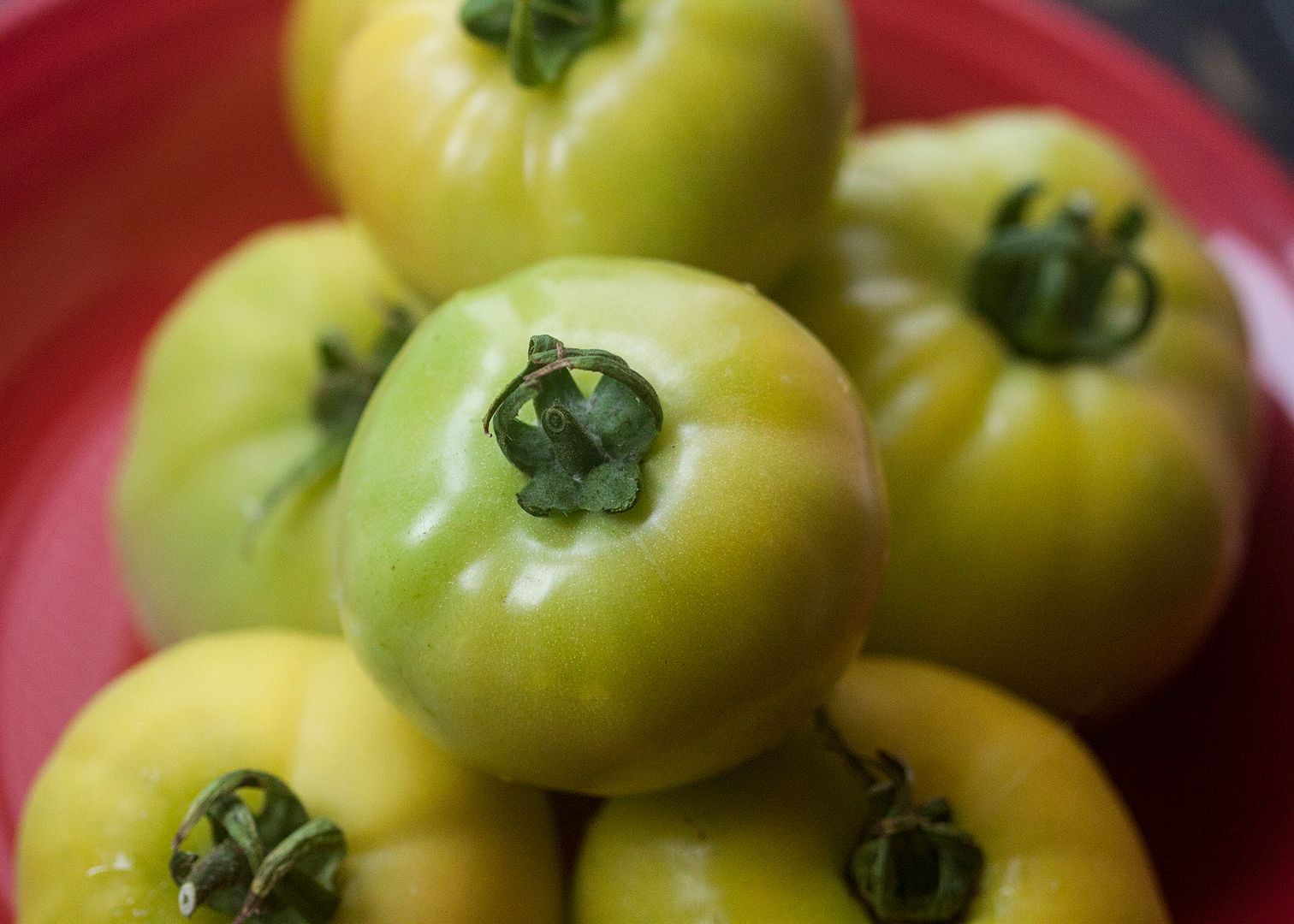 Granny Smith tomatoes
This summer Rob and I are growing a fun tomato called Granny Smith. It gets its name because it looks so much like a Granny Smith apple; it's big and solid and stays green (well, chartreuse) even when ripe.
Granny Smith tomatoes even taste kind of like apples. They're firm and crisp and quite sweet. Their firmness, we'd read, makes them great for frying, so on Sunday we decided to make a batch of fried green tomatoes, our first attempt at this old classic.
They turned out really good. On Sunday afternoon we sat on the breezeway eating them (with a spunky pepper-jelly dipping sauce) and chatting about the Granny Smith's many fine qualities.
"It's so productive!" Rob enthused. He motioned to the raindrop-studded garden behind him. "I mean, look at all those tomatoes! There's no way we can finish them all this week. We'll have to take them on vacation with us so we don't waste any." (We're flying to Oregon on Saturday.) "We can fill up a Tupperware and make salsa at the rental house."
I nodded. "Granny Smiths have such an apple-like consistency, you could probably bake them in a pie. There's a lot of different ways you could use them."
"Maybe we should try them in a crumble first," Rob suggested. "Because, you know, a pie is so hard to make, with the crust and everything, that it would be sad if it didn't turn out. But if the crumble tasted bad, you'd think, oh, well, it's just a crumble, it's not that big a loss."
"Well," I said, "I bet we'd still be sad because we'd wasted our tomatoes. I mean, you know how we are. They're obviously pretty important to us since we're planning on vacationing with them."
"A good point," Rob said.
Fried Green Tomatoes
Ingredients:
4 large green tomatoes
Salt and pepper to taste
2 cups almond milk
1 cup all-purpose flour
1 cup cornmeal
3 cups vegetable oil
Directions:
Cut tomatoes into 1/4-inch slices and place them in a shallow baking dish. Sprinkle the tomatoes with salt and pepper, then pour the almond milk over them. Combine the flour and cornmeal in a pie pan and dredge the tomatoes in this mixture. Fry tomatoes in batches in hot oil in a large skillet over medium heat. Cook for 3 minutes on each side or until golden. Drain on paper towels. Sprinkle with salt to taste. Serve with Red Pepper Jelly Dipping Sauce.
Red Pepper Jelly Dipping Sauce
Ingredients:
2/3 cup red pepper jelly
1 tsp horseradish (check label to make sure it's vegan)
2 Tbls spicy brown mustard
A drop or 2 of orange extract
Salt to taste
Directions:
Mix all the ingredients together in a small bowl. Stir until well blended.
A nice stack of fried green tomatoes. The dipping sauce was the best part.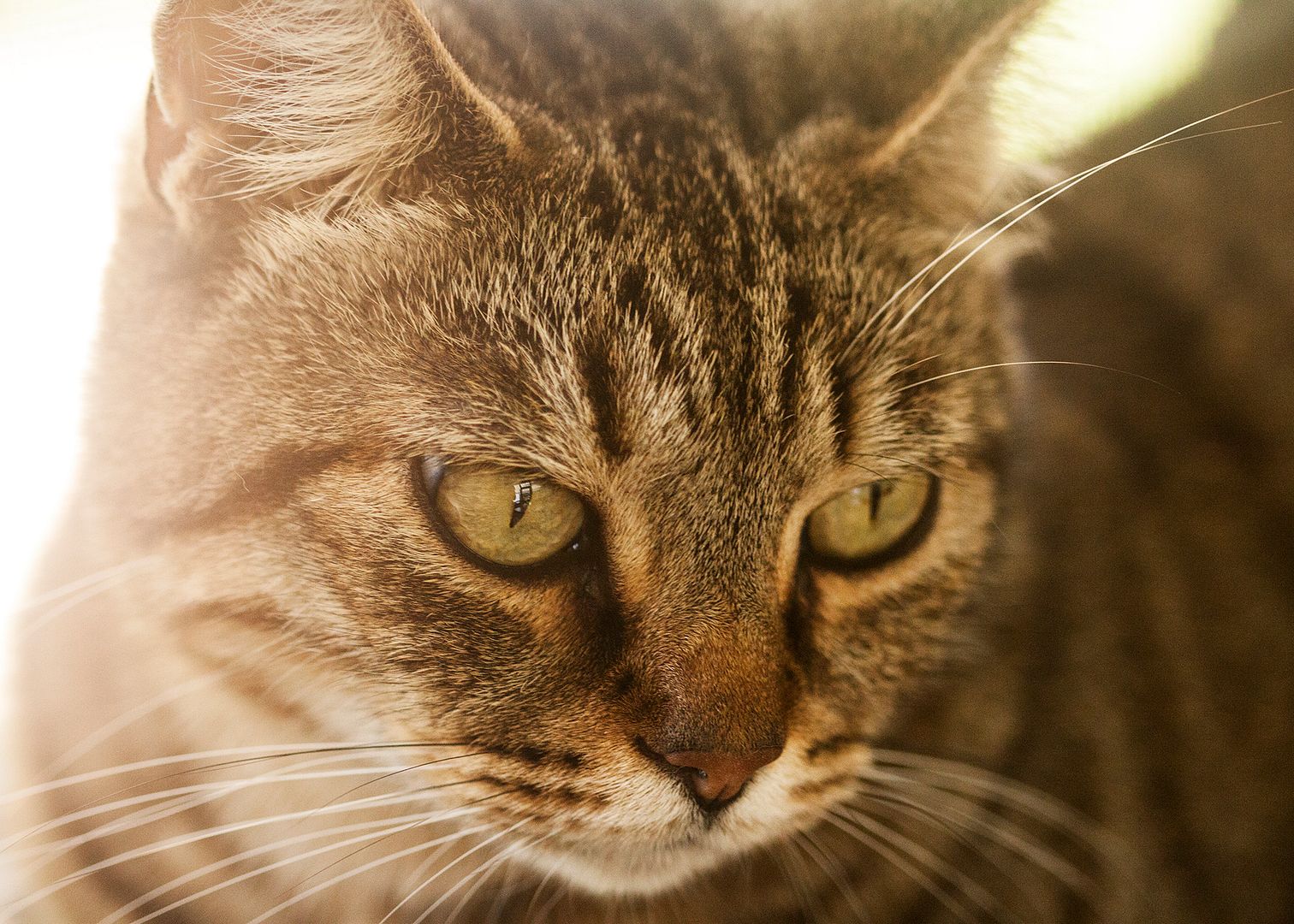 Carl watching us eat fried green tomatoes. It's hard to impress a cat.
I won't even try to pretend this picture has anything to do with anything. The caladiums got off to a slow start this year, but now they're really going strong.