I actually took these pictures in early June, but I never got a chance to write about them until today. I took them on the sleepiest, quietest Sunday evening, when the square was totally deserted except for me and the mockingbirds. First I meandered around the courthouse lawn and admired the magnolias, which were in full lemony-scented bloom, and then I crossed North Madison Street and peered into the windows of the dark, peaceful, closed shops.
We have some pretty interesting businesses around the square. Here's one that sells ladies' church suits and hats.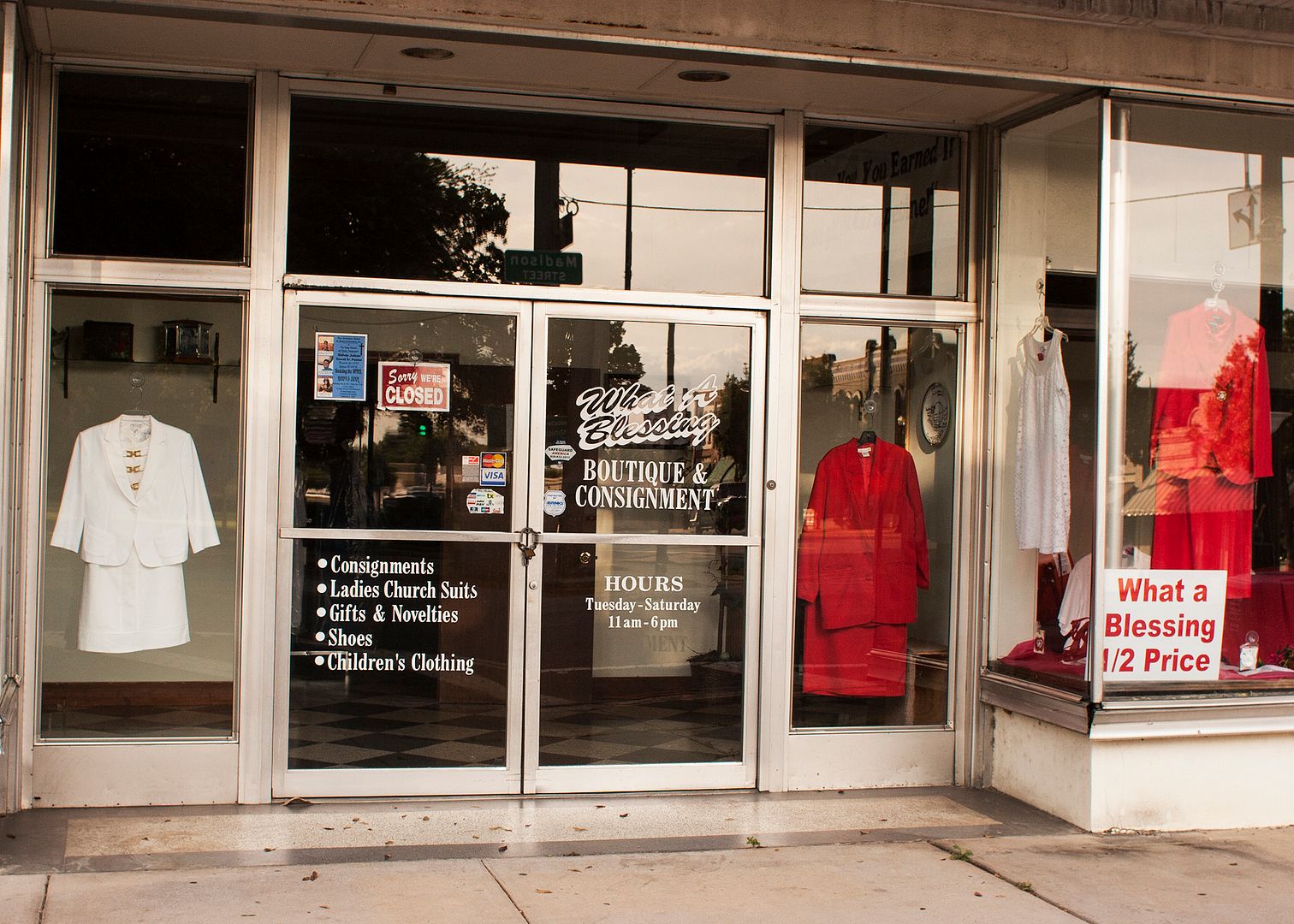 And here's the Divine Grace Café. I've never eaten at this place, but I've heard it has an awesome Southern buffet. People rave about the fried chicken and cornbread. The reason I haven't tried Divine Grace is that I'm a vegan, and I must admit vegans do sometimes feel a bit deprived.
I roamed a little farther and checked on some of my favorite houses. I like the house below because it has such a big, shady, accommodating porch and because it has a genuine tin roof, artfully mottled with rust. It also has a really romantic, jungle-y yard, festooned with moss and dark with black-green sago palms and tree-size camellias. (Unfortunately, I didn't get the really lush part in the picture.) Big clumps of crinum lilies fill the summer evenings with fragrance.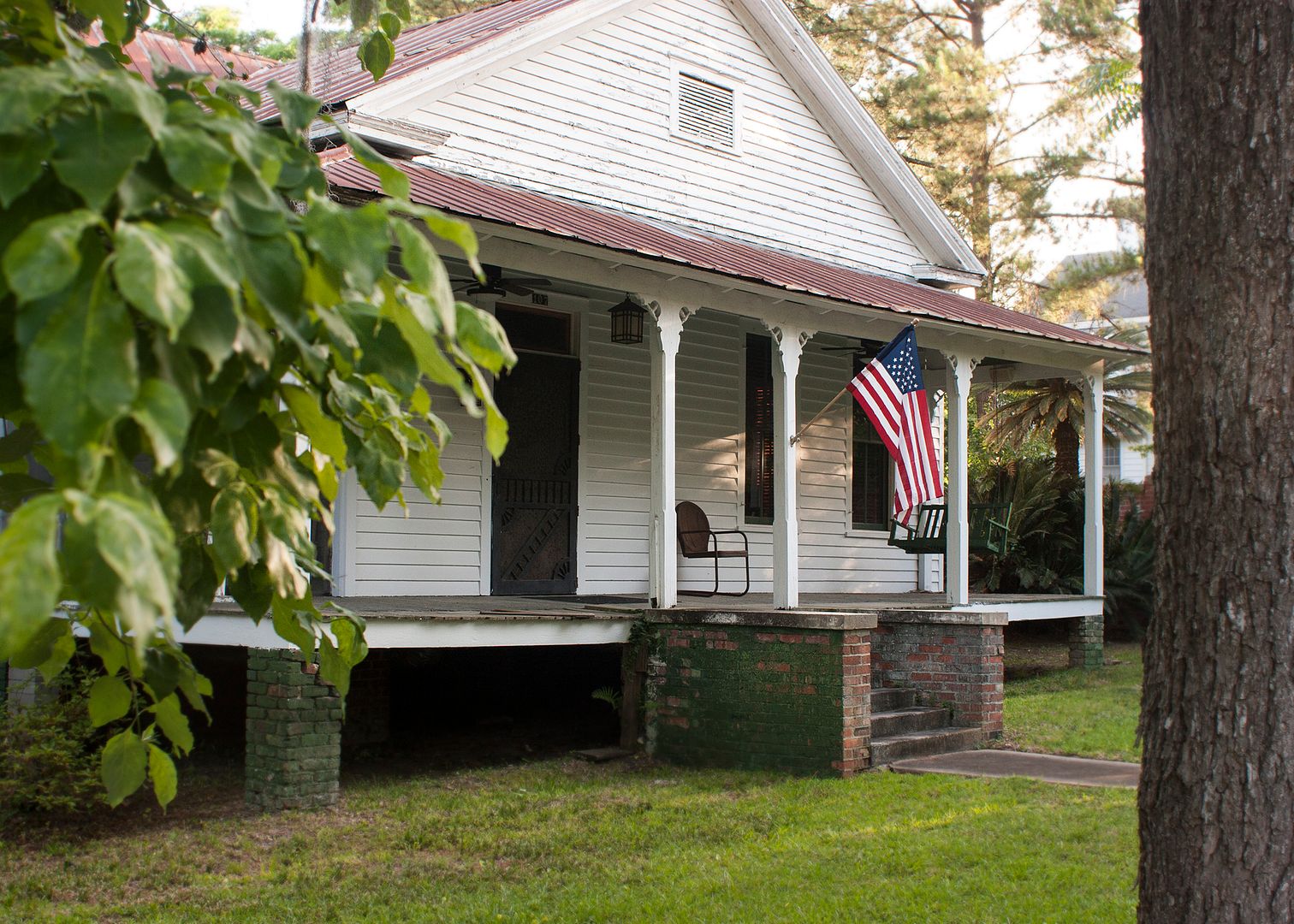 This Classical Revival gem, the Stockton-Malone House, is another favorite of mine. Isn't it the tidiest, most immaculate house you've ever seen? It was built in 1849, and the perfectly symmetrical little wings (you can only see one in the picture) were added in the 1870s. The boxwood hedges are always expertly groomed, and the lawn is like a carpet (I often see its proud owner out front, carefully removing offending pine cones).
This house, the Henry Davis House, built in 1892 and located on North Jackson Street, was originally a one-story structure. The second story was added in 1906. Amazingly, the grand columns were an even later addition, not making their debut until the mid-1970s. The house came up for sale in 2004, just after Rob and I had closed on our own house, so I used to wonder, What if we'd waited and moved
there
instead? Well, one thing's for sure: We wouldn't have had as much yard work to do. The yard around the Davis House is tiny and very tame, decorated with a few hydrangeas and a little tea olive in addition to the boxwood you see here.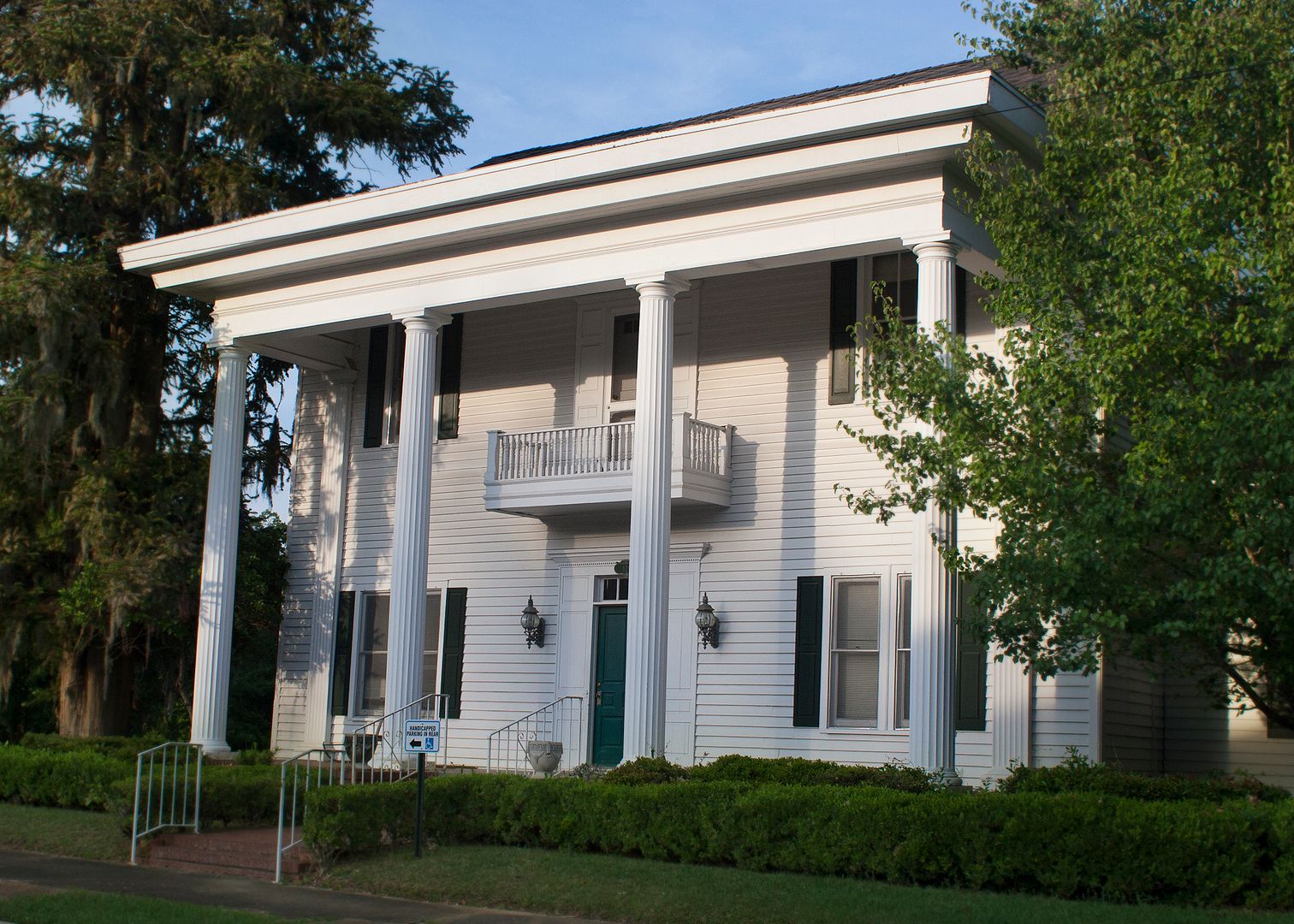 The New Revelation Church of God is on my street, North Adams. I like its balanced, clean design and its snowy white paint . . . and the rosy glow that seeps through the shuttered windows on revival nights, and the music you can hear if you happen to be passing by on such a night. To me, this is what a church should look like. This is beauty in its simplest, purest form.