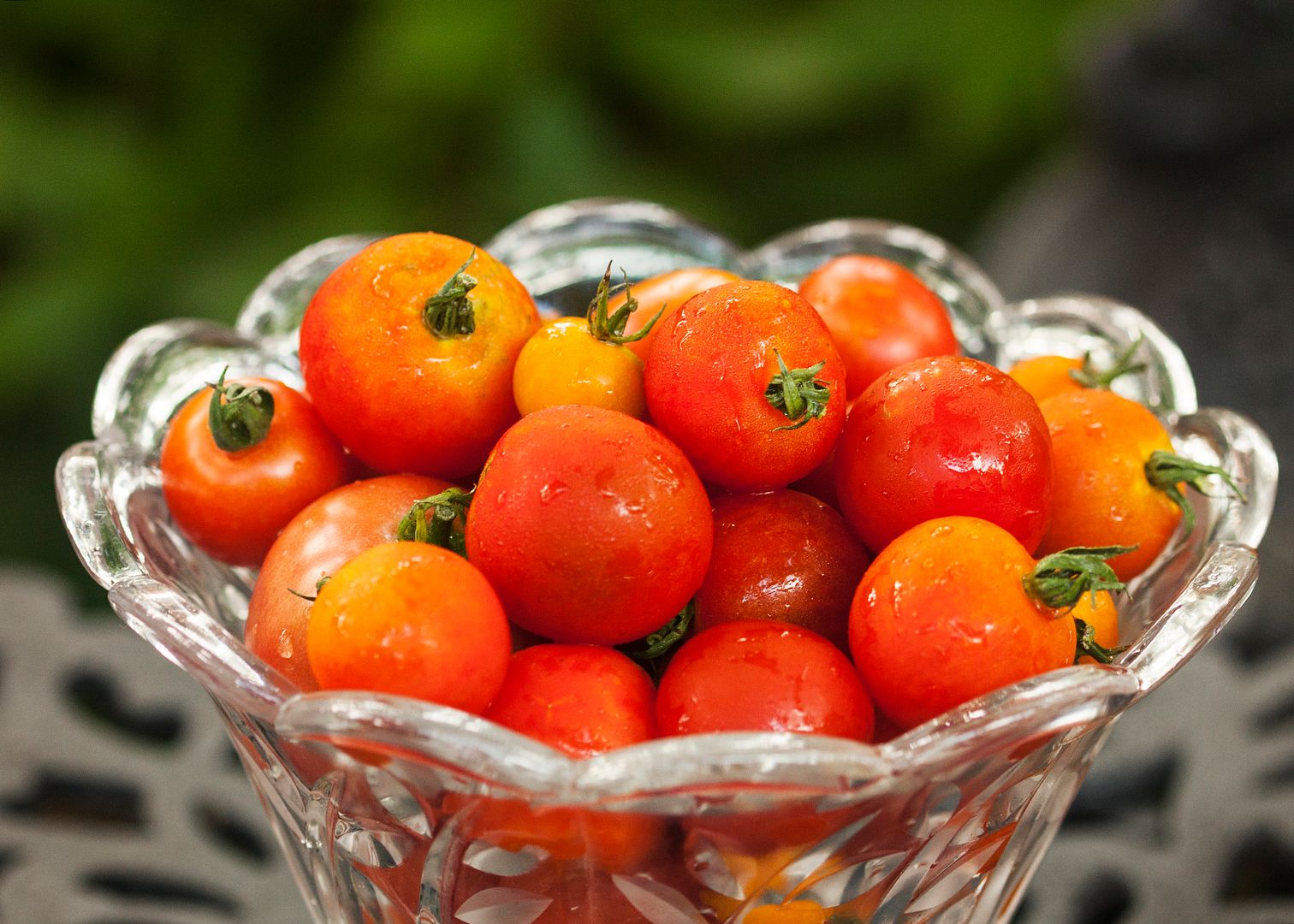 Just a bit of the weekend's tomato harvest
On Sunday (well, two Sundays ago, before our Oregon trip), Rob and I made another batch of our Super Baked Ziti. Rob stayed up 'til 3 a.m. the night before, making the sauce. It was an epic sauce. He started working on it about 8:00, when I was hanging up our new shower curtain and the house was being flooded by cricket and katydid music. (The summer nights are so wonderfully loud.)
He went out among the fireflies to pick fresh basil and oregano. He used our homegrown garlic and onions too, and our meatiest tomatoes--Cherokee Purples, Romas, Amish Pastes, and Brandywines.
"The only thing in this sauce that didn't come from our yard," he bragged, "is the olive oil! Oh, yeah, and the salt."
At 2:30 I woke up after a bad (but extremely dumb) dream. I expected the house to be dark and silent--scary, depressing. But no. Rob was still at work on his sauce. Every room smelled of garlic and basil, and lamps were lit all around. There was a festive, merry feeling, and we sat on the floor and played with the cats until I forgot about my dream and the sauce was finally ready to be tasted and then stored away in a Tupperware.
Super Baked Ziti
Ingredients:
Ziti:
1 lb whole wheat ziti
1 batch (about 4 cups) homemade marinara sauce
1 batch cashew ricotta
1 onion, finely chopped
3 Asian eggplants, diced
2 cloves garlic, minced
Crushed red pepper
1 package mushrooms, sliced
1 cup chopped, pitted kalamata olives
2 3-oz packages chopped sun-dried tomatoes, reconstituted
Salt
Olive oil
Cashew Ricotta:
1 package silken tofu
2 cups raw cashews (soaked in water overnight)
1 Tbls lemon juice
¼ tsp salt
Topping:
1/2 cup Panko
2 Tbls nutritional yeast
1/2 tsp salt
2 Tbls olive oil
Directions:
Preheat oven to 420 degrees F. Smear some olive oil around a 9 x 13 casserole dish. Boil noodles until al dente. Drain and set aside. Sauté chopped onion and minced garlic in olive oil until onions are softened. Add a little salt. Set aside. Sauté the mushrooms in olive oil with some crushed red pepper and a little salt. Set aside. Sauté the eggplant in olive oil with a little salt. Set aside.
Make the cashew ricotta by blending everything together with an immersion blender. Make the topping by mixing all the ingredients together.
Toss cooked ziti and marinara sauce in a large bowl until pasta is well coated. Add onion and garlic, mushrooms, eggplant, sun-dried tomatoes, and kalamata olives. Mix well. Add the cashew ricotta, stirring gently and leaving some pockets of cheese. Add everything to the oiled baking pan. Top with Panko mixture. Cover with foil. Bake for 25 minutes. Uncover and bake five minutes more.
Freshly harvested garlic
Tomatoes, just rinsed
That's fresh basil behind the tomatoes.
The ziti, finally done!