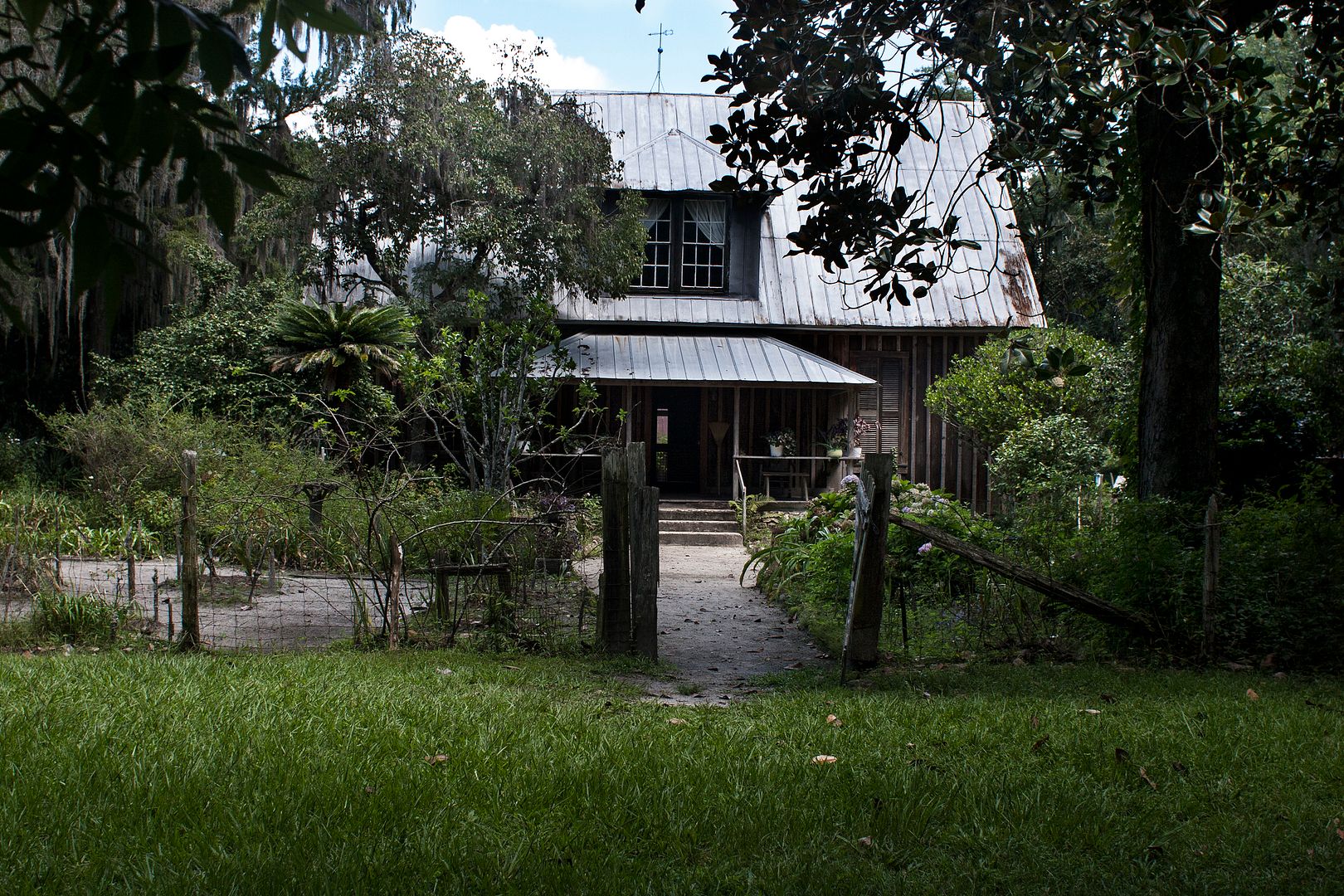 On Saturday Rob and I stopped by Dudley Farm in Newberry to do a little agritourism (we were spending the weekend in nearby Gainesville). In case you've never heard of Dudley Farm, it's an authentic Cracker farm that's been preserved as a state park. It's got historic buildings, gardens, and gentle farm animals—everything I like.
Three generations of Dudleys farmed the place before Myrtle Dudley donated it to the state in 1983. The farm was active from the 1850s to the 1940s, and Myrtle Dudley continued to live on the property until her death in 1996.
A sandy path took Rob and me through the woods to the Dudley Farmhouse. We walked along under our dumb twin sun hats, watching birds and saying dorky things (mostly about cats). I wanted to pretend our cat Carl had come with us on our visit.
"Carl was begging for souvenirs at the commissary," I said. "I got him a popgun and a coonskin cap and everybody was telling me how cute he was."
"This is getting kind of nerdy," Rob said.
The farmhouse was surrounded by a traditional "swept" yard with little pocket flower beds here and there amid the hard-packed, silvery sand. The beds were crowded with ginger lilies, milk-and-wine lilies, irises, and old-fashioned roses. On one side of the yard sat a tiny limestone house called "The Flower Pit," once used the same way a greenhouse or a cold-frame would be, to protect tender plants in winter. It was a curious, very cute little structure, only about waist-high.
The farmhouse was cute too, nestled in among the flowers. The tin roof was tall, like a Pilgrim's hat, and the boards that made up the exterior walls were arranged in such a way that the house wore natty vertical stripes. Fragile, faded lace curtains hung in the big windows behind wavy glass.
We stepped inside and peered around in the dimness.
"It's like Snow White's cottage," I said. "Or maybe it's like a tree house without the tree. The brochure says it's made all of longleaf pine, and the furniture actually belonged to the Dudleys; it was donated along with the house."
"Well, I like it," Rob said. "I approve."
The backyard was full of fruit trees—peaches, figs, oranges, and even a shady grove of bananas. There were grape arbors, too, and a big garden full of sweet potatoes and okra, the rail fence draped with gourd vines.
Behind the backyard lay a pasture and some shady pens. The animal inhabitants included turkeys, chickens, Cracker cattle, a horse, and a mule. We wandered over to the chicken run and kneeled in the grass. The chickens (nice fat Barred Rocks, black with white stripes) all came up to greet us.
"I wish I had something for you," Rob said to them. "By the way, those are great striped pajamas you're wearing."
We touched their soft feathers through the wire fence.
"They sound so mournful all the time," Rob said. "If we had chickens, I'd probably always worry about them being sad."
"I'm sure you would," I said.