A coworker of mine, Evelyn, brought a big pot of Sweet Potato Maafe to our office Thanksgiving party and passed out lovely color copies of the recipe. Well, I liked it so much I made it at home the very next night. A maafe is a spicy West African-style stew cooked with a sauce made from peanut butter and tomatoes. I served my maafe over quinoa, but it would also go well with couscous or brown rice. I like quinoa because it's really nutritious; it's a complete protein and a good source of iron and fiber.
Vegan Sweet Potato Maafe
Ingredients:
2 pounds sweet potatoes, peeled and cubed
Enough peanut oil to coat sweet potatoes
2 medium onions, diced
8 cloves of garlic, minced
6 Tabasco peppers, minced
3 bell peppers or 8 clown peppers, chopped small
More peanut oil--about 1/4 cup
2 tomatoes, diced
4 carrots, peeled and chopped
4 turnips, peeled and chopped
4 cups water
4 Tbls tomato paste
1 1/3 cups peanut butter
1 cup hot water
1 head green cabbage, chopped
Salt to taste
Directions:
Chop the sweet potatoes. Put them in a bowl and coat them with peanut oil and salt to taste. Spread them on a baking sheet and bake at 450 degrees F until soft and a little brown.
In a large soup pot, sauté onions and peppers in oil until soft. Add garlic and sauté a couple more minutes. Add tomatoes, carrots, turnips, and water and bring to a boil. Lower the heat and simmer until the carrots are soft.
In a medium bowl, whisk together the tomato paste, peanut butter, hot water, and salt to taste.
When the carrots are soft, add the sweet potatoes to the pot, along with the peanut butter sauce and cabbage. Adjust the salt if needed. Cook until the cabbage is tender.
Serve hot over quinoa or brown rice.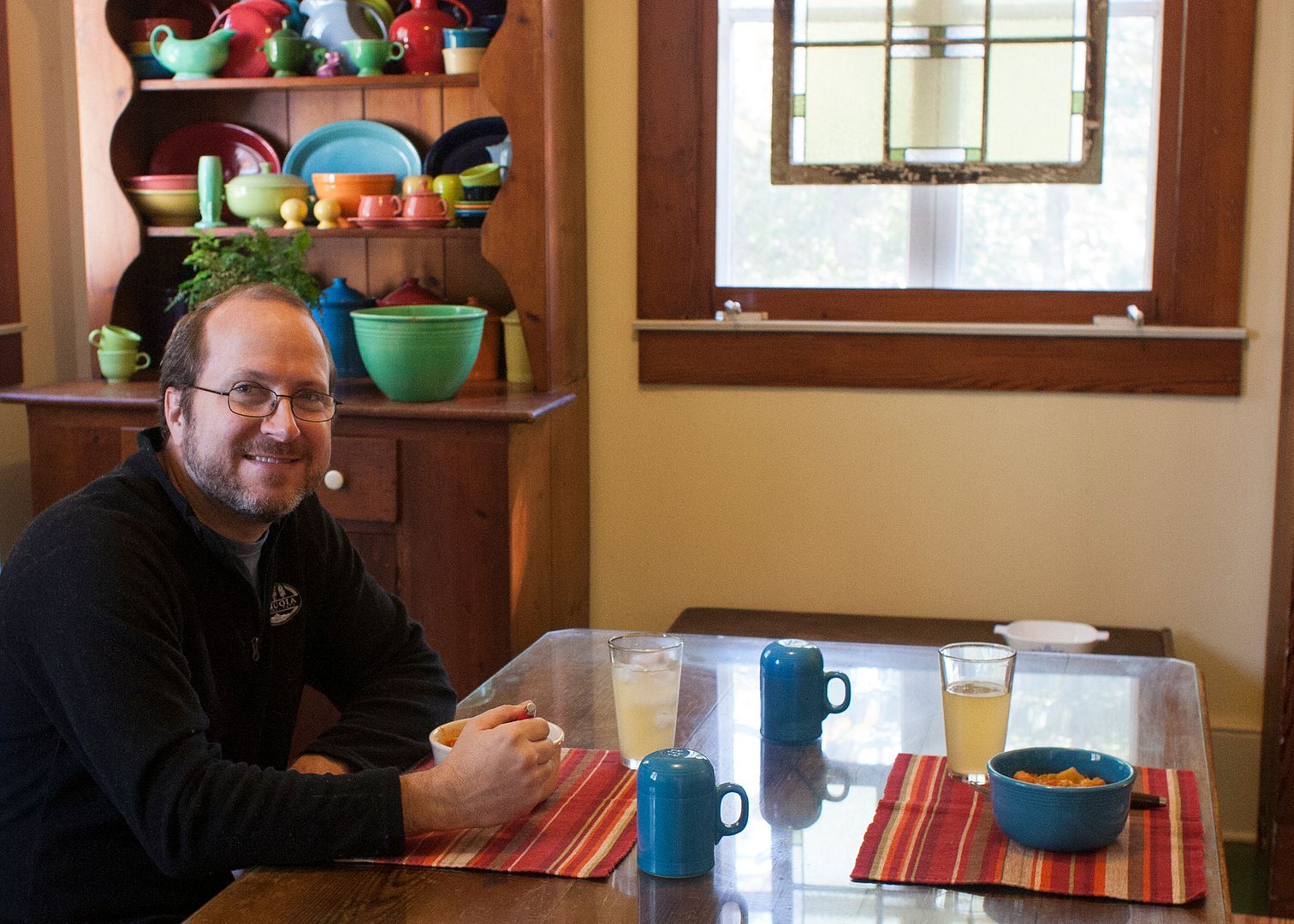 Rob enjoying a bowl of sweet potato maafe
We've been cooking a lot with clown peppers lately. We've got so many!
This birdbath has nothing to do with anything; I just think it's cute.