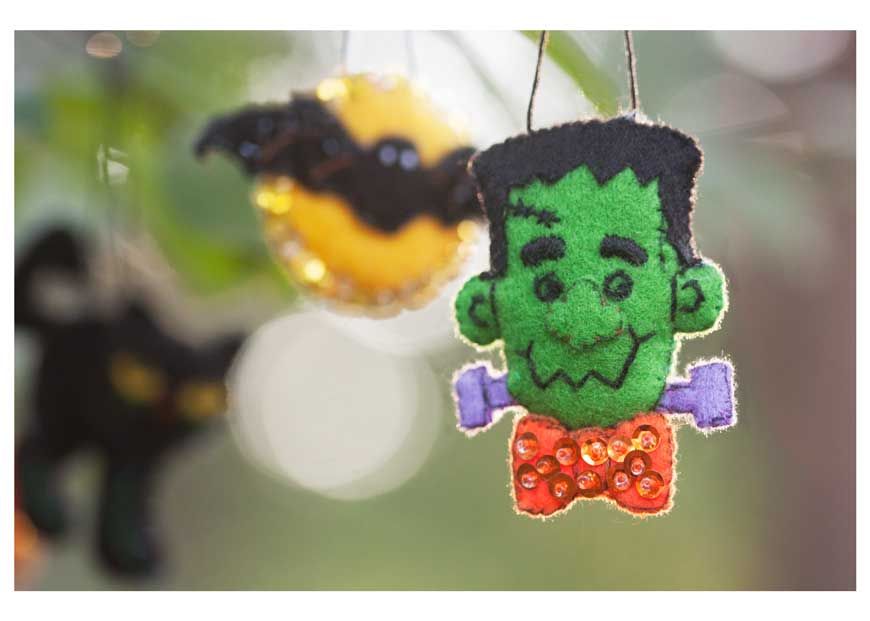 On Thursday Mom had a pumpkin-carving party and she gave me these adorable felt ornaments she made. Whenever you go to Mom's house she always gives you something: old newspapers to use as garden mulch, maybe, or an interesting catalog she got in the mail. This time, she gave me these tiny handmade decorations
—
a jack o'lantern, a cat, a ghost, a bat, a witch, and some sweet little monsters.
All the guests at the party (Bunny, Kris, Sophie, and me) were exclaiming over them.
"Aww, they're so cute," Sophie said (in her scarecrow costume and new blue braces).
"Look at the little cat!" Bunny cried. "She's got so much personality!"
"Each one is a little character!" I said. "I just love their expressions. They're so . . . expressive!" (I always say something dumb.)
Mom didn't think the ornaments were any big deal. She gave them to me in the exact same way that she'd give me some old newspapers. "Oh, and here are your ornaments," she said after we'd carved our pumpkins and eaten hot soup and cobbler and were about to head home.
But I was really enchanted by them. I can't believe Mom can still sew so well even though she had a stroke and went blind in one eye last year. I tried to say a good thank-you, but Mom isn't into thank-yous. "And I've got tons of newspaper if anybody wants it!" she said.