Well, we finally got our kitchen remodeled. It was a bit of an ordeal. For about a month we had to wash our dishes in the bathroom. Oh, and, of course, we didn't have a stove. I lived mostly on birthday-cake-flavored Oreos.
In July and early August, carpenters, plumbers, and electricians came and went. Our cats hid under the bed or behind the water heater while the "bad mans" were here, but as soon as the men were gone they came out and frolicked around the construction site. Most of the cats seemed to revel in the chaos, and during the weeks when the house was torn up Rob often remarked on the "spirit of lawlessness" that prevailed among them. As they climbed the workmen's ladders, peed on their tools, and burrowed into holes in the drywall, Rob added new verses to a little song he'd written some years back called "Cats Are Terrible Animals."
A lot of dumb things happened during the remodeling process. Dangerous things too. Sometimes the things were dumb
and
dangerous. For example, when Rob and I were attempting to move our old refrigerator out of the house, we lost control of it and it tipped backwards and fell down the front steps (12 feet of steps!) and landed in the yard. (I say it did somersaults; Rob says it didn't.) "Well," I said to Rob as we looked down at the gouged-up wood steps and the wrecked refrigerator, "that was half-assed."
Rob claimed every day that he was going insane. I eventually developed acne from my diet of Oreos. But all the "pain" was worth it in the end. Now the kitchen is done, and I can't wait to show it to you.
I guess I need to start with some "before" pictures. I don't usually like to post ugly pictures on my blog, but I can't really see a way around it this time.
First up is a nice shot of our yellow plastic countertops: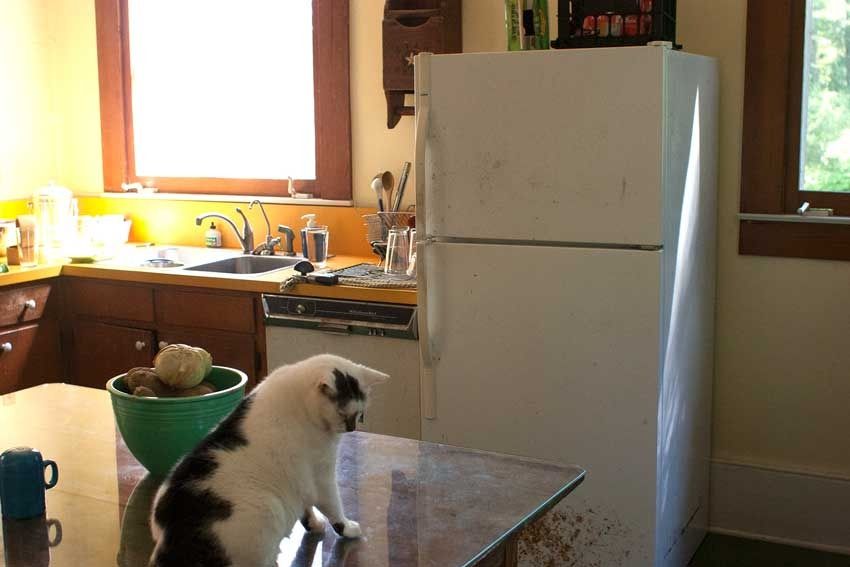 Here's an even better one:
We never used this rusty dishwasher, which was a perfect match for our rusty refrigerator. "It doesn't work," Rob liked to say, "but at least it looks great."
Rob took the next two pictures with his phone while the work was going on. The old kitchen sat in the driveway for about a week.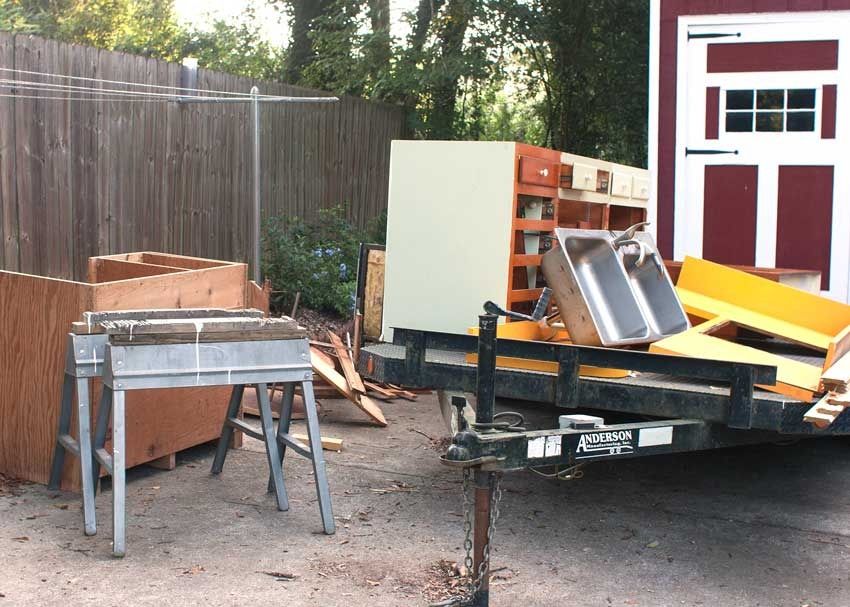 June and Frankie hiding from the carpenters
—
I mean, cat murderers:
On August 6, the cabinets were finally finished and in place, and Rob and I started painting the walls. We chose a creamy color called Ylang Ylang. The cabinets were built by Stanley Tolar. He's a cabinet-making genius.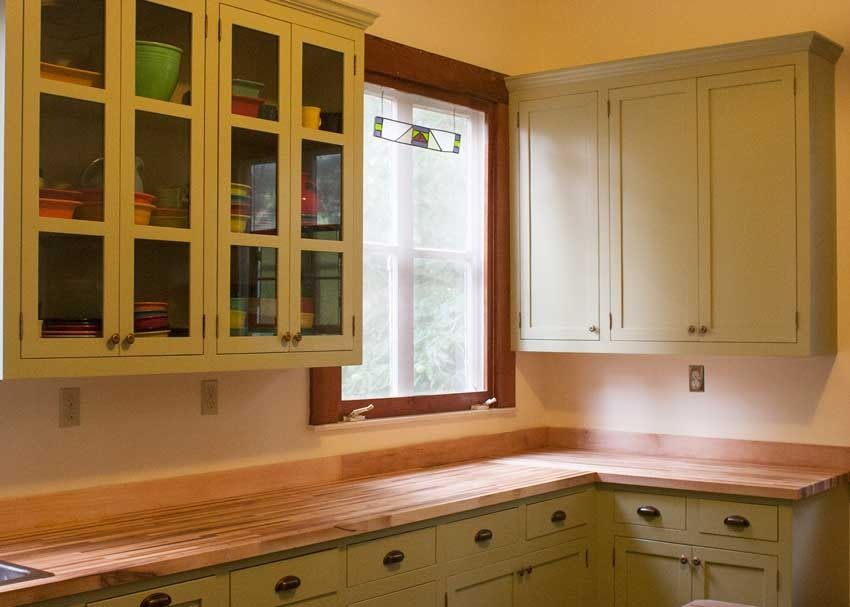 The cabinets are painted Georgian Green.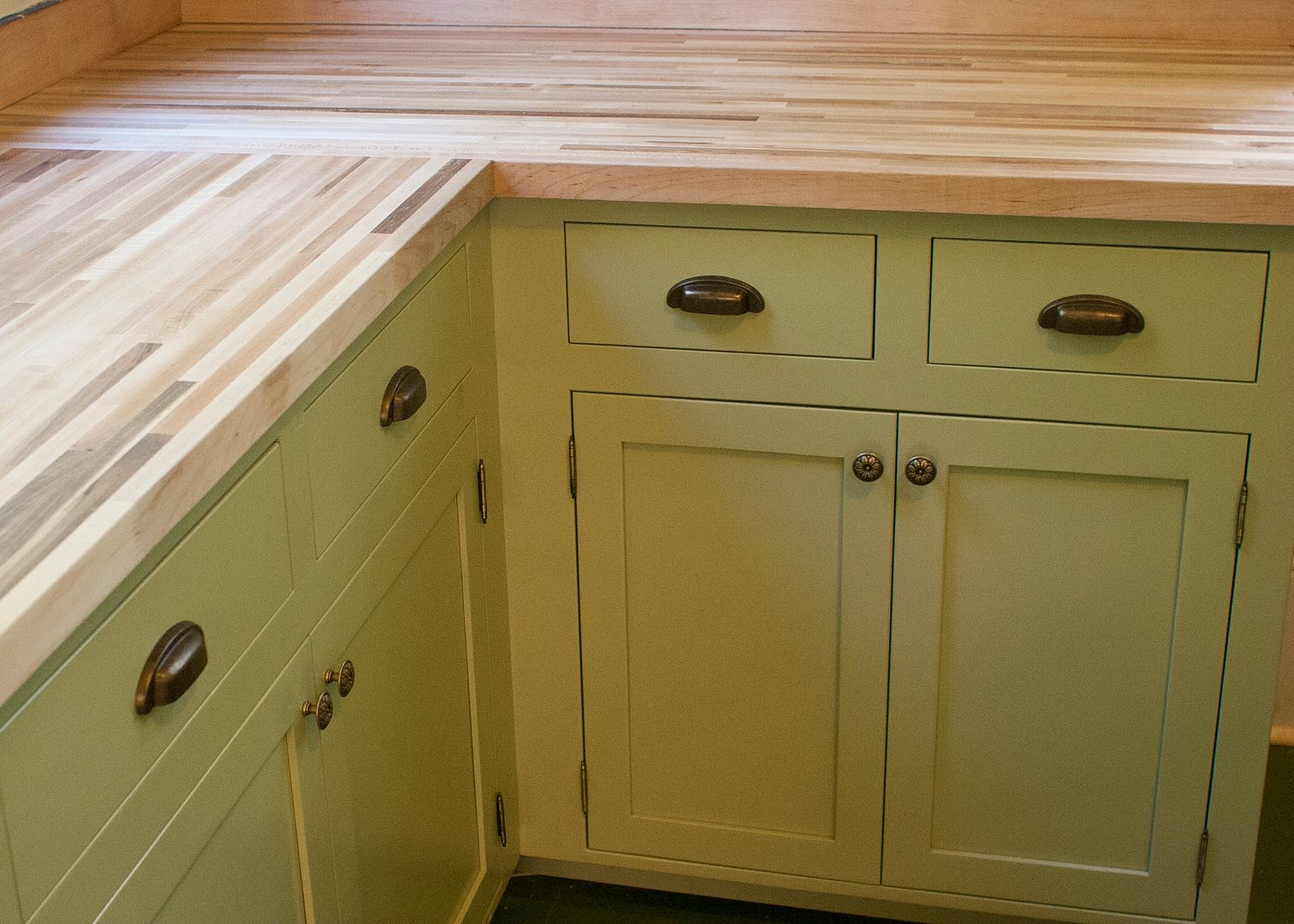 We took special care choosing the pulls.
About 10 years ago, my brother-in-law Matt made me this beautiful piece of stained glass. It's kind of the centerpiece of the kitchen and was an inspiration for the new color scheme.