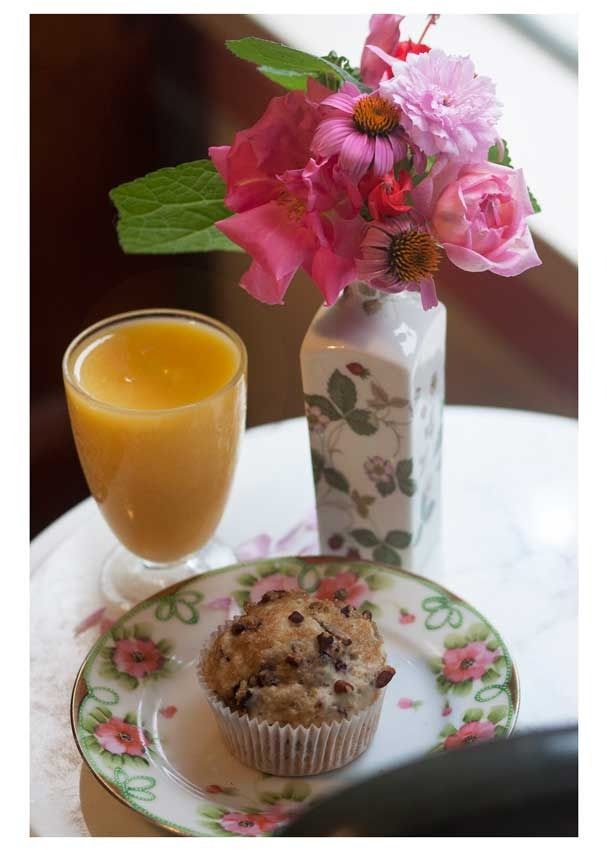 Last weekend I made my first batch of muffins in our new kitchen. I cooked up some Vegan Orange Cranberry Muffins with a nutty, crumbly brown sugar topping. I used this
recipe
, which was easy to veganize with ground flaxseed (to replace the egg) and almond milk.
I had a bunch of small, furry helpers with me, of course, as I baked. All the cats seem to be enjoying the new kitchen, especially Maggie, our beautiful, plump silver tabby. She likes relaxing on the counter on this huge butcher-block cutting board we have.
"Did you see her last night?" I asked Rob as I added pecans and Craisins to the muffin batter. "She was on the cutting board, lying flat on her side with her feet straight out behind her like tail fins. She looked like a big fish—a big grouper—just waiting to be prepared for supper. Lucky for her we're vegetarians."
"A grouper?" Rob said. "Don't you mean a catfish?"
"Close enough." I did a little mixing, but not too much. "You know, I've got a good feeling about these muffins. I think I'm not actually messing them up."
And I was right. The muffins turned out pretty tasty, and they looked really cute arranged on my cupcake stand on the counter (I should've gotten a picture). It's fun getting our new kitchen stocked with good things to eat. We've brought in lots of stuff from our garden. Braids of garlic and garlands of hot peppers hang around the window frames, and the freezer is packed with our summer tomato harvest.
Vegan Orange Cranberry Muffins
Ingredients:
Batter:
2 cups flour
1/3 cup sugar
1 tablespoon baking powder
1/2 teaspoon salt
1 cup chopped Craisins
1/2 cup chopped pecans
1 tablespoon ground flaxseed
3 tablespoons water
1/4 cup vegetable oil
3/4 cup almond milk
1/4 cup orange juice
1/8 teaspoon orange extract
Topping:
1/4 cup chopped pecans
1/4 cup brown sugar
1/2 teaspoon cinnamon
Directions:
In a large bowl, whisk together the flour, sugar, baking powder, and salt. Add the Craisins and pecans and stir to coat.
In a blender or food processor, mix the flaxseed and water until thick and creamy.
Get out a second bowl (a medium-sized one) and whisk together the flaxseed mixture, oil, almond milk, orange juice, and orange extract. Add the wet ingredients to the dry ingredients and mix.
Pour the batter into 12 muffin cups lined with muffin papers, filling them three-fourths full.
Combine the topping ingredients in a small bowl and sprinkle about a tablespoon over the top of each muffin.
Bake the muffins at 400 degrees F for 20 minutes.