I've been especially pressed for time this month because my cat Josie has started a special kidney care diet and she's decided she won't eat her special food unless she's sitting on my lap. Josie eats so slowly. She takes a few licks, then stops to consider, it seems, life's mysteries. Then she has a few more licks. Each meal takes about half an hour, and she eats four meals a day.
Josie being cute
So, yes, mostly this month I've been feeding Josie (which, of course, I really love doing). But when she wasn't eating, I did manage to do a few little house and garden projects and spot some neat things in the yard. Here are some pictures of what's been going on:
I spied this little fellow (he was small enough to fit in my palm) approaching Bernie's cat-food bowl last Saturday morning. Rob and I have lots of box turtles in our yard, and we often see them creeping around after a rain shower. I've watched them eating wild strawberries in our meadow, and fallen tomatoes and low-hanging cucumbers in our vegetable garden. I read that wild box turtles live an average of 50 years but that they might live as long as a century. I wonder how old this little cat-food fancier is.
On September 6 we harvested 30 pounds of sweet potatoes. Last year our sweet potato crop was pretty much devastated by
voles
(the cutest pests I've ever seen), but this year we didn't have any damage (except for a few insect holes). We were really proud. We spread the sweet potatoes out to dry for a day on our picnic table and then, for long-term storage, we put them in the potato box Rob built a few years back. The potato box is really just a stack of drawers with screens at the bottoms. It helps preserve our sweet potatoes by keeping them cool, protecting them from light, and allowing for plenty of air circulation (thanks to the screens).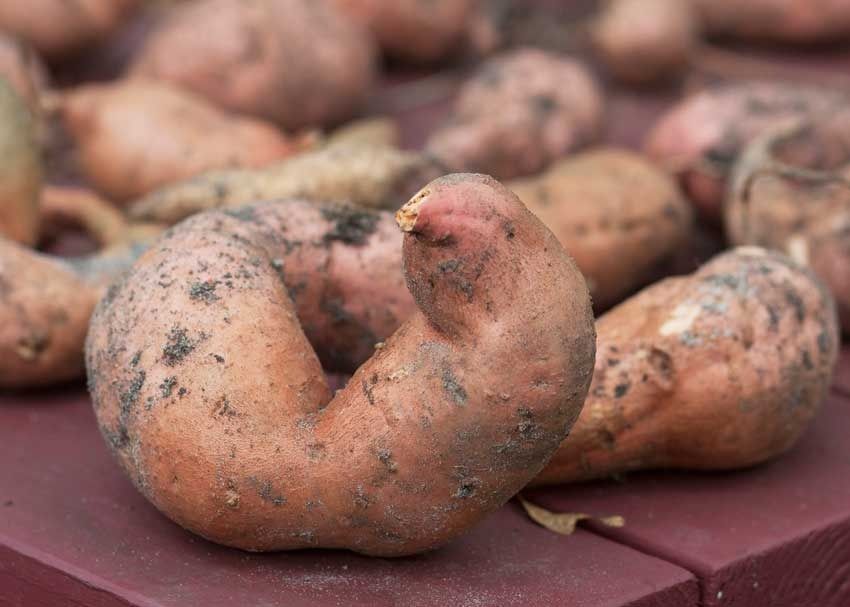 A couple Saturdays ago we took down the gutter around the front porch, and the house looks so much better without it. The gutter wasn't doing any good because it was constantly clogged with leaves. It was just looking tacky and breeding mosquitoes.
Last Sunday we cleaned the breezeway from top to bottom. It's our cats' favorite room, so it tends to be messy. The focal point of the place is an old pie safe whose shelves are generally filled not with pies (sadly) but with lounging cats. The cats leave their fur all over the shelves and push the decorations around when they stretch, so the pie safe always needs a good dusting and rearranging. We did that on Sunday, and then we washed the walls and the floor with bleach.
It's
surprise lily
season here in Quincy. Right now you can see these red, leafless beauties all over our small town. Today I noticed two by the door of the pure white little church at the end of my street. Then I spotted another near a tire swing hanging from a big tree. (A surprise lily looks great near a tire swing.) Surprise lilies, members of the amaryllis family, are native to China but have become naturalized in many parts of the South. We have a bunch in our yard, most of them planted by former owners.