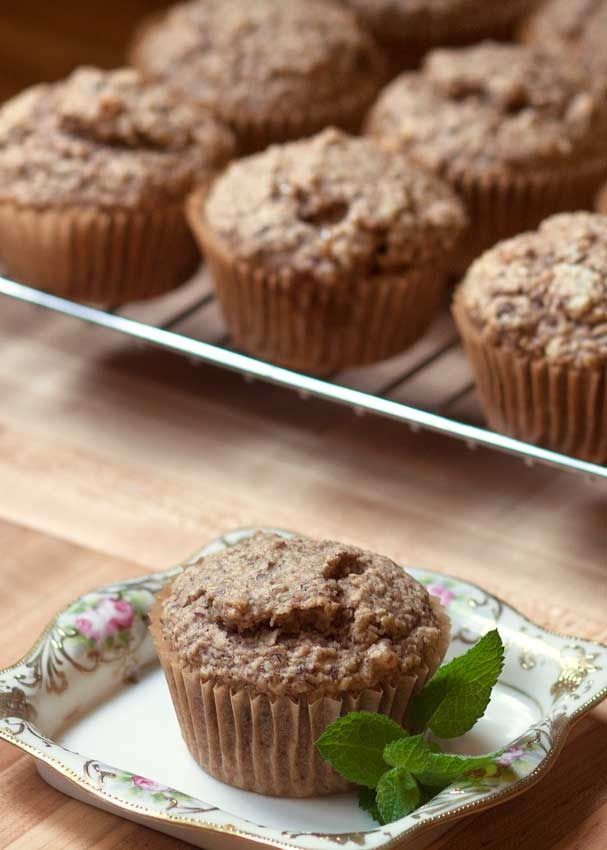 My mom recently took a trip to the Smoky Mountains, and she brought me a jar of Amish Wedding peach-pecan jam as a souvenir. I wanted to do something special with the jam, so on Saturday I used it to make Vegan Jam-Filled Oat Bran Muffins from a recipe I found in my all-time favorite cookbook,
The Joy of Vegan Baking
.
The muffins turned out perfect, and the jam was delicious—it made me wish
I
could take a trip to the Smokies. I'll tell you a little about my mom's visit.
She went up to the mountains with my sister Kris and Kris's kids, Sophie and Jake, and they stayed in a cabin near Gatlinburg. They had fun every day for a week. They went gem-mining and hiked to a waterfall. They waded in cold mountain streams and got to see elk. They fooled around in the little town of Gatlinburg, which is like a permanent carnival, eating caramel corn for breakfast and giant snow cones for lunch. They visited all the Ripley's attractions in Gatlinburg, including the Odditorium, the 5D Moving Theater, the haunted house, and the aquarium. Sophie and Jake spent their life savings on souvenirs (Jake got a giant stuffed narwhal).
On the way home they stopped in Dillard, Georgia, so Sophie could feed the goats at a wacky tourist trap called Goats on the Roof, and that's where Mom got me my jam. She gave it to me last week at Jake's birthday party, handing it to me as I sat with my cupcake at her big dining room table.
"Now I know you're not much of a jam eater," she said in her very Mom-ish way, "but I got you some anyway!"
Vegan Jam-Filled Oat Bran Muffins
Ingredients:
2 tablespoons ground flaxseed
6 tablespoons water
2 cups oat bran
1 cup all-purpose flour
1/2 cup brown sugar
4 teaspoons baking powder
1 teaspoon ground cinnamon
1/2 teaspoon salt
1 cup chopped walnuts
11/4 cups almond milk
1/3 cup canola oil
1/2 cup jam
Directions:
Preheat the oven to 425 degrees and add papers to your muffin tins.
In a food processor or blender, mix the flaxseed and water until thick and creamy. This is your "egg."
In a large bowl, combine the oat bran, flour, brown sugar, baking powder, cinnamon, salt, and walnuts. Set aside. In a small bowl, combine the flaxseed mixture, almond milk, and oil. Add the wet ingredients to the dry ingredients and mix until just blended.
Fill the muffin cups about half full with batter. Place a dab of jam in the center of each cup. Add more batter to fill the cups about three-fourths full, covering the jam.
Bake the muffins for 20 minutes.