This weekend Rob and I spent all day Saturday cleaning up our vegetable garden. The outer beds, where our pomegranates and clown peppers grow, had become jam-packed with wild petunias (
Ruellia caroliniensis
), so we dug those out. I felt bad removing them because wild petunia is a beautiful native wildflower, a great nectar source for butterflies, and (at least in some areas, I read) a larval host plant for the common buckeye. Wild petunia has gone crazy in my yard, but I'm only removing it from the vegetable area. It's welcome to stay in other spots, because it truly is a terrific plant. It blooms for months and tolerates drought. There's really nothing not to like. It's just a little overly enthusiastic sometimes.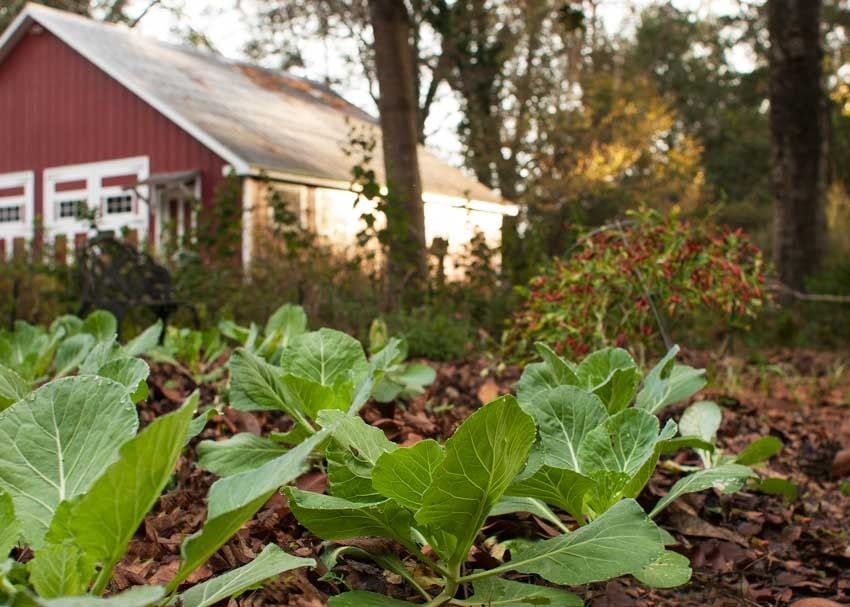 The vegetable garden, all tidied up
A few months back, Mom gave me this adorable fall wreath. She made it herself. I love it. Mom is always up to something, and I want to be just like her when I retire. She's constantly sewing and crafting. In the evenings she knits scarves and shawls and even stuffed animals as she watches
Father Brown
. She's a member of a circle group at church and bakes breads for the church bake sale every Sunday. (She volunteers for everything.) Her yard is the lushest place, and she's always got something she wants to show me in it. The other day it was her clementine tree; it was loaded with bright orange fruit, and nearby her Mr. Otto sasanqua was blooming, full of pink flowers as delicate as butterflies.
On Friday Mom had her annual pumpkin-carving party. We ate chili and hot apple crisp and carved our pumpkins on Mom's kitchen floor. My brother-in-law Matt's pumpkin was particularly awesome. It was nose-less, and it was throwing up pumpkin guts.
"That's great," I said to Matt. "I like how he doesn't have a nose."
"Oh, but he
did
," Matt said. "You see the scar, right?"
And, yes, right in the middle of the pumpkin's face were a big silver scar and a dent, as if his nose had been cut right off.
Jake, my 12-year-old nephew, went a different route and carved a scene rather than a face on his pumpkin. He carved a ghost with a flaming grin rising from the grave. I kept hearing Jake in whispered negotiations with Mom. He wanted her to judge the pumpkins and award him first prize.
Photo by Kris Kimel