I wanted to tell you about a favorite place of mine, Tallahassee's most famous tourist attraction, Wakulla Springs State Park. The park is home to one of the world's biggest freshwater springs, thousands of acres of woods, and an elegant Spanish-style lodge built in 1937 (with stucco walls and a red tile roof).
My family has been visiting Wakulla Springs for half a century now, since I was a baby. We go at least once a year, and we were just there with Dad a few weeks ago, on Christmas Eve.
Over the years our visits have become kind of like pilgrimages to a holy place—there's something ritualistic about them. Of course, Wakulla Springs is changing; the limpkins are gone and the water's much darker now than it used to be. But the charm of the park is its "sameness," the way it seems frozen in time, and I think we come back again and again to remind ourselves of all that's best in Tallahassee, of what's beautiful and essential, of what we want to hold onto.
On our Christmas Eve visit we took a river boat tour, walked a trail strewn with golden leaves, and ate lunch (complete with fried green tomatoes) in the lodge's Edward Ball Dining Room. At the end of the day, in a cozy corner of the lobby, we opened our Christmas presents. We were sunk deep in some comfortable leather chairs under the cypress ceiling, which is a work of art, brightly painted with tropical birds and flowers and graceful Spanish galleons.
Before we went home, Sophie and Jake played an intense game of checkers at one of the lobby's old marble checkerboard tables. The lodge is resplendent with marble, especially Tennessee marble, known for its distinctive pinkish-gray color. There's a marble staircase leading up to the 27 guest rooms, and the old-fashioned soda fountain (across the lobby from the dining room) has a 70-foot marble counter.
I've never gotten to spend the night at the lodge, but my sister Kris has. According to Kris, the rooms are TV-free, furnished tastefully with homey, well-worn antiques. Kris's dream is to spend the night on New Year's Eve, when the lodge offers packages that include a moonlight boat ride, a band and dancing in the lobby, champagne at midnight, and desserts after that.
Kris has got to be Wakulla Springs' biggest fan. In summer she and Sophie and Jake go swimming at the park almost every weekend, and have picnics on the white sand beach under the cypress trees. The kids snorkel and jump off the big, scary diving tower, and then they go to the soda fountain for ice cream cones and Cokes.
Sophie and Jake's visits to Wakulla Springs are a little different than mine and Kris's were when we were children. Back then we didn't even know swimming was an option. We always went to the springs wearing our good shoes and church dresses, and we'd ride on the boat and then we'd go home. (Our parents were kind of formal.)
But Kris and I loved Wakulla Springs anyway. We loved the boat rides. I still do. On Christmas Eve we saw alligators, anhingas, ibises, herons, coots, moorhens, and merganzers in the morning mist. Our guide called to the animals, summoning them in the
old chanting style
that the boatmen at Wakulla Springs have used for generations.
Dad, silver haired, sat in the chilly breeze, in his familiar denim jacket, saying, "Did you all know some of these old cypresses were here when Columbus landed?"
"Ah," I said, nodding and trying and failing to look wise. "That's so amazing."
Jake and I were sitting together, and he had his Kindle with him. He started showing me a video he made last summer with his GoPro; it was of himself jumping off the top of the diving tower.
"Oh, that's awesome," I said. (I've never had the courage to jump off the tower.) "Let me see it again."
"I'm really glad I got the GoPro," Jake sighed as we watched a second time. (He's 12.) "I think it was a good investment."
"It sure helps you remember the summer in winter," I agreed.
"I like remembering," Jake sighed again. (He was buttering me up now, trying to please an old lady.) "I just like it so much."
Jake posing in front of the lodge in 2007
Interior of the lobby, 1995
Bunny and Sophie playing checkers in the lobby, 2013
The painted ceiling, 2015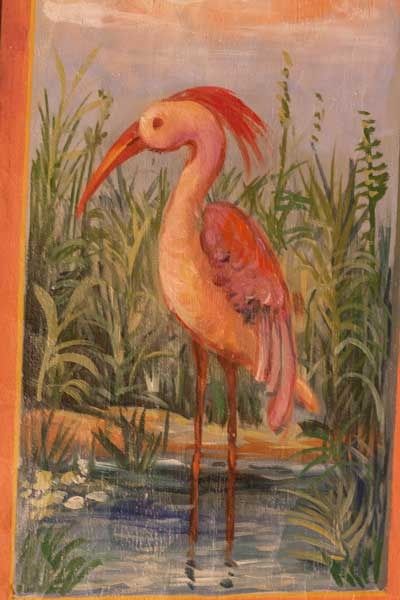 Ceiling detail
Dining room, 2015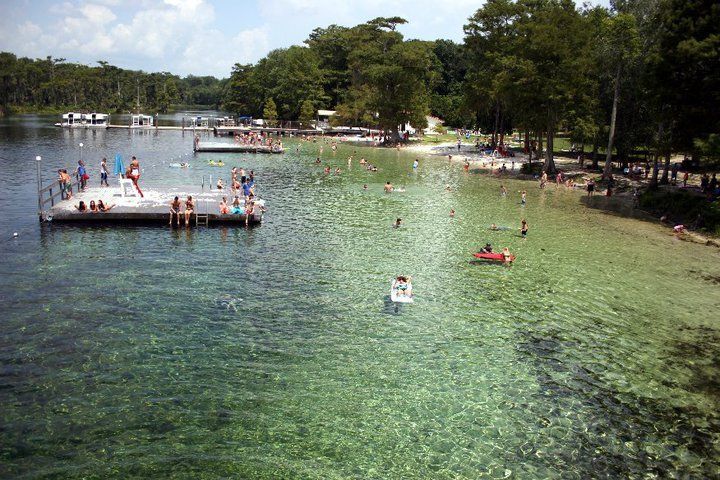 The swimming area, 2010. Photo by Kris Kimel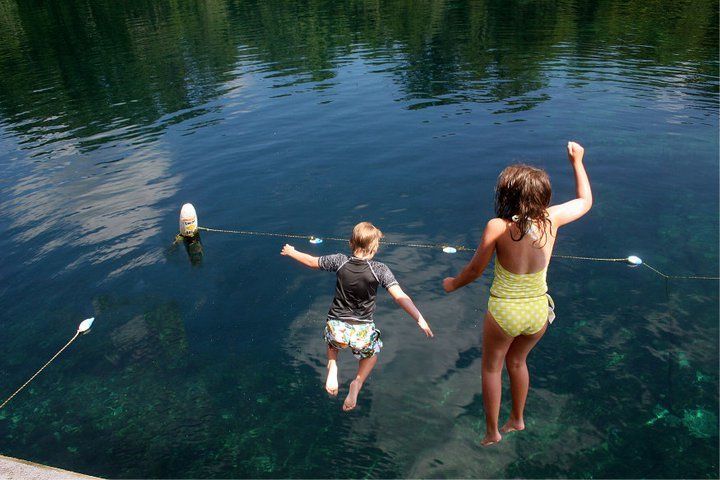 Sophie and Jake jumping off the diving tower, 2011. Photo by Kris Kimel