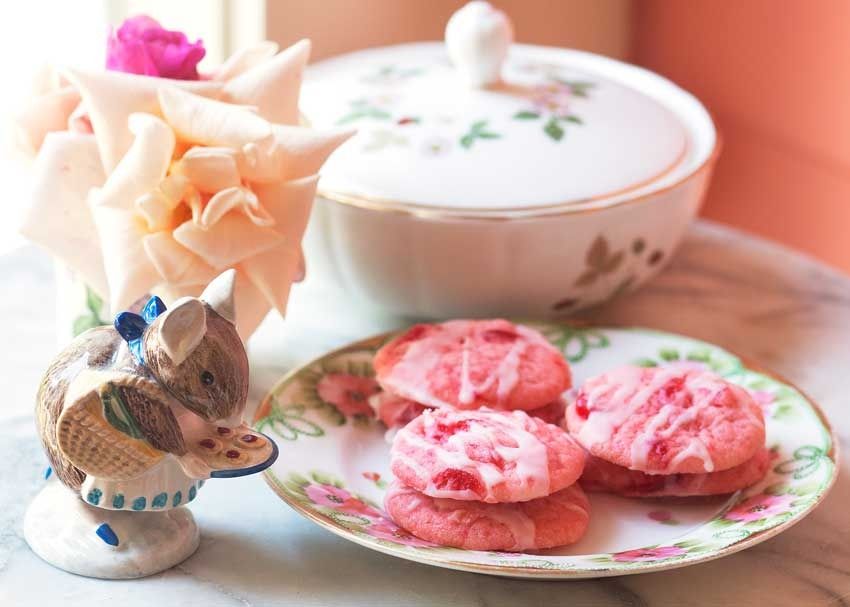 Yesterday morning I got up early and made a batch of Vegan Cherry Almond Cookies before dawn. It was very cozy. As I worked, Buntin sat nearby on the counter, tenderly licking the butter wrapper.
The dough was so pretty, rose-petal pink.
"Buntin, can you believe this pretty dough?" I said. "The cherry juice sure makes great food coloring."
It was hard for me not to eat up all the cherries while I was chopping them—because maraschino cherries are my absolute favorite thing. As I worked with the cherries, I thought of something, a kind-of-funny little memory from high school:
When I was fifteen I got to go to a make-your-own-sundae party, and I topped my sundae with a big cloud of whipped cream, then studded that with a whole bunch of maraschino cherries—probably a dozen. Of course, some of the other girls made a little fun of my babyish creation, so I felt a tad embarrassed about it even though it was delicious.
It was such a fabulous party, with a big, long table covered in flavor after flavor of ice cream and every kind of topping you could imagine. There were even beautiful sundae bowls, made of pink glass. I was shy and didn't really have anybody to talk to at the party, but I had fun eating ice cream and admiring everything.
I remember I was also really proud of the present I had brought (it was a birthday party), a baby-tear plant with the tiniest, most delicate leaves. Around the pot was a sheer purple ribbon tied in a fancy bow.
"What is it?" Anne, the birthday girl, asked me when it came time for me to give her my gift.
"A baby tear," I said, but I always talked so softly back then that no one could hear me.
"What? An elephant ear?" Anne said.
"A baby tear!" I said, but she still couldn't hear me and she went around telling everybody it was an elephant ear. I never could clear up the confusion.
Oh, well, it was still a great party, and if I ever have the chance to make my own sundae again, I think I will make it the exact same way I did then (except vegan).
Anyhow, here's my cherry cookie recipe. I started with
this awesome recipe
and veganized it, and the cookies turned out just perfect—cute and sweet and
so
pink.
Vegan Cherry Almond Cookies
Ingredients:
Cookies
3/4 cup Earth Balance, softened to room temperature
2/3 cup granulated sugar
1 teaspoon vanilla extract
1/2 teaspoon almond extract
1 tablespoon maraschino cherry juice
2 cups flour
16 maraschino cherries, drained and chopped
Glaze
3/4 cup powdered sugar
2 tablespoons almond milk
1 teaspoon vanilla extract
Directions:
Using a hand-held mixer, beat the Earth Balance on high speed until creamy, about a minute. Keep beating and add the sugar, vanilla, and almond extracts. Drizzle in the cherry juice and beat for another minute on high.
Add the flour and mix on low until a very soft dough is formed. Add the cherries and mix on low until the cherries are well distributed.
Wrap the dough in plastic wrap and refrigerate for at least four hours. (I chilled mine overnight.)
Preheat the oven to 350 degrees. Line two baking sheets with parchment paper. Shape the dough into balls using 1 tablespoon of dough per ball. Line up the balls on the parchment paper.
Bake for 10 to 12 minutes or until the edges begin to brown slightly. Be careful not to overbake—these should be soft cookies.
Cool on a wire rack.
To make the glaze, mix the powdered sugar, almond milk, and vanilla extract together in a small bowl. Stir until smooth.
When the cookies have completely cooled, drizzle them with the glaze.
Becky, June, and Leroy chilling on the breezeway
Good ole June
The Vine House framed by a satsuma branch