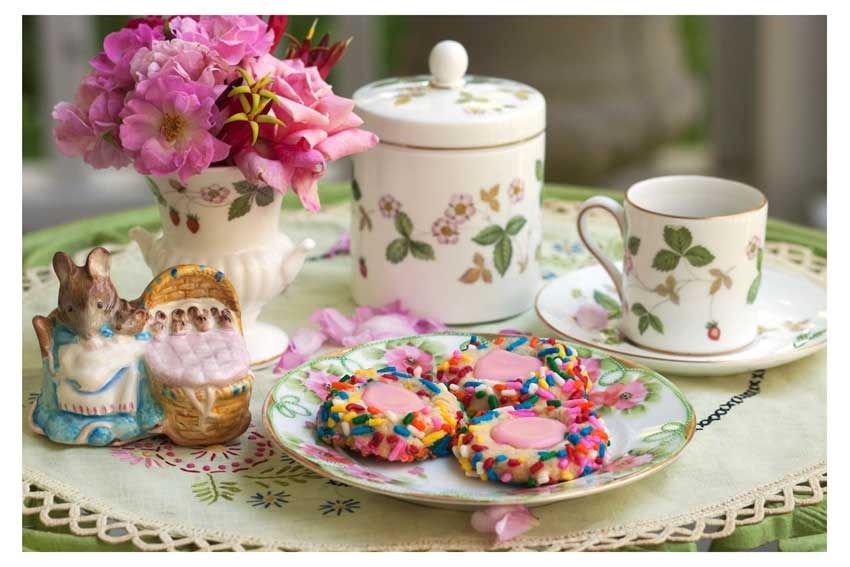 On Saturday morning I made Vegan Thumbprint Cookies. They turned out just perfect—sweet and salty and cute, with a spot of pink icing in the middle and lots of cheery sprinkles everywhere else.
Buntin, our temperamental tortie, assisted me in the kitchen as she usually does. I let her lick a butter wrapper, but when she tried to lick the dough, I had to discourage her—and she got so mad she went and hid in a cabinet among some canned goods.
Rob shut the door behind her, smiling. "It's the only place she can be herself, she says."
She was in the cabinet about a minute. Then I got the cookies in the oven and she and I went and sat on the floor in the sunroom in an inviting little sunbeam. We were soon joined by several other cats, because cats find sunbeams
irresistible
.
Maggie was rolling around in the warm, yellow light, reveling, looking chubby and cute.
"Oh, Maggie Rollarounder," Rob said when he came by, "a sunbeam sure is great, isn't it?"
She responded with another roll. He was right. The sunbeam was so great I decided to have my breakfast in it. While the cats enjoyed some heart-shaped treats that looked like valentine candy but smelled like sardines, I served myself a nice little plate of Vegan Thumbprint Cookies.
Vegan Thumbprint Cookies
Ingredients:
Cookies
1 cup vegan butter, softened
1/4 cup granulated sugar
1 teaspoon vanilla extract
2 cups all-purpose flour
1/2 teaspoon salt
Sprinkles
Icing
2 tablespoons almond milk
2 teaspoons maraschino cherry juice
1 teaspoon vanilla extract
11/4 cups powdered sugar
Directions:
Whisk the flour and salt together in a medium bowl and set aside.
Beat the butter, sugar, and vanilla at medium speed with a handheld mixer until light and fluffy, about 3 minutes. Reduce the speed to low and add the flour mixture, mixing until incorporated. Wrap the dough tightly in plastic wrap and refrigerate for at least an hour.
Heat the oven to 325 degrees. Line a baking sheet with parchment paper.
Roll a heaping tablespoon of dough into a ball, then roll the ball in sprinkles and place it on the baking sheet. Repeat with the remaining dough, spacing the balls about 2 inches apart. Using your thumb, make an indentation in the center of each cookie.
Bake for 10 minutes or until slightly firm. Remove the cookie sheet from the oven. Using your thumb, press into the center of each cookie again. Return the cookies to the oven and bake until golden brown, about 13 to 15 more minutes. Cool on a wire rack.
To make the icing, combine all the ingredients in a small bowl and stir until smooth. Using a spoon, fill the center of each cookie with icing.
Note: I started with this lovely
recipe
and veganized it.
I took this picture of Sophie after her ballet recital on Saturday night. She did an awesome job with her dancing!
Here's a bit of a little display I made in one of my bookcases recently. I love arranging (and rearranging) my silly collections.