About a week ago, I ordered Carl a cat-sized collar and tie from a lovely Etsy shop called
ChariotsAFire
. The combo arrived in the mail on Tuesday. The tie is olive green with tiny gold dots, and Carl looks great in it (it really complements his eyes). When he tried it on for the first time, Rob said, "He looks like a little businessman. You should get him a little matching briefcase."
"He is not a little businessman!" I said, laughing. "He's a little boy. He's four, and this is his Sunday school outfit."
(Rob knows I like to play that Carl is my darling little boy and that he'll never grow up, that he'll be four forever and ever. He was just giving me a hard time.)
It was tough to get a good picture of Carl in his collar and tie, though he seemed moderately comfortable in this getup. He really needed to be sitting up nice and straight in order for me to capture the full effect, but he kept wanting to lie down in his tie, which wasn't a very photogenic position. I'll keep trying to get some better shots. Since he didn't really mind wearing his tie, I should have ample opportunities for photos.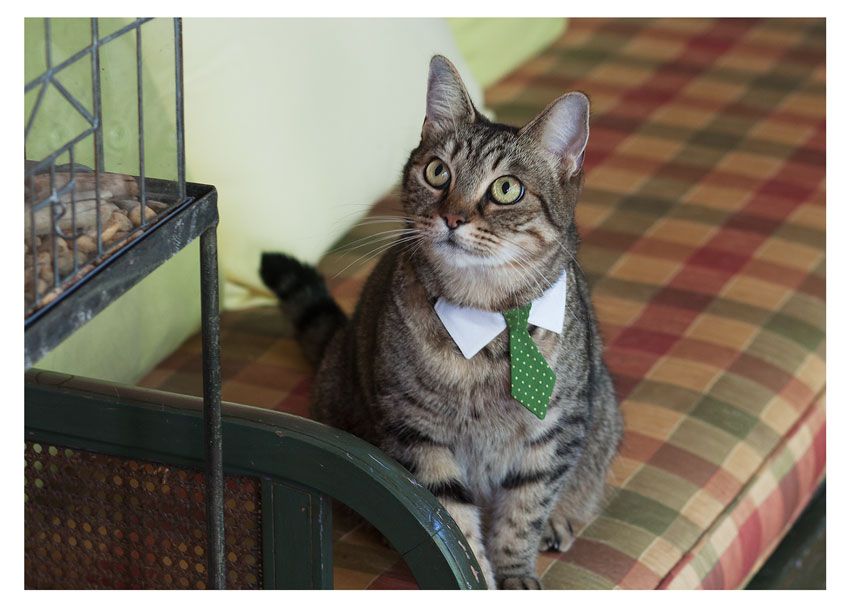 Last Saturday Rob and I went antiquing in Destin, a booming beach town about two hours southwest of us. Destin is full of fancy shops for all the rich people who vacation there. At
Smith's Antiques
, we lucked out and found a not-too-expensive carving from Indonesia that was perfect for decorating the empty wall in the sunroom. The carving is of a dragon boat full of passengers, and it's over 6 feet long, painted metallic gold, pink, green, white, and yellow. I love the dragon's sassy, crazy expression and his magnificent tail.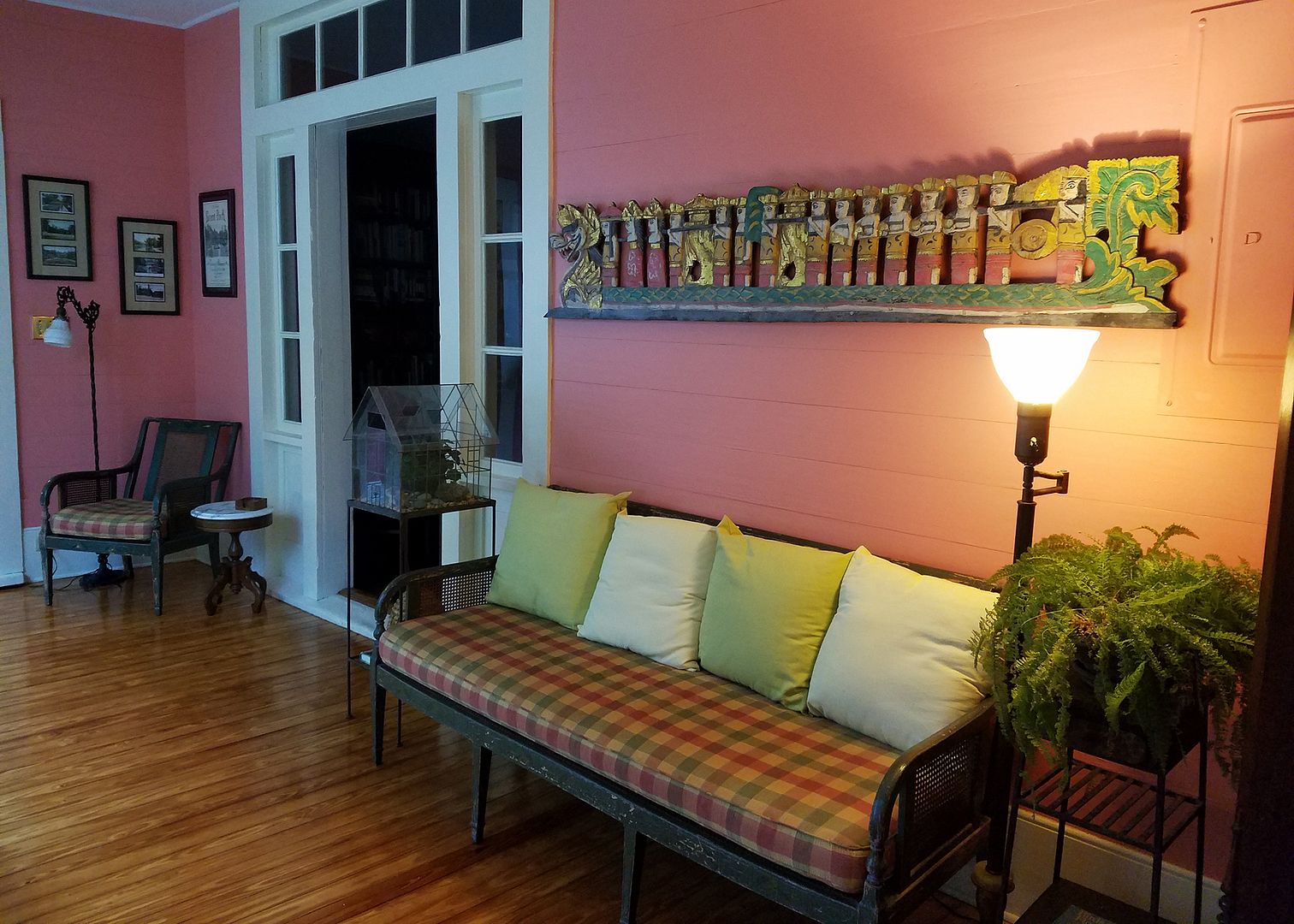 I wanted to show you a picture of the arch we bought a couple weeks ago, the one that helps support the fruit-laden branches of our satsuma trees. The arch looks to me like the ghost of a pagoda, and it forms a rather grand entrance to our lowly utility room. Next time I'll have to take a picture of the whole arch, not just the top. The arch spans a pebble path lined with bricks. Coonties and pink pentas grow on one side of the path, and purple coneflowers, prairie coneflowers, and mountainmint grow on the other.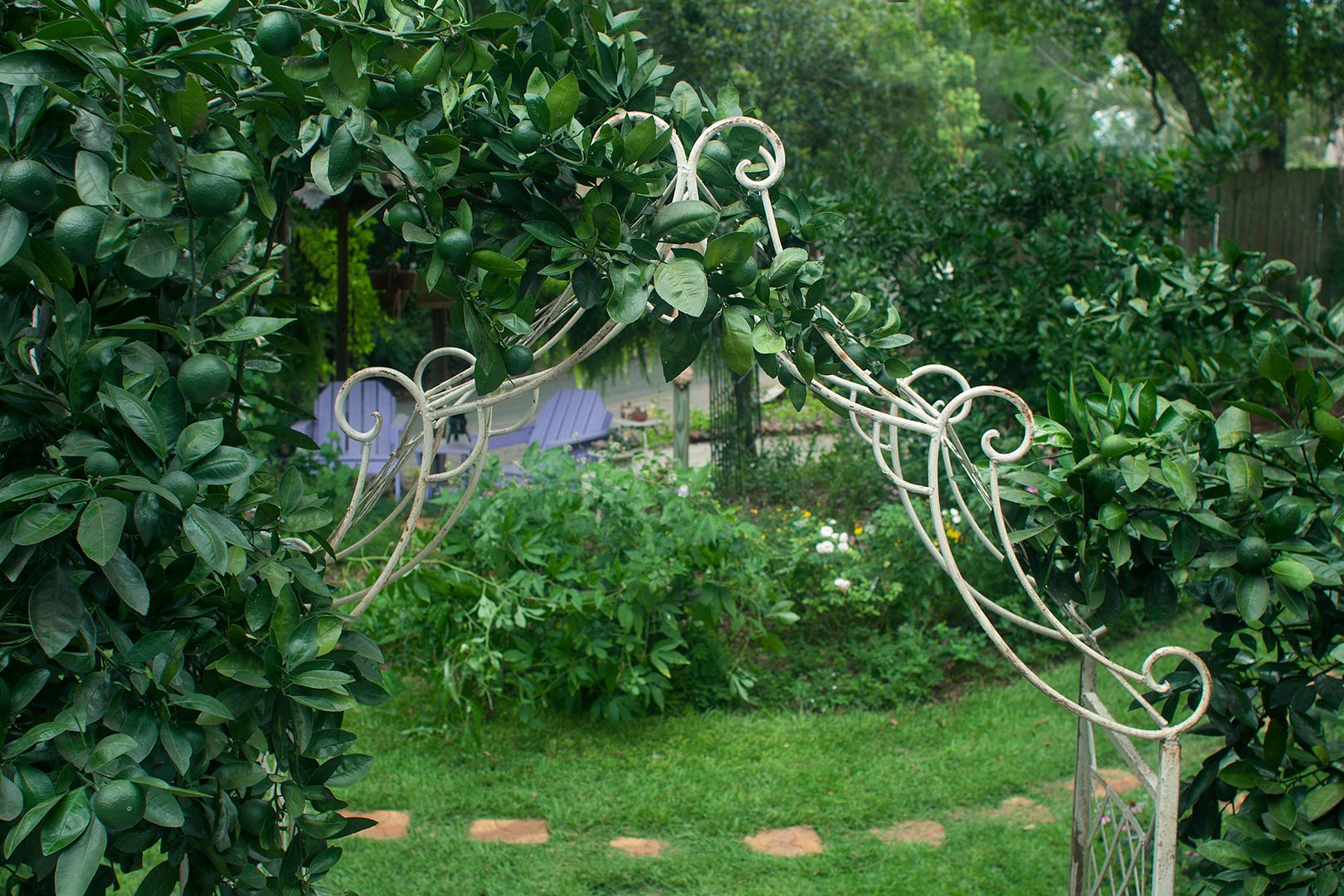 I'll close with a picture of a cute strawberry cupcake that I posed the other day on the little cast-iron table by the vegetable garden. There's nothing I like better than photographing cute desserts. When I was a child, I would do the same thing, but with mud pies and cakes. My sister Kris and I would fashion whole spreads out of mud and other "ingredients" from our yard. Our cakes were large mushroom tops covered in creamy chocolate mud icing and rose petal garnishes, and we'd make candy apples by wrapping crabapples in red clay, with twigs serving as the popsicle sticks. We'd raid Mom's marigold and zinnia beds so we could have centerpieces for our table. When everything was ready and our dolls were all dressed and in their places, we always took a picture with our little camera. It's just funny the way people never really change.