On Saturday, Mom, my sisters (Bunny and Kris), and I went to Mule Day in Calvary, Georgia. It's a big old-fashioned country celebration with a sunrise breakfast, a mule parade, cane grinding, meal grinding, syrup making, plowing contests, arts and crafts, a petting zoo, live music, and tons and tons of food. A huge golden field is filled with 500 booths of arts, crafts, food, and antiques. Plus, there are mules everywhere, and old-fashioned buggies and wagons. The parade starts at 11 and is a real spectacle, with high school marching bands, mules, horses, donkeys, and antique tractors.
The fun is for a good cause. Mule Day is put on by the Calvary Lions Club and raises money for Lions Club sight programs (which work to prevent blindness and improve eye health) and local charities.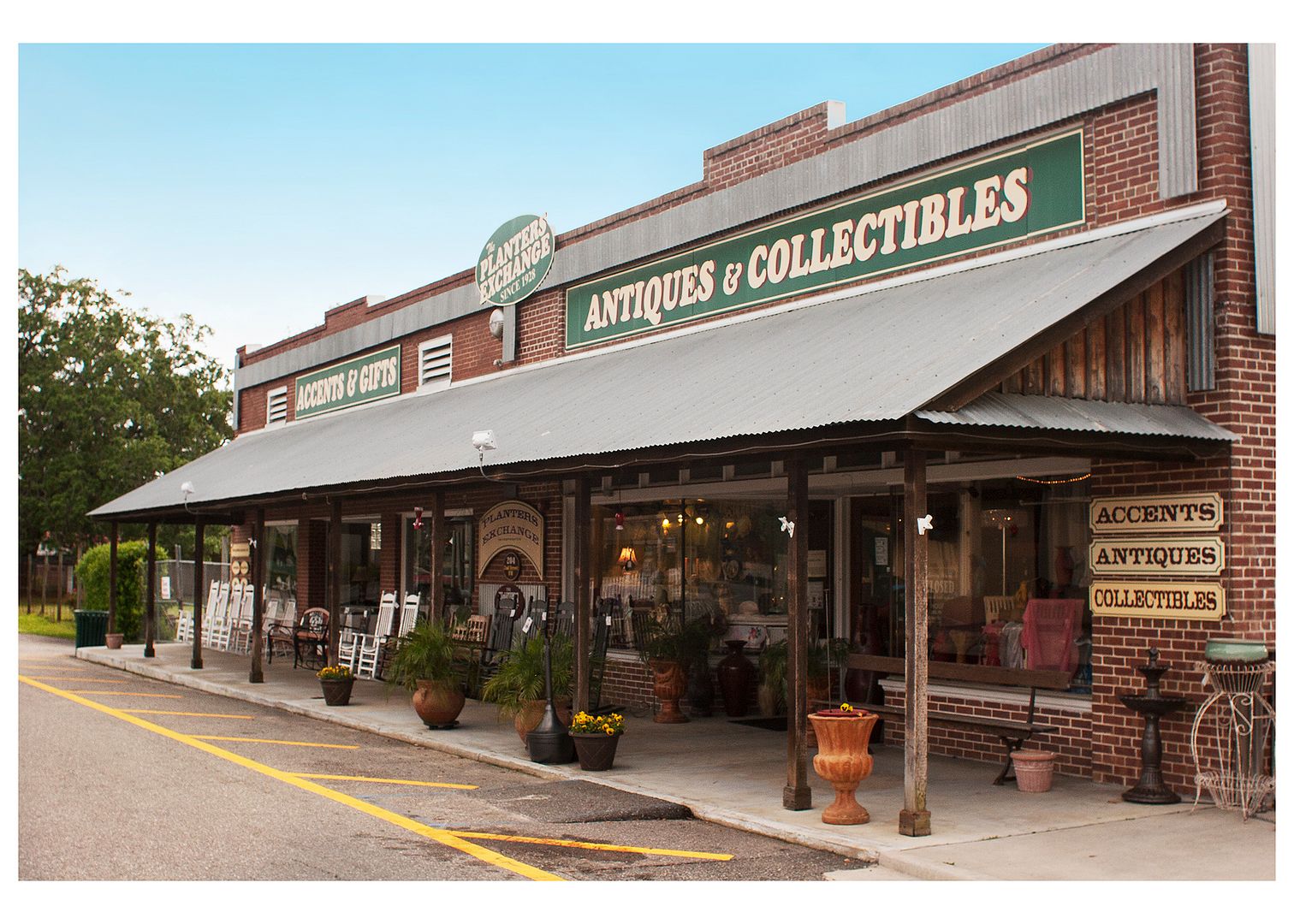 Havana, Florida, is a little town we pass through on the way to Mule Day every year. Havana is right up the road from Quincy.
A little more country scenery
We parked in an old pecan orchard and walked to the festival grounds. There are so many booths at Mule Day, just acres and acres of them. Some of the booths are selling antique tools and dishes and quilts and furniture. Others have craft items—handmade birdhouses, Christmas wreaths, scarves, soaps, candles, pottery, fancy aprons, and more. There are people selling their own homemade cakes, pies, cookies, and Christmas candy—peanut brittle, divinity, sugared pecans, and fudge. Then there are the food trucks—dozens and dozens. You can get barbecue, roasted corn, turkey legs, greens, cornbread, cotton candy, sweet potato fries, hush puppies, boiled peanuts, fried pickles, fried green tomatoes, hotdogs, hamburgers—just about anything you can dream of.
One of the first booths we came to had a beautiful display of stained-glass wind chimes glowing in the sunlight. Fragments of purple and ruby and orange stained glass dangled on beaded strings from hunks of driftwood. The chimes looked just glorious in the dazzling early-morning light.
"Oh, they're so pretty!" I said.
"I can make them sing," the owner of the booth said. And she started gently shaking the poles of her tent so the chimes began to tinkle.
She kept shaking the tent and smiling proudly. She looked around at all the beautiful, glowing, tinkling, trembling wind chimes and said, "They sing! They dance! They do everything but do the dishes!"
A little later we came to a booth selling a bounty of fresh produce straight from the farm: sugar cane, huge bundles of turnips and turnip greens, scuppernongs, boiled peanuts, pecans, white acre peas, satsumas, and sweet potatoes. A lady had just purchased a bunch of turnip greens and she stood holding them like an enormous bouquet, like she had just won the Miss America pageant. A man working the booth suggested she freeze some of the greens for Thanksgiving.
"Oh, I plan to!" she said. She was really excited about her turnip greens.
Live entertainment is abundant at Mule Day. There's lots of music and dancing. This year, a group of cloggers was performing in costumes emblazoned with the Stars and Stripes. We stood around and watched and cheered. Kris would like to learn to clog, and I kept encouraging her to really do it.
"I'll come and see all your performances!" I promised.
People were walking around in official Mule Day hats—straw hats with fake mule ears sticking straight up, taller than the hat's crown. Everybody was having a great time. They were eating cotton candy and turkey legs and buying stuff left and right—homemade layer cakes and pound cakes, bright yellow-blooming cassias, mayhaw jelly, barbecue sauce, bags of kumquats, big wooden cutouts of Santa and the Grinch. . . .
The mule parade was the highlight of the day. It was so neat to see everybody rolling by in their carts and buggies pulled by mules or donkeys (or even miniature donkeys!). Some of the carts were decorated with chrysanthemums and other fall flowers, and some of the donkeys were wearing bonnets.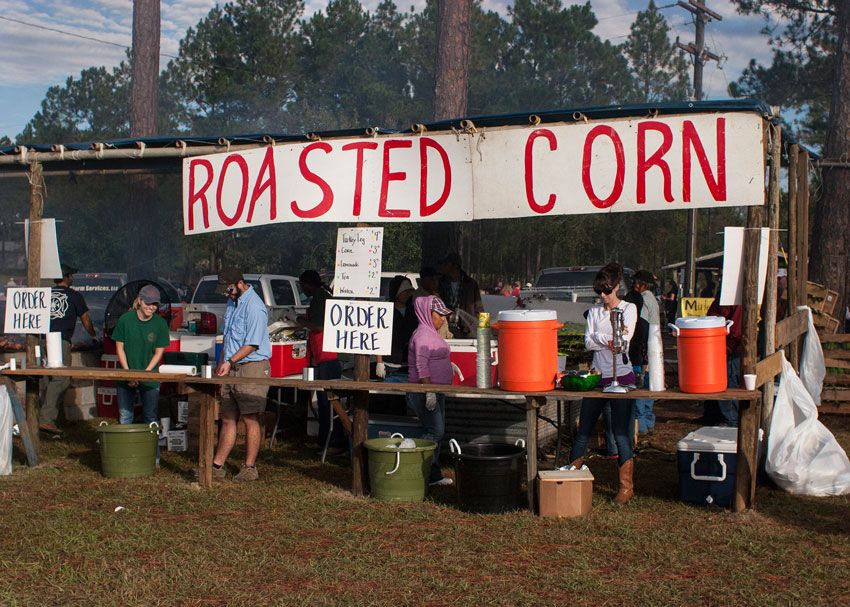 The roasted corn is so delicious.
Cool stuff for sale
Cuties at the petting zoo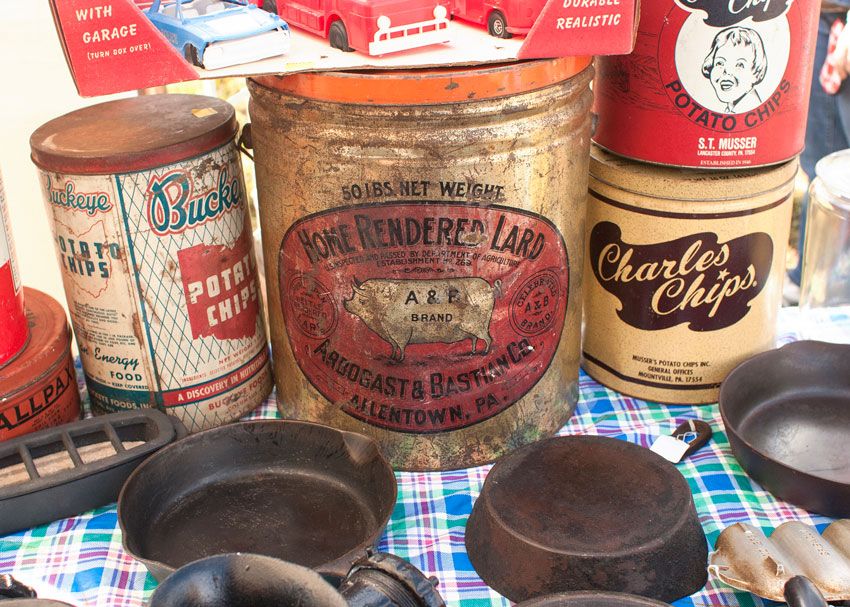 More tempting merchandise. The prices are always great at Mule Day.